Update: July 24, 2017
Good news: The Destiny 2 open beta has been extended for PS4 and Xbox One players, so there's still time to sample Bungie's shooter. The open beta will now close on July 25th at 6pm PT / 2am BST / 9pm ET to allow for 'additional service testing'. We outline everything you need to take part below, including how to download the beta, and what you can expect to find in it. To help you get started, don't miss our guide to 10 things you must do in the Destiny 2 open beta.
Original article continues below.
When will the Destiny 2 beta begin?
If you pre-ordered Destiny 2 on PS4, you can start playing at 6 PM BST / 10 am PDT on Tuesday, July 18.
If you pre-ordered Destiny 2 on Xbox One, you can start playing on Wednesday, July 19.
If you didn't pre-order Destiny but plan to play on PS4 or Xbox One, you can join in starting on Friday, July 21.
The Destiny 2 beta will end on July 25, two days later than originally advertised.

The beta has been live for a number of days now, and you can find out what players are saying about the Destiny 2 beta before you start.
How big is the Destiny 2 beta?
On PS4, the Destiny 2 beta will take up 15GB of storage.
On Xbox One, it will require 12.83GB.
When can I download the Destiny 2 beta?
Just head to the PS Store or the Xbox Store, where the open beta is clearly advertised.
How can I download the Destiny 2 beta?
If you pre-ordered Destiny 2, make sure you enter the code you received from your retailer of choice in your Bungie.net account (click on your user icon and select "Redeem Code"). Do that and Bungie should send you an actual download code when the time is right.
If you didn't pre-order, just search for Destiny 2 on the PlayStation Store or Xbox Store.
What about the Destiny 2 PC beta?
Don't worry, you'll still get a chance to try Destiny 2 on PC before it comes out. Bungie says the Destiny 2 PC beta (including early access for pre-orders) will begin in late August.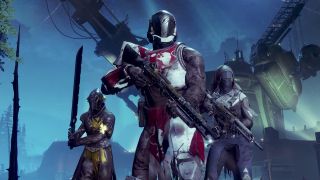 What's in the Destiny 2 open beta?
The Destiny 2 open beta allows you to sample the campaign and multiplayer modes. The full list of content includes:
Homecoming: The game's opening mission is playable and you can view some campaign cut-scenes.
Countdown: The attack / defend mode, playable on the Endless Vale map.
The Inverted Spire: A Strike set in a Vex stronghold, that you can play with two friends, or use Matchmaking to fill these slots if you aren't using a pre-arranged Fireteam.
Weapons and armour: There are over 20 weapons to try, including three Exotics, and three armour sets for each class, so a total of nine.
New Subclasses: Check out the new fighting styles for the Warlock, Hunter and Titan.
Control: The 'classic' route to Crucible combat returns, with some tweaks.
Countdown: An all-new Crucible mode, where you Attack or Defend the base on a new map customised for this new game type.
We go into more details on the open beta's content below. If you want to make the most of your time with the game, check out our Destiny 2 beta tips.
Destiny 2 beta classes - what are they?
You can play as all three classes in the Destiny 2 beta, though you'll have to start out with a pre-made character instead of customizing your own. You'll have access to two subclasses for each though, a new one available to each class alongside a modified version of a subclass from the original Destiny. There are shield-summoning Sentinel Titans (think glowing purple Captain America), staff-fighting Arcstrider Hunters (what's not to like about electric kung fu?), and flame-sword swinging Dawnblade Warlocks (whose blades fire out big burning swathes of destruction), to compliment the respective returns of Strikers, Gunslingers, and Voidwalkers.
Destiny 2 beta's story mission - what is it?
The Destiny 2 beta only comes with one story mission: Homecoming, the very first mission you'll play in the full game. You'll get to witness the fall of The Last City at the oversized hands (flippers?) of the Cabal's Red Legion and fight alongside old friends in the Vanguard like Cayde-6.
Destiny 2 beta's Strike - what is it?
Once you're done with Homecoming you can try out The Inverted Spire, a three-player co-operative Strike mission set on the world of Nessus. Your team (which you can fill out with friends or find via matchmaking) will fight through Cabal and Vex forces on the way to a multi-stage boss battle.
Crucible play - what can I do?
Try out Destiny 2's new 4v4 competitive multiplayer setup in two modes: Control, a capture-and-defend mode that returns from the previous game; and Countdown, a Counter-Strike inspired mode with no respawning (just revives) where one team must set explosives and the other team must disarm them.
The Farm - what the hell is that?
Destiny 2's new social space, The Farm, was inaccessible for most of the beta. But for just an hour on Sunday, July 23, you could check it out and dance your cares away with your fellow guardians. The Farm was open from 10 am PDT and 6 pm BST. No word yet on whether it will come back before the end of the extended beta.
Read our hub article for everything we know about the game so far.