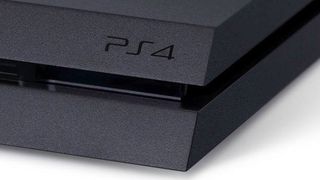 Greatness awaits
If you're the proud owner of a PS4, chances are you spent your first few weeks with the device diving into its games. By now you've probably put a healthy dent in the likes of Killzone: Shadow Fall, Knack, and Resogun, as well as some third-party titles such as Battlefield 4 and Assassin's Creed IV: Black Flag. But: while you were soaking in all the next-gen pretty pictures, did you take a moment to poke around in the PS4's menus to uncover its hidden potential?
Sony's latest gaming machine is packed with awesome features, some of which aren't immediately obvious. We already wrote about the little things that annoy us about the PS4, but now it's time to take a look at some of the things you can do with it to make your gaming experience a little bit better.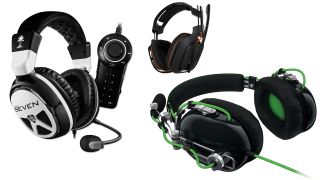 Tons of headphones / gaming headsets are compatible
Few things are more devastating than investing a couple hundred dollars in one of the best gaming headsets out there, only to find that it isn't compatible with a brand new console. Thankfully, despite rumors to the contrary, most headsets work just fine with the PS4, voice chat included. If you're using a setup that connects to the console via an optical cable, it's business as usual--your Astro A50s or high-end Turtle Beach set will work with no problems. Have a headset with a 3.5mm jack? Simply plug it into the DualShock 4's headphone port, and do the following: Go to Settings > Sound and Screen > Audio Output Settings. Here, select Output to Headphones and choose "All Audio." Now the console will push all audio through to your headphones; if the set you've connected has an in-line microphone, it, too, will function without issue.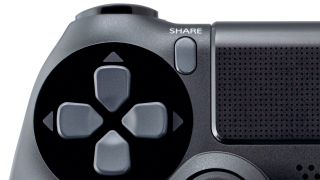 Make taking screenshots a quicker, easier process
By default, you have to press and hold the share button for a few seconds to capture a screenshot of a game. But you can tweak a setting to make it so that each brief press of the Share button immediately snaps a screenshot, while holding the button merely loads up the Share application. To do so, press the Share button to open the share menu. Here, hit the Options button, select Share Settings, and choose SHARE Button Control Type to browse the two setup options available.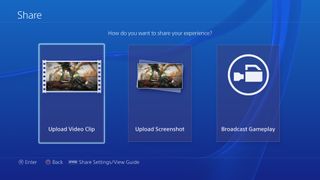 Add some voiceover to your gameplay footage
The fact that the PS4 continually records the previous 15 minutes of gameplay footage at all times is pretty badass on its own. It's a feature that's especially useful for cutting together kill montages and the like. But if you're aiming to make a guide or walkthrough video--or simply commentate on something in-game as it happens--you can enable microphone audio recording. Simply open the Share menu, press the Options button, select Share Settings > Video Clip Settings, and check the Include Microphone Audio in Video Clip option.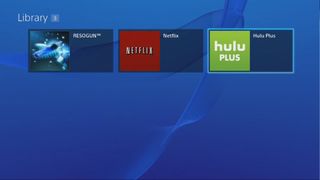 Access any game linked to your PSN account from the Library application
Back in the ol' PS3 days, it was kind of annoying to access games you'd bought on PSN that you'd never downloaded or had since deleted. Doing so meant popping in to the PlayStation Store and hitting up your download history. Now, with the PS4, all you have to do is load the Library app to immediately access all games (as well as video/music apps) linked to your account. A bit obvious, sure, but great nonetheless.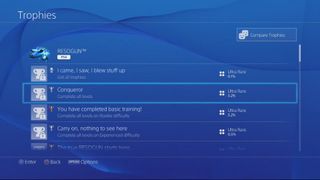 Check out the rarity of your Trophies
If you did a lot of gaming on the PS3, you're no doubt familiar with Sony's Trophy system--its answer to Microsoft's Achievements and Gamerscore. Oftentimes, the harder a Trophy was to obtain, the more valuable it was, which was represented by its type: bronze, silver, gold, and platinum. On the PS4, however, you can also check to see just how rare every single Trophy is, as PSN keeps track of how many players have obtained the Trophy in question, making some bronze Trophies more prized than gold ones.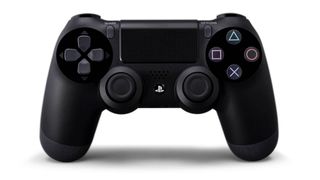 Quick swap between applications by double tapping the PS Home button
Oh, you're using GamesRadar's excellent cheats and guides section to find collectibles in a PS4 game? Great! But instead of fussing with your phone or a laptop, try quickly swapping between your game and Web browser (or any other two applications) right from your console by double tapping the PS Home button. Doing so automatically switches between the last two programs you launched.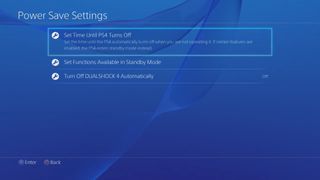 Save pennies on your power bill through power saving settings
Remember how last weekend you accidentally fell asleep without turning off your PS4? Your power provider would like to thank you, and formally requests you adopt that practice into your growing list of bad habits. Okay, accidents happen--but here's a neat way to ensure it you're covered even if you slip up again. Go into the PS4's settings menu, then scroll down until you find Power Save Settings. Inside, you can set your PS4 to automatically shut down or enter standby mode after certain intervals of inactivity. You can adjust when your Dualshock 4 controller will turn off, too, as well as which features are available while the console is in standby mode. Speaking of...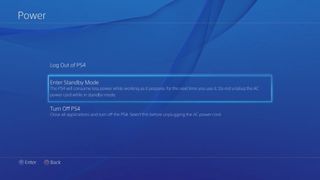 Use standby mode to update games when you're not gaming...
Chances are you're well aware of this feature, considering it was one of the selling points of next-gen consoles. But still, in the off chance you haven't already used it, standby mode is a godsend (well, if you're a PlayStation Plus subscriber, which you should be). First, you'll want to enable auto downloads/uploads if you haven't already, which you can do by going to Settings > System > Automatic Downloads and Uploads. Next, go to Settings > Power Save Settings > Set Functions Available in Standby Mode, and be sure to enable Connect to the Internet. Hooray, no more waiting for files to update before you game!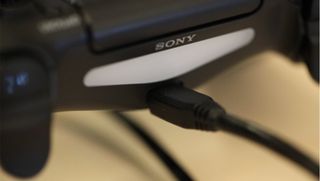 ...and also to charge your controller
Another neat thing you can do with standby mode enabled: charge your controller while you're away from your PS4. This will come in especially handy considering the Dualshock 4's battery life is around seven hours. To enable this feature, go to Settings > Power Save Settings > Set Functions Available in Standby Mode and check the box next to Supply Power from USB Ports.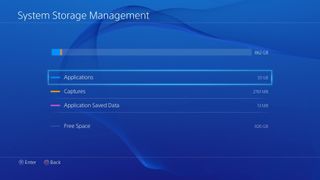 Regain hard drive space by deleting old stuff
Sooner or later your hard drive is going to fill up, and you'll have no choice but to delete some of your older games or save data to make room for all the new additions to your media shelf. On the PS3, this meant digging through numerous convoluted menus. On the PS4, it's pretty easy. Go to Settings > System Storage Management. Here, you'll find a list of everything taking up space on your hard drive, organized by category (Applications, Captures, and Save Data). You'd be surprised at how much room your old captures are eating up--get rid of 'em!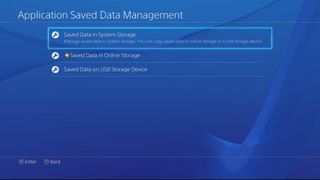 Upload system data to online storage or a USB drive
Here's an easy way to save as much hard drive space as possible: take advantage of cloud/USB storage. To utilize the former, you'll need a PlayStation Plus subscription (again, you should definitely have one anyways because its advantages are many). Next, go to Settings > Application Saved Data Management. Here, you'll find self-explanatory menu options for uploading/downloading data to/from the cloud, or to a USB storage device (which does NOT require a PS+ sub).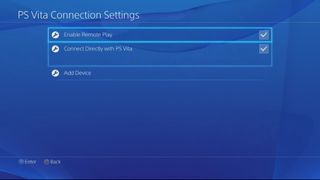 Play PS4 games on your Vita via remote play
Like all Vita owners, we love the machine--it's a wonderful piece of hardware--yet lament that its library of games is rather lacking. But, if you own a Vita and a PS4, you can use the handheld to device to play PS4 games remotely. Meaning, you can play all future JRPGs from the comfort of your bed instead of sitting on the couch. While remote play is a less viable option the farther you are from your console, it's still an awesome feature that you should definitely check out. To do so, go to Settings > PS Vita Connection Settings, and select Add Device. After following the on-screen instructions, you'll be all set for some remote play action.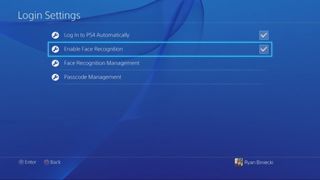 Use the PS4 camera to log in via facial recognition and issue voice commands...
One of the coolest (and creepiest) features of the Xbox One is that the Kinect will automatically log you into your profile upon seeing your beautiful face. Good news, PS4 owners: So can your console, as long as you pick up a PlayStation 4 Camera. With the camera installed, go to Settings > Login Settings, and select Enable Face Recognition. Then, go to Face Recognition Management and complete the setup process. You can also use the camera's microphones to issue voice commands for menu navigation. To do so, go to Settings > System, and select Operate PS4 With Voice.
Fun fact: the PS4 camera is NOT required to issue voice commands. You can even do so with any microphone you have connected to the console.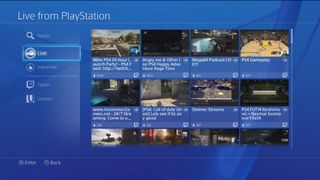 ...and for livestreaming
Go to Twitch and check out the most popular streamers. You'll soon notice something they all have in common: they use a webcam to include an image of themselves in the stream. While you can stream perfectly fine without a mic or camera, using both is recommended as it helps to put a face to your personality. The PS4 Camera doubles as both a mic and a camera, so you can cover both bases with one device.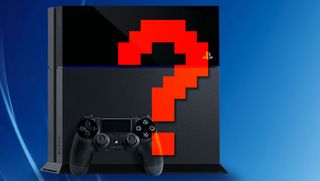 Take a tip
Did you already know about all of these PS4 features, or did some surprise you? Do you have any other user tips for making PS4 gaming more enjoyable? Let us know in the comments below.
And if you're looking for more, check out the best PS4 games and 23 little things that annoy us about the PS4.