The Xbox Series X has taken its first price cut at Amazon today, with £10 off the £449.99 RRP. That leaves us with a £439.99 sales price on the latest console - extraordinary considering we were scrambling for stock just a few months ago.
We have never seen Xbox Series X deals like this, so we don't know how long such a discount can last. In fact, we would be surprised to see it still live by the end of the day - this is going to move fast once the crowds get a sniff of it. If you've been holding out for any price cuts on the latest Microsoft console, then, we'd be speedy on this one.
Xbox Series X stock has levelled out in recent weeks, with Amazon regularly offering the console (at full price) since April. However, considering just how difficult it has been to get your hands on one of these black and green boxes since the 2021 launch, we're certainly not taking that availability for granted.
You'll find more information about this offer just below, though if you're in the US, it's worth heading over to Microsoft for a full supply of the $449.99 console - and some smaller discounts on renewed devices as well.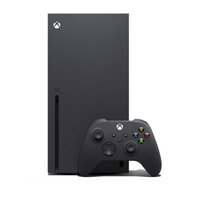 Xbox Series X | £449.99 £439.99 at Amazon
Save £10 - It's a small saving, sure, but this is the first time we've seen Xbox Series X stock take an actual real-life discount so far. That's big news - especially if you've been worn down by the lack of availability since launch.

Amazon has been the main go-to for those on the hunt for the Xbox Series X for a few months now, but we have seen other retailers popping in and out of the limelight. It goes without saying, though, that we've never seen any stores offering a console at a reduced price. You'll find all the latest supplies from retailers in your area just below.
Should you buy an Xbox Series X?
Unlike PS5 stock, the Xbox Series X has been available to buy for its full RRP for a few weeks now. However, the cheapest Series S model has been on the shelves (and taking discounts) for even longer. Offering a steadier supply of stock, a much lower price point, and an all-digital form factor, many were drawn to the budget offering during those harder times.
However, now that the Series X has made its way back to the shelves the story is a little different. If you're looking to play the latest and greatest games in the best possible quality, this decision is easy. The Xbox Series S sacrifices too much in the way of performance to hold up against its big brother. You're spending £200 more to secure yourself 4K gameplay, with double the storage, three times the processing power, and the ability to play your own disks as well. That's a solid proposition.
However, if you don't have a 4K TV, aren't fussed about playing older physical games, and don't mind dropping your performance to play all the same games on a much tighter budget, the Series S is the way to go. You'll find all the latest offers on this budget console below.
Check for Xbox Series X deals where you are
The Xbox Series X is readily available across the US and UK right now, though you'll have to pick your retailers to find supply at any one time. While these consoles have been steady on the shelves for a few weeks now, we are still seeing stores like Best Buy and Walmart in the US, and Currys in the UK, running out of stock every now and then. However, Microsoft has been holding solid in the US for the past month and is even offering savings on renewed devices as well.
USA
UK
Today's best Xbox Series X accessory deals
If you're after some Xbox Series X accessories to go with your shiny new console (perhaps putting that £10 discount to good use), you'll find all the latest prices on some of our top picks just below.
This incredible offer comes just weeks ahead of Prime Day Xbox deals, but if you're after more gear for your new device, be sure to check out the best Xbox One accessories and the best Xbox Series X headsets for more.