The best gaming PCs in 2023 are getting seriously interesting. With discrete GPU sales down year-on-year, stock is readily available for the pre-built manufacturers, which means we're starting to see more and more new-gen machines appearing. Not only that but some of the established pre-builts from the last couple of years have been refreshed with motherboards that can house the latest components. HP and Acer have refreshed their popular Orion and 45L gaming PCs to house the latest components. Meanwhile, Alienware has early Aurora R15s available. In short, it's an exciting time to shop around.
PC gaming presents a lot of learning when you first get into it - more than is needed for console gaming, we'd say. Whether you're looking for the latest and greatest Alienware gaming PC, or you're a seasoned pro looking for something you can modify as you go, one of our picks below will definitely set you on the right track. We'd just recommend that you think about futureproofing if you're about to invest a large sum. For example, try to make sure the gaming PC you go for has one of the best CPUs, and something resembling the best RAM for gaming inside it.
Of course, there's always a silver lining, and with all these new components releasing, it means that PCs containing the previously elusive 30 series GPUs are now becoming a lot more affordable. Just keep in mind that the best graphics cards releasing this year will likely offer better value. Of course, there is the option to assemble newer components later in the year, or even build your own gaming PC from scratch. While there are definitely benefits to doing this, we'd recommend a prebuilt rig for folks who don't have the time and know-how to build from scratch. If you're looking for your first gaming PC, a prebuild can definitely save you a lot of stress and headaches.
The best gaming PCs 2023
Our favorite configuration: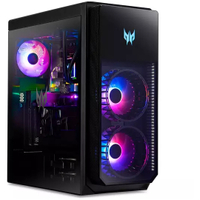 Acer Predator Orion 7000 | i9-13900KF | RTX 4090 at Currys
This is the same configuration as our review unit so we can personally vouch for the prowess on display here. While pricey, there's nothing this machine cannot do, and it's future-proofed for years to come thanks to the 13th gen i9 with PCIe 5.0 support.
The Acer Predator Orion 7000 has been one of the top dogs of the prebuilt gaming PC market for a while now. With the Orion 7000 of 2022 releasing just before the launch of new-gen CPUs, GPUs, and more widespread adoption of DDR5 RAM, Acer made the wise decision to refresh its flagship gaming PC with a new motherboard that could handle the power of these 13th Gen Intel processors.
Now fully compatible with 13th Gen CPUs, DDR5, and wielding the Lovelace power of Nvidia's RTX 40 series, Acer has futureproofed its flagship's innards for the new generation.
The version we tested was crammed full of power, housing an unlocked 13th Gen Intel Core i9-13900KF CPU and an RTX 4090. Although that rig, in particular, is pricey, and probably one of the most powerful gaming PCs you can get your hands on at the moment, the Predator Orion 7000 can be found in more configurations than ever before, and we're sure as time goes on we'll begin to see a wider spread of builds up and down the price range.
Should you buy one of the priciest big-name pre-built gaming PCs on the market? On paper, and when it comes to in-game performances, the answer's a pretty simple yes. There's barely any game you could throw at the refreshed Acer Predator Orion 7000 that it won't crunch up and spit out with ease. If you have the money for it, this is a cracking PC to play games on.
Having said that, if you're going to buy this monster of a gaming PC, I would strongly, strongly urge you to take a look at the best PC headset for gaming, because by golly are you going to need it. The fans in this rig seem louder than they've ever been, and in all honesty, don't do a great job of keeping the components cool. 13th Gen CPUs are known to run hot, but no one should have to suffer this much noise pollution for temperatures that are still this high.
Finally, I'm a bit baffled by the fact that these newly refreshed motherboards don't have any XMP compatibility. Either way, as simple plug-and-play gaming PCs go, this is one of the very best you'll find.
Our favorite configuration: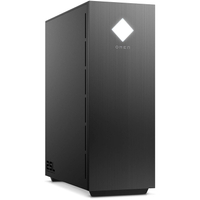 HP Omen 30L| RTX 3080 | AMD Ryzen 7 5800X at Amazon
This high-end HP Omen 30L build features everything you need to push games to their limits in 4K. Similarly, should you want high frame rates in 1440p, this unit will do that well thanks to the RTX 3080 at the heart.

If you're not out to build your own PC (or you've had no luck with the current GPU lottery) but still want a powerhouse desktop for some next-gen gaming, check out HP's Omen 30L line. Custom-built inside a slick Omen chassis, they offer solid hardware with plenty of customization options and the potential for easy future upgrades.
The HP Omen 30L we've reviewed comes with some slick, understated RGB lighting, as well as a 10th-gen Intel processor and RTX 2080 Super GPU. This version costs $1,999 (with a year's warranty included), but pricier models are available with RTX 3000-series cards (though be prepared for all kinds of stock fluctuation given it is the year 2022). The case has two tempered glass panels to showcase your system, with easy access for adjustments and excellent ventilation to prevent overheating.
While the interior isn't the tidiest we've seen amongst the best gaming PCs, the performance speaks for itself. The RTX 2080 Super GPU is still a beast at 1440p and respectable in 4K, too, with its liquid-cooled processor never getting too hot even playing the most demanding titles. HP has proven that it is taking pre-built machines seriously, so the Omen 30L gets a thumbs up from us.
Our favorite configuration: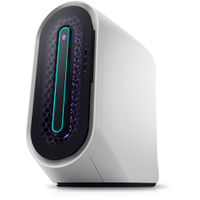 Alienware Aurora R13 | Intel Core i9-12900F | RTX 3060 at Dell
While this model is a little more humble than our review unit, the 12th gen i9, and RTX 3060 combo, as well as 16GB DDR5 RAM will give you some serious futureproofing, and some exceptional 1440p performance. We'd recommend upgrading the GPU at some point in the future since the DDR5 and CPU could handle a lot more. Ideally, you'd also want to look at some larger SSDs.

The Alienware Aurora R13 is one of the latest in the long-standing line of Dell's gamer-centric machines, only surpassed by the R15 which is slowly creeping onto the scene. With support for PCIe 5.0 and DDR5 RAM, combined with the prowess of both the RTX 30-series and RX 6000 line, the R13 is purpose-built for tomorrow's games with no compromises.
In our testing, we found that the Alienware Aurora R13 made short work of our benchmarking tools and the games that we use to stress test higher-end models. Our review unit came powered by the Intel Core i9-12900KF CPU, with 64GB DDR5 RAM, and an RTX 3080, so naturally 4K60 and above was absolutely no problem here.
Perhaps the greatest strength of the Alienware Aurora R13 is in its customization options though, and while it is decidedly difficult to open up and work on the insides yourself, the manufacturer does give you specific hardware options when purchasing. This means that the R13 line can be as affordable, or as premium, as to suit your needs. Almost everything can be swapped out from graphics cards to the amount of available storage, and RAM too. Just keep in mind if you want an AMD CPU, you'll need to go for the Aurora R14.
Something that doesn't change regardless of configuration is the aesthetics of the machine. For the first time since its inception, the Alienware Aurora R13 features a vast overhaul to the visual language, with a transparent panel revealing the impressive lighting and hardware at the helm. Now visible is a small AIO water cooler, complete with a 120mm radiator, as well as your GPU and RAM sticks. It's a touch of transparency that's greatly appreciated in our opinion. The Alienware Aurora R13's main drawback, though, is in how that little water cooler has to work pretty hard to keep those core temperatures down.
Our favorite configuration: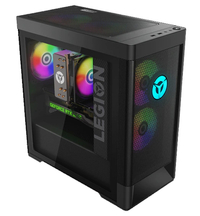 Lenovo Legion Tower T5i | Ryzen 7 5800 | RX 6800XT
Priced at £1,049, the Lenovo Legion Tower T5i in the most basic configuration is an absolute all-star for both 1080p and 1440p gaming with ray tracing enabled. Thanks to the utilization of PCIe 5.0 architecture, there's nothing slowing this machine down, meaning that this model is ready for the latest games with no compromises.

The Lenovo Legion Tower 5i is our top pick for the best gaming PC that you can get your hands on for under £1,100, and this is because of a few key factors. Firstly, the latest line of machines are running not only RTX 30-series GPUs, but also 12th gen Intel Core CPUs, and DDR5 RAM. It's rare to find competitively priced machines utilizing the latest in PCIe 5.0 technology, and yet such Lenovo Legion Tower 5i configurations are starting from just £1,049.99.
You're keeping the price competitive here by running a modest Ampere video card instead of the likes of RTX 3070 and RTX 3080, meaning that 4K isn't really on the cards. However, for the money, you're getting a very powerful machine that's native video output should be more than sharp enough for anything you throw at it even in QHD.
Perhaps the greatest strength of these machines is the increased bandwidth afforded by PCIe 5.0 architecture, as even the cheapest Lenovo Legion Tower 5i models are running 16GB DDR5 clocked at 4800MHz. This means that you can be sure that your gaming PC is ready for the latest games as there's nothing to bottleneck your system, especially if you're gaming in 1080p and 1440p.
Our favorite configuration: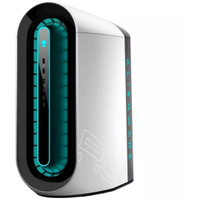 Alienware Aurora R12 | GTX 1660 Ti | Intel Core i5-11400F at Currys
In terms of Full HD gaming, this Alienware Aurora R12 configuration has all the power you need at an incredible price. There's enough under the hood to push today's games in 1080p thanks to the prowess of the wallet-friendly 1660 Ti.

Alienware's Aurora R12 is leading Alienware into the next generation of gaming; as well as 10th-gen Intel processors and the possibility of liquid-cooled graphics cards, it offers a variety of builds to suit most budgets. If you want to get into PC gaming for the first time or would like to upgrade your existing setup - perhaps in preparation for ray tracing games - this is the most cost-effective way to do it.
Ranging from affordable starter rigs to pimped-out super PCs, the Aurora R12 strikes a good balance of choice. Better still, these desktops can be easily opened and upgraded with different parts as and when you see fit. Want more RAM or a larger SSD? No problem. Because the power supply unit swings out on a metal arm, you get more room to fiddle with the PC's insides.
The R12's design is of a similar form for the last few years and is attractive enough - and unique if nothing else. Although it sticks with the distinctive case and scooped-out front of its predecessor, this update enriches that formula with new lighting around the central strip in some cases. It's an addition that turns heads and makes the design feel even more futuristic than it did before.
Our favorite configuration: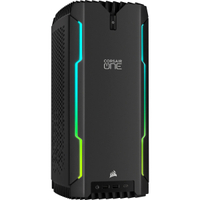 Corsair One i300 | RTX 3080 | i9-12900K at Amazon
While this is still one of the pricier Corsair One i300 setups you can get, this configuration boasts all the power you need for exceptional 4K gaming factoring in the premium components and small form factor. What's more, you're benefitting from the latest 12th gen CPU and DDR5 RAM here, too.

It might be prohibitively expensive but the Corsair One i300 is, without a doubt, an absolute monster when it comes to the best gaming PCs. An Nvidia RTX 3080 Ti and Intel Core i9-12900K ensure that 4K ultra gaming at 60+ fps is achievable for virtually any game you could care to name, backed up with two terabytes of super-fast fourth-generation SSD storage and a massive 64GB of cutting-edge DDR5 RAM.
All that powerhouse performance is tucked away into a sleek all-metal case with a footprint that's not much bigger than a coaster, easy to fit onto or beneath any desk. It's quiet, too; the dark grey side panels are perforated to allow for optimal airflow as a single case fan draws air in and expels it through the top of the case.
The compact design does mean that the i300 can get pretty hot, but rarely enough to impact performance. It also precludes you from making the kind of piecemeal upgrades that are straightforward in more conventional pre-built PCs, but the components on offer here won't need replacing any time soon. Ultimately, however, these are pretty minor concerns in the face of the One i300's incredible performance and aesthetic, so we feel very comfortable recommending it.
Our favorite configuration: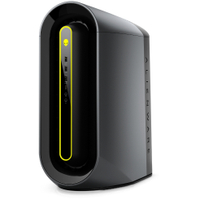 Alienware Aurora Ryzen R10 | RTX 3070 | AMD Ryzen 9 5900 at Amazon
This Alienware Aurora Ryzen R10 configuration is the best value for money in our opinion, offering up stellar 1440p gaming. You're benefitting from a Ryzen 7 5800X CPU and an RTX 3060 Ti, too. As the R10 continues to be supplanted by newer models, it'll get harder to find. This build from Amazon seems to be a solid bet (for now).

The Aurora Ryzen R10 series is a Ryzen-build entry into the Aurora series, all AMD's processors at the heart instead of the Intel. The former has massively closed the gap on the latter in recent years (arguably surpassing team blue until recently), so it's no real surprise to see an Alienware PC range specifically offering that kind of chipset at the heart.
Focused around that Ryzen CPU, though, you can fully customize your Aurora R10 however you want, which means that whether you're a console gamer looking to break into PC gaming or a die-hard veteran who wants the ultimate build, you'll find it here. In our testing, we found that this machine made short work of all of our usual benchmarking titles, with respectable performance in 1440p. Given that many configurations are available, though, you can push into 4K easily enough depending on your budget.
The Alienware brand name comes with the usual price premium that most Alienware products have, but if you can overcome that, and want the respective premium quality that also comes with the name, then the spaceship-inspired R10 design is for you, especially since the Alienware Command Center is a useful bit of kit packed in. It's worth noting that when testing we found that the PC was quite loud.
Our favorite configuration: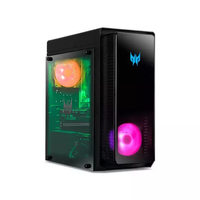 Acer Predator Orion 3000 | RTX 3060 | Intel® Core™ i5-12400 at Currys
In terms of stellar value for money, this Acer Predator Orion 3000 configuration packs in enough horsepower for both 1440p and 4K without too much of a struggle. For the asking price, you're getting a stellar build that's ready for today's games, while also being fast enough for tomorrow's titles, too.

We originally tested a different model of this rig but it has since been discontinued. However, this doesn't stop other iterations of this machine from being an amazing budget option for those who want to play high-end titles but not break the bank.
Priced at £1,200 the Acer Predator Orion 3000 may be one of the best value-for-money gaming PCs on the market at the moment. Given the prowess of the Ampere series of video cards, we're now experiencing performance that would not have been possible a couple of years ago. In our testing, we found that this rig played best at 1440p (and entry-level 4K), easily chewing through the latest titles with minimal messing around.
While we found that the Acer Predator Orion 3000 isn't the most compact gaming PC you can get your hands, owing to the level of components inside, there's actually a handle on top making it easy to transport from place to place despite the considerable weight. It's in the aesthetics themselves that we can see what keeps that price tag so competitive, the case is made of plastic and the CPU is air-cooled instead of opting for an AIO. However, we still found this machine to handle intensive games and demanding software without putting up too much of a fight in both 1440p and 2160p.
There's a fair amount of storage under the hood too for that asking price, our review unit came equipped with the respectable WD SN530 SSD as an OS boot and a standard 1TB HDD. While not quite a SATA III SSD model, this drive appeared to do the trick all the same. In short, the Acer Predator Orion 3000 represents stellar value for money at a time when graphics cards themselves are challenging to get your hands on. While some parts of the case feel a little less durable, this is a quality build for what you're paying.
Best gaming PCs - frequently asked questions
What is the best PC for gaming?
There are many great gaming PC brands out there in the prebuilt space including Asus, HP, Corsair, and Alienware. In terms of the best of them, that is going to depend on the end-user, as many different PC gamers have different requirements. We've found that Acer and HP make the best mid-range models, with Alienware and Corsair cornering the high-end market.
Is it cheaper to build your own computer?
A couple of years ago it genuinely was cheaper to build your own system with your chosen components instead of opting for a premium prebuild. However, pre-built machines may be the cheaper option in the coming weeks, now that a new 40 series of GPUs is being released. As new machines with those 40 series graphics cards are assembled by manufacturers, it's much more likely that our current picks for best gaming PC that house 30 series cards will drop down in price.
What is the price of a good gaming PC?
Generally, a good gaming PC can start as cheap as £800 depending on what you want to do with it. If you're after one of the best gaming PCs on a budget for 1080p, then it's entirely possible to get a rig in this price range. Things become more complicated when you add 1440p and 4K gaming into the mix, generally hanging around the £1,500 mark depending on the manufacturer.
How we test gaming PCs
While we've outlined how we test gaming PCs in our full hardware policy, it's worth giving the rundown here, too. We treat each gaming PC both as the sum of its parts and the unit together. This means that we're analyzing specific components, such as the speed of the processor, the prowess of the graphics card, the effectiveness of the RAM, and the sequential performance of the storage drives.
Any gaming PC that we have in for the review period generally replaces that of our daily driver unit, meaning that we test them thoroughly, sure, but also use them as PC gamers ourselves. This means that benchmarking is conducted as are regular play sessions, meaning you get a thorough, but also a faithful write-up of models we've had personal experience with.
For our personal testing experience with each machine be sure to check out the review where we summarise exactly how we used to the rig at the bottom of the page. This can be helpful to understand how each machine will work with certain games you might be hoping to run.
---
Gear up for the best gaming PCs with the best gaming keyboards, best gaming monitors, and best gaming mouse. Plus, if you're wondering whether you should overclock your PC for gaming, we're here to help.
And for audio upgrades, check out the best computer speakers and best gaming headsets going.