Retro fans are being treated to 8BitDo's first gaming keyboard today, and she's a beauty. Featuring those classic gray and red NES tones (a burgundy Famicom colorway is also available), hot-swappable switches, and wireless connectivity, this is a TKL keyboard for true Ninty fans but also those after a suite of controls at their fingertips.
That's because, as well as the dedicated media controls on the deck itself, the 8BitDo retro keyboard also packs two giant NES A/B buttons into a separate panel. These two buttons can be mapped to anything on the fly, and you can even connect up to four sets to your system. What's more, both retro gaming keyboards are now up for pre-order at Amazon, coming in at an excellent $99.99 MSRP.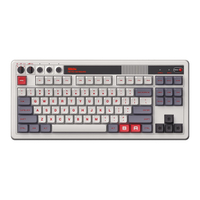 Pre-order 8BitDo Retro Mechanical Keyboard | $99.99 at Amazon
8BitDo's NES style gaming keyboard is available for pre-order at Amazon. With a release date set for September 20, there's a slight wait to these early orders, but considering this is such a solid price for a hot-swappable gaming keyboard there's plenty of value here for retro lovers.

That's an excellent price for a hot-swappable keyboard alone, let alone one with this level of programmability and a retro tie-in. We often see switch-swappers for at least $130, though those prices are falling now that this customization tech is hitting the mainstream.
Above those switches, this thing looks seriously pretty. It's an instantly recognizable iconic aesthetic that doesn't seem to have been tapped in the gaming keyboard mainstream yet. Of course, if anyone was to do it 8BitDo would step up to the plate. The brand is well known for its retro Nintendo Switch controllers and PC controllers in various classic Nintendo stylings as well. We're yet to get our hands on the brand's first keyboard, but if previous quality is anything to go by this could be a winner.
We're also rounding up all the best wireless gaming keyboards and all the best gaming mouse models on the market right now. For more nostalgia though, check out the best retro consoles available.