Gaming laptop prices are high at the moment - if you look at the latest releases, that is. That's because many brands are still in the process of rolling out their RTX 40-Series devices, and they're starting at the top of the scale. That doesn't mean there aren't any gaming laptop deals out there, though - you just have to look a little further back in the catalog to find the gold.
Today we've unearthed a fantastic low price on one of the best gaming laptops on the market. The Alienware M15 R7 is our favorite machine for the majority of players. It's not too pricey, doesn't load the final cost with an expensive chassis or design, and manages to pump out some seriously impressive numbers at the same time. Finding a $750 discount on an RTX 3070 Ti configuration, then, is big news.
You'll find this Ryzen 7 model available for just $1,399.99 at Dell right now - down from a particularly high $2,149.99. That's an incredible discount on a powerful machine and one we haven't seen pop up on the shelves all too often. The only time we've seen offers comparable to this was over Black Friday - and that was on a Gigabyte Aorus at $1,349.99 - a machine that doesn't match up to Alienware's engineering.
You'll find more information about this offer below and plenty more gaming laptop deals further down the page.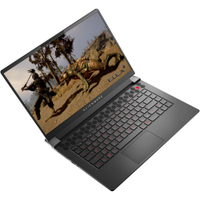 Alienware M15 R7 RTX 3070 Ti gaming laptop | $2,149.99 $1,399.99 at Dell
Save $750 - You can pick up an RTX 3070 Ti Alienware M15 R7 for just $1,399.99 at Dell today. That's a massive $750 off the lofty $2,149.99 MSRP - impressive considering there's an AMD Ryzen 7 6800H at the helm, with 16GB RAM and a 1TB SSD to play with as well.

Should you buy the Alienware M15 R7?
If you're after gaming laptop deals that return plenty of power without breaking into that $2,000 price category we're seeing more and more of, this is an excellent option. The Alienware M15 R7 keeps things luxurious without reaching the expensive heights of the X-Series and still manages to pack the performance punch to back itself up. The design carries the same genes as previous entries in the M15 line, with a matte plastic body and heavy-set profile.
That means there's some weight here, so I wouldn't recommend it to anyone looking to travel frequently (the Asus ROG Zephyrus G14 or Alienware x14 will be better suited if so). However, if you're planning on a healthy mix between desktop use and on-the-go play, it's doable with some extra planning (especially for that monster of an adapter). I took the M15 R7 across the country in my testing and my back survived with the help of a sturdy laptop backpack.
Those after performance will be well suited, though. I tested this exact configuration for our review and managed to squeeze a Fire Strike GPU score of 24,894 and 10,722 in Time Spy as well. For comparison, the 2022 Razer Blade 15 only scored 20,171 and 9,690 in our testing - and comes in at a considerable premium. 60fps is easy for this machine, and I was even able to nab some three-figure framerates in Ultra settings across Nvidia-friendly titles.
The Alienware M15 R7 is a little tricky to transport and does run with particularly loud fans, but those looking for performance that can sometimes be transported should certainly take a close look at today's gaming laptop deals.
More of today's best gaming laptop deals
You'll find plenty more Alienware laptop deals on the shelves right now, as well as discounts on some of the best Razer laptops and best Asus laptops to boot. Our price comparison technology is rounding up all the lowest prices on some of the best machines we've tested just below.
Of course, we're also rounding up all the best gaming PCs for a more permanent setup, and you can also check out the best gaming monitors and the best gaming keyboards for more inspiration.