It's been a long time since we got a proper Bethesda RPG, and you can tell that the excitement is bubbling over due to the Starfield merch that's already hitting shelves. Hoodies, controllers, decals… there's no shortage of stuff based on this sci-fi successor to Skyrim.
Wondering what's out there, and if it's any good? We were too, so we've put together a crib-list of the best Starfield merch that's available right now. It'll undoubtedly grow over time, but even ahead of launch, there's still plenty of cool bits and bobs that would make good additions to anyone's collection. (Or, if you're feeling generous, excellent gifts for gamers.)
As a note, you can get early access to the game with a couple of these entries. As mentioned in our Starfield launch live coverage, the likes of the digital premium edition and collector's edition let you gain access to this new world on September 1. From what we can tell, you'll not regret doing so; as mentioned in our Starfield review, it's the "best thing Besthesda has done since Oblivion."
Best overall
OK, let's start with the most obvious one - the official Starfield controller for Xbox. This rather handsome handset mimics the design seen in-universe, and it's made to look as if you'd find it in the cockpit of your ship. Yes, it's still a bog-standard controller in every other way and costs a bit more, but that new paintjob - featuring a gold d-pad made to look like the visor on an astronaut's helmet - is the definition of a chef's kiss.
Best accessory
As a rebrand of the official accessory from Xbox itself, this Starfield merch blends form with function beautifully. If you've not got a headset for your console yet, this is one of the better options; as we said in our Xbox Wireless Headset review, "you won't find a more rounded gaming headset on Xbox Series X for such a low price." The sleek and classy overlay is icing on an already tempting cake.
Best collectibles
Got a few (read: lots of) extra pennies? You can get the mother of all Starfield merch with this. Alongside the game, you're getting a replica of the in-universe display case (which is inspired by real NASA gear), a clothing patch, access to the game's expansion, a digital artbook and sountrack, and a working, digital Chronomark Watch. Recognise it? That's because it acts as your HUD in-game.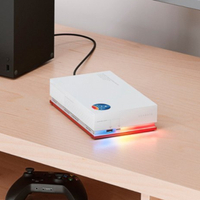 Seagate Starfield Special Edition Game Drive (5TB)
Starfield takes up a lot of room - it's hovering around 125GB on Xbox and 140GB on PC. With that in mind, it's probably not a bad idea to given your storage a boost... and as luck would have it, Seagate's got a solution. A Starfield-branded solution, no less. Although a hard drive's a hard drive no matter what you do to it, this one has a rather jazzy Constellation design with RGB lighting on the larger models. And because Seagate's such a reputable name in the industry, you can rest assured the quality will match the good looks.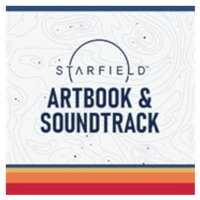 Digital Artbook
We don't have a release date yet for a physical version of the artbook (if there will even be one), but you can get a digital version by grabbing the Premium Edition version, upgrading your purchase with Game Pass, or choosing the Constellation Edition mentioned earlier. Either way, the book will give you an inside look at the development process behind the game. Considering how massive Bethesda titles are, there should be plenty to chew on.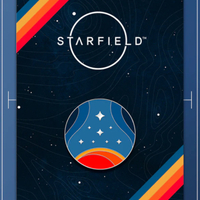 Official Starfield pin
Unsurprisingly, there's a whole bunch of Starfield gear on the Bethesda website (you can check out the full range here). And while it's all pretty great, one of the things that stood out the most to us was the simplest item on the docket - a little pin. As well as being a lot more affordable than the array of deskmats, hoodies, and skateboards (?!) on offer, it's arguably the easiest to make use of.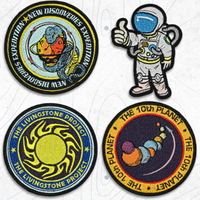 Starfield patches
OK, we have a new favorite bit of Starfield merch. Available via the official Bethesda store, these in-universe patches look as if they've been dragged straight from the game world. They're a subtle way of showing your fandom without screaming about it from the rooftops, which we're always appreciative of.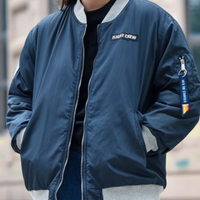 Starfield Bomber Jacket
When it comes to officially licensed video game merch, Insert Coin has the market cornered - their clothing lines are almost always sleek and eye-catching, but are never in your face. That holds true for the Starfield bomber jacket as well. It's a subtle but very cool nod to the space-based RPG, with classy touches like the Constellation logo on the zip, a patch on the arm, and 'flight crew' emblazoned across the chest.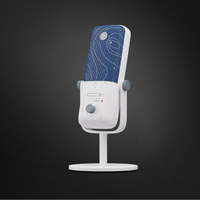 Wave:3 Microphone - Starfield Edition
Want to bring the vibe of daring space exploration into your day to day? You can get a Starfield-themed mic from Elgato, and even though it's another reskin, it's a rather dashing one nonetheless. Much like the controller and headset from Xbox, it replicates that NASA-punk design with the Constellation flag on the back. Because Elgato's as close as you can get to a household name for streaming, you should be getting good value for money with this one.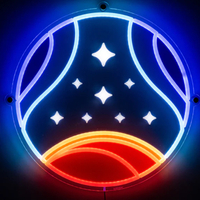 Starfield LED wall art
The last entry on our list is… well, it's one hell of a statement piece. Besides being a showstopper in terms of visuals, it looks as if it'll be a solid addition to your gaming space if you want some mood lighting for your Starfield sessions. As with so many other items on this list, it isn't obnoxious either - it could pass for 'just a cool neon light' rather than 'crass corporate marketing.' Just be warned, it's pricey.
For more Starfield goodness, find out about all of the Starfield factions, the best Starfield backgrounds, and the best Starfield ships.