The Steam Deck is undeniably an incredible handheld, but if you're rocking the 64GB model, you may want to consider upgrading the handheld's SSD. Out of the box, you won't be able to install chonky adventures like Diablo 4, as Blizzard's hellish sequel takes up 90GB. So, to save yourself from faffing around with your on-the-go library, we've tracked down a solid Steam Deck SSD deal that'll expand the portable's capacity for less.
Over at Amazon, you can currently grab a Sabrent Rocket 2230 512GB NVMe SSD for $76.49, and it'll pair with the Steam Deck perfectly. That's 49% cheaper than its usual $149.99 price tag, and the 1TB version is also down from $159.99 to $109.99. Not too shabby when you consider the fact you'll pay $250 more for Valve's 512GB portable compared to the $399 model, even if the former does include a fancy anti-glare screen.
Unlike the best SSD for your desktop PC, this dinky M.2 option is the same length as the one included with Valve's 256GB and 512GB Steam Deck, meaning it won't cause havoc in terms of compatibility. It's also worth noting that the Sabrent Rocket 2230 is a PCIe 4 drive, meaning it'll outperform Steam Deck-compatible microSD cards and keep up with the best gaming PC builds in terms of storage specs.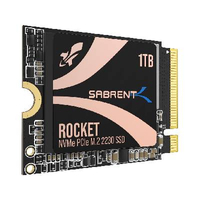 Sabrent Rocket 2230 512GB NVMe SSD | $149.99 $76.49 at Amazon US
Save $73.50 - This dinky solid-state drive is the right size to fit in the Steam Deck, so you won't need to worry about the upgrade interfering with the handheld's innards. While the drive will benefit the 64GB model most, you could swap out Valve's 256GB SSD and double your capacity.
In case it's not already clear, we absolutely love Valve's mighty handheld, and our Steam Deck review dubs it a game-changer. That said, even the best hardware will benefit from an upgrade or two, and investing in a compatible SSD is going to ensure you can install upcoming PC games and fight the hordes of hell on the go.
More of today's best SSD deals
Fancy playing Diablo 4 on Valve's portable using a bigger screen? Check out our best Steam Deck dock picks and transform the handheld into a desktop hybrid. Alternatively, if you're looking to upgrade your console storage, take a peek at the best PS5 SSD and best Xbox Series X hard drives.