A top SSD will not only boost storage but help enhance performance, something everyone can benefit from. Whether it be on PC or PS5, there's always a good reason to make the upgrade. It's just easier when you have a winning deal like this Samsung SSD at Amazon.
Less than five months after launching, the Samsung 990 Pro 2TB SSD has been slashed by 38% to a record-low price of $179.99. Usually retailing for $289.99, this is a $110 saving and is currently the new number-one release on Amazon for SSDs, proving its popularity. With read/write speeds that are 40%/55% faster than the Samsung 980 Pro (one of our absolute favorite SSDs), this is a big upgrade over its predecessor (though that 2TB model can be found for $149.99 at the moment, too).
For further comparison, we always recommend reading up on our guide to the best SSDs for gaming, featuring the likes of WD Black, Seagate, and more. While the Samsung 990 Pro is designed specifically for PC users, it's also a great solution for anyone with a PS5. All you need to do is pick up a separate heatsink and install it – this M.2 heatsink for $9.99 at Amazon will do the job nicely. We also have a guide on how to install an M.2 SSD into a PS5 to make things easier.
Today's best SSD deals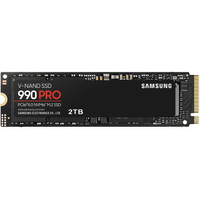 Samsung 990 Pro SSD 2TB | $289.99 $179.99 at Amazon
Save $110 - Less than six months on the market and Amazon has reduced this SSD by 38%. This makes the PC and PS5-compatible (needs heatsink) SSD cheaper than ever at just under $180. It also offers a 40%/55% increased read/write speed over its predecessor.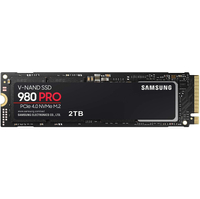 Samsung 980 Pro SSD 2TB | $379.99 $149.99 at Amazon
Save $230 - An even bigger discount has been applied to the Samsung 980 SSD model, slashing a huge 61% off its typical MSRP. That $200-plus discount now means this SSD is at its lowest-ever price at the retailer. Another great option for PC and PS5 owners (again, a separate heatsink is required).

A 4TB version of the Samsung 990 Pro SSD is also expected at some point in 2023, something that the PS5 supports. As the console is fitted with an M.2 expansion slot, it can then be fitted with an SSD anywhere between 250GB and 4TB. Naturally, the higher the storage, the higher the cost. And the 4TB SSD is expected to be around $400 (if not more), so it's completely up to you if you would rather wait or pick up this 2TB SSD for less than half.
More of today's best SSD deals
Make sure to read up on the best SSDs for gaming in 2023, so you know exactly what brands are worth investing in. We've also put together a guide on the best PS5 accessories alongside the best cheap PS5 game sales so you can really take advantage of that increased storage.