The Razer Blade 15 has taken a serious discount at Best Buy this week, but that $1,200 saving is only going to last until July 23. If you've been waiting to pick up one of the best gaming laptops on the shelves (and our top pick from last year's cohort), now's the time to take the leap. The RTX 3070 Ti configuration has hit $1,799.99 in Best Buy's latest gaming laptop deals, kicking that lofty $2,999.99 MSRP to the curb.
This configuration packs an Intel i7-12700K processor (the previous generation but still more than capable of keeping up with you), a 1TB SSD, 16GB DDR5 RAM, and a super speedy 360Hz display. That's excellent value - especially when you consider we've only ever seen this rig drop cheaper during a particularly speedy flash sale at Amazon earlier in the year.
This is a must-see for anyone looking to maximise style as well as power, especially if you're a competitive player who will make the most of those blistering screen speeds.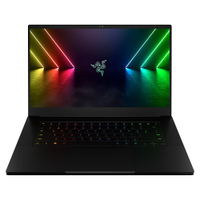 Razer Blade 15 15.6-inch RTX 3070 Ti gaming laptop | $2,999.99 $1,799.99 at Best Buy
Save $1,200 - This is a big one, but the sale is due to end soon. The Razer Blade 15 was our top gaming laptop for a long time, and the best of the last generation - and you'll find an RTX 3070 Ti configuration for just $1,799.99 right now. That's cheap for these luxury machines.
Config: Intel i7-12700K | Nvidia RTX 3070 Ti | 16GB DDR5 RAM | 1TB SSD | 360Hz FHD display
Buy it if:
✅ You want a good looking laptop
✅ You need an all-in-one machine
✅ You play competitively
Don't buy it if:
❌ You value performance over aesthetics
❌ You don't want to spend more on luxury
❌ You won't get the miles out of it
The Razer Blade 15 doesn't take part in gaming laptop deals too often, but when it does it's often snapped up by those keeping tabs on its prices. This is the most recent 15.6-inch Razer laptop, and it carries that brand pedigree proudly. We still love that matte black minimalist chassis design, and the high build quality and subtle aesthetic means it's a machine for use on the go and at home.
Even though we tested a 4K device for our own review, we've since had a brief encounter with the 1080p model and were still impressed by the screen quality. Razer produces some of the best displays in the market and that's true even when you're prioritizing speed over resolution. Dropping our UHD model down to 1080p, we were able to consistently enjoy 60+fps across our benchmark tests as well. That was with an RTX 3080 Ti at the helm, but the configuration above will still prove powerful enough for the vast majority of players.
More of today's best Razer Blade gaming laptop deals
If you're after more cheap Razer laptops, you'll find all the web's latest prices compared just below. Our price checking technology scours all the top retailers every half hour, bringing you the latest discounts.
Of course, we're also rounding up the best Alienware laptops and the best Asus gaming laptops if you're after another flavor - or check out the best gaming PCs for something more permanent.