I rarely get excited about graphics card prices these days. Since the chip shortages and pandemic days, the price of GPUs has been through the roof. That just isn't a healthy position for the market to be in, because gamers and PC builders alike have had to settle for what Nvidia claims is good value, not what's genuinely a "good" price-to-performance ratio.
This morning, however, I got an email alert from Camel Camel Camel telling me that the MSI variant of AMD's Radeon RX 6600 XT had dropped down to $286 on Amazon. Now, I always try to keep an eye out for the budget buyer when it comes to gaming hardware. I know the pain of not being able to afford expensive PC components, so if I get the chance to recommend a decent deal on the entry-level end of the scale, I jump at the chance.
When it comes to the best graphics cards on the market at the moment, budget buyers can't do much better than the Radeon RX 6600 XT. In our power rankings, it's still the best budget graphics card in terms of performance. At this price, it'll set you back the same as an Nvidia RTX 3050 despite the fact it goes toe-to-toe with an RTX 3060.
AMD isn't exactly innocent in the pricing problems in the GPU market at the moment, but I'd be lying if I said I didn't get a serious kick out of the way it continues to undercut Nvidia at every turn that it can. For an 8GB GPU, I'd still say prices like these are a little high, but given that the average price of this board on Amazon is $323, you can see why such a decent price cut would get me excited. At this price, a 6600 XT is a steal for anybody in today's GPU economy.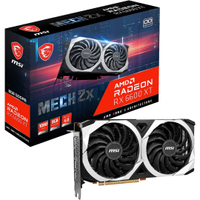 MSI Gaming AMD Radeon RX 6600 XT | $299.95 $286 at Amazon
Save $13.95 - The AMD Radeon RX 6600 XT is our favorite budget GPU at the moment. For anyone looking to do some light PC gaming at 1440p, this is a superb card to pull the trigger on. It has 8GB of GDDR6, 2048 GPU cored, and a boost clock speed of 2589MHz. For a card that holds its own against an RTX 3060, this is a great price.

Unfortunately, this deal is only available in the US. If you're a UK buyer, take a look at this small form-factor RTX 3060 from ASUS which is also on sale. Right now, you can grab it for only £299 at Amazon, down from £364.99.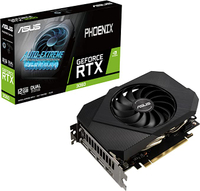 ASUS Phoenix Nvidia GeForce RTX 3060 | £364.99 £299 at Amazon
This small form factor version of the RTX 3060 definitely punches above its weight class. It's still slightly more expensive than the RX 6600 XT above, but for UK buyers this is the closest equivalent deal at the moment.

Let's talk value for money here for a moment. Considering this GPU will compete with an RTX 3060, let's compare the prices of the two in the US. After all, they're both some of the best cheap graphics cards you can buy. At the moment, an MSI GeForce RTX 3060 with 12GB of VRAM will set you back $329.99. In fairness, this card is also on sale at the time of writing, discounted from $399.95. If you're a die-hard team green fan, maybe that's the card to go for. You are paying for the extra memory, but considering the 6600 XT holds its own, the highlighted deal above gets you some excellent value for money.
For those who are unfamiliar with AMD's line of GPUs, fear not. They may not be directly comparable to a lower-end last-gen card, but I recently reviewed the AMD Radeon RX 7900 XTX and 7900 XT, and was blown away at the value for money they presented.
Keep in mind, of course, that the entry-level GPUs from both Nvidia's 40 series and AMD's 7000 series are both on the way. We don't have confirmed release dates for them yet, but I'd put my money on both being released before Summer is through. Either way, for now, this is a great price to grab yourself a 6600 XT for 1080p and 1440p gaming.
---
Boosting your gaming rig? Check out the best SSD for gaming, the best CPU for gaming, and the best RAM for gaming.