The GTA Online Service Carbine has the appearance of a classic M16 rife, and has become a much sought-after weapon in the game. This is partly due to the difficult treasure hunt you originally had to complete to get your hands on it, involving searching for randomly spawning crime scenes which then needed to be investigated to find sections of the M16, before it could be pieced together into the finished gun. Although that process can still be followed, there's now a much easier way to immediately purchase the M16 rifle without jumping through hoops, so if you want to add the GTA Online Service Carbine to your arsenal then we've got both method of unlocking it outlined below.
While you complete your search for the M16 Service Carbine as part of the GTA Online The Criminal Enterprises update, why not check out what other GTA Online new weapons we have to play with, in the shape of a fresh Precision Rifle.
How to unlock the GTA Online Service Carbine
There are two different ways to unlock the GTA Online Service Carbine, with the first route to getting the M16 involving a treasure hunt to find five Service Carbine parts scattered around the map at random crime scenes, in much the same way as how you got the Double-Action Revolver in GTA Online. That's thanks to information initially datamined from the GTA update files by WildBrick142, and although this method is free is does rely on a lot of time and random chance to fully complete.
Thankfully, the second way to get the GTA Online Service Carbine is much simpler, as after an initial exclusivity period through the treasure hunt it is now available to purchase directly from Ammu-Nation or the armory at your Agency if you've got that business up and running. The base cost of this gun is $370,000 though it may be reduced if you have discounts available, and it comes with the usual accessory options for Extended Clip, Flashlight, Suppressor (fitted as standard), Grip, and various Tints.
GTA Online crime scene locations for Service Carbine parts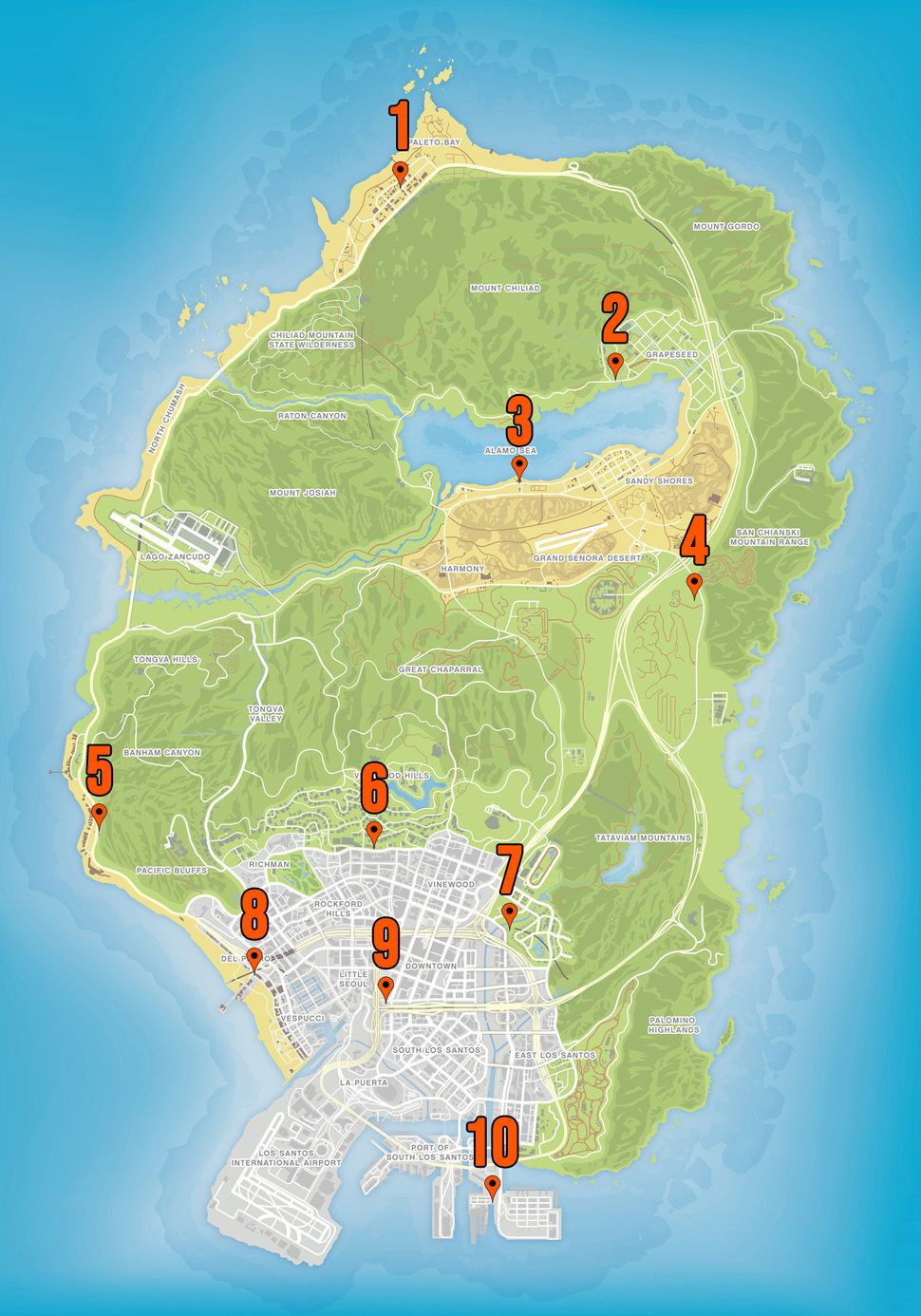 There are a total of 10 possible GTA Online crime scene locations where you can collect Service Carbine parts, and these will spawn randomly around the island at the following places marked on the map:
Paleto Bay
Grapeseed
Alamo Sea
Ron Alternatives Wind Farm
Chumash
West Vinewood
La Mesa
Del Perro Beach
Strawberry
Elysian Island
You'll know when you're near an active GTA Online Service Carbine part location, as it will appear as a small blue blip on your map which expands into a circle when you get close – much like the randomized collectibles in the GTA Online Solomon movie props hunt, or the NPCs you can encounter and interact with. You'll need to discover five of these crime scenes to recover all of the available Service Carbine parts:
Barrel
Magazine
Receiver
Scope
Sights
Unfortunately at the moment it seems like this is a process of trial and error, visiting the different crime scene locations until they randomly spawn in as active. While you can take a helicopter and quickly travel between all possible locations, there's no guarantee that any of them will actually appear. Some players claim you need to be online for 20 minutes before they begin spawning, while others have reported they found one almost immediately after joining a session, and they also appear in Invite Only sessions.
GTA Online LD Organics Product
Where to find all 100 GTA Online LD Organics Product bags.
Another approach is to pick a personal Spawn Location close to one or more of the potential crime scenes, start a session then immediately visit the location(s) nearby, and if nothing appears then find a new session through the Online menu and try again. However, if the 20+ minute wait before they start spawning is correct, you're better off staying in the same lobby for a while to keep periodically checking the various locations. Don't forget, if you'd rather not go through this process you can now purchase the GTA Online Service Carbine from Ammu-Nation stores or the armory at your Agency if you own one.
Have you completed the GTA Online Operation Paper Trail missions with the IAA, to get to the bottom of a wide-reaching criminal conspiracy?