If you wanted an easy way into the world of Gloomhaven and Frosthaven board game, you might want to pay attention to a certain deal kicking around right now - the more accessible prequel Gloomhaven: Jaws of the Lion is currently 48% less than normal.
To be precise, the dungeon-crawling board game is available for $25.80 at Amazon instead of $49.99. Although it's been fluctuating in price these last few months (we saw it dip just below $25 near the end of March), that's still a very good offer on what is arguably one of the best board games for fantasy fans. In fact, it hasn't been significantly lower since July 2022 when it dropped to $19.99 ever so briefly - it normally averages $36 or so.
Anyway. You can see this offer - and a few others, if this one doesn't suit - further down the page.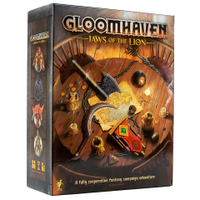 Gloomhaven: Jaws of the Lion | $49.99 $25.80
Save $24.19 - Even though we've seen it for ever slightly less this year (a dollar or so, that is), that's still an aggressively good price for a board game that normally averages $36. Indeed, the only time it's ever been significantly lower was in summer 2022 when it dropped to just below $20… and that in itself is a real rarity.

This board game acts as a prequel to the main Gloomhaven adventure, and Frosthaven too. It's also much more accessible; the rules are drip-fed a little better, and the whole thing is less overwhelming in scope. As I said in my Frosthaven first impressions (and as our Gloomhaven review mentioned, for that matter), these fantasy epics are a lot to get your head around, so starting here is a great idea.
It's well worth grabbing Jaws of the Lion if you enjoy RPGs (whether it's video games such as Diablo or the best tabletop RPGs), Dungeons and Dragons books, or old-school pen-and-paper adventures where you decide what to do page by page. To be precise, it'll appeal to fans of all of the above thanks to its branching storyline, tactical combat that doesn't rely on random chance, and deep world.
More board game offers
Not feeling this discount? You can check out other board game deals via our dedicated page or through our bargain-hunting software below.
---
For more tabletop recommendations, don't miss these essential board games for adults, must-have board games for 2 players, and the best cooperative board games.