If you want to sample almost every of the main genres of gaming, hoo boy are you in for a treat. Now that we're being drowned in Black Friday gaming deals, Currys is currently offering a bundle that not only provides you with the ramped up Xbox One S but also throws in a RPG with enough story for the most discerning of authors, the most shooty of FPSs, a sandbox game brimming with potential, a racing game, and a FPS RPG with killer online multiplayer. The only catch is you'll have to order online and then go pick it up in store. But for a deal this great, we're sure you can make an exception.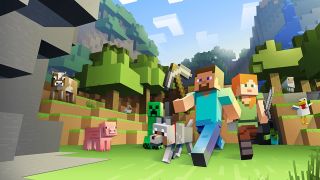 Xbox One S and games bundle: Get an Xbox One S with Fallout 4, DOOM, Minecraft, Forza 7, and Star Wars Battlefront II for an astonishing £210 from Currys.
If Minecraft isn't your cup of tea (Creepers aren't for everyone, we guess), you can also buy the an identical bundle that just replaces Minecraft with Forza Horizon 3 and the Hot Wheels pack for £210 from Currys. Then you can race to your heart's content and relive that magical childhood nostalgia that comes from making tiny plastic cars zoom along metres of bright orange plastic. If neither of these are quite what you're looking for, head over to our best Black Friday Xbox One deals to see what else is on offer.