The Xbox Series X will be Big in 2023. After a relatively quiet 2022, the list of upcoming Xbox Series X games for the new year is astoundingly broad, making it difficult to know which titles will likely define the conversation around the system throughout the year. That's why we wanted to spotlight five Xbox Series X exclusives that we believe that you should have on your radar. Each of these are new games for 2023 that we've been keeping a close eye on, and while many can also be considered upcoming PC games – thanks to Microsoft's borderless approach to production – Xbox is the only console where you'll be able to play this exciting lineup of must-see Xbox exclusives for 2023.
Starfield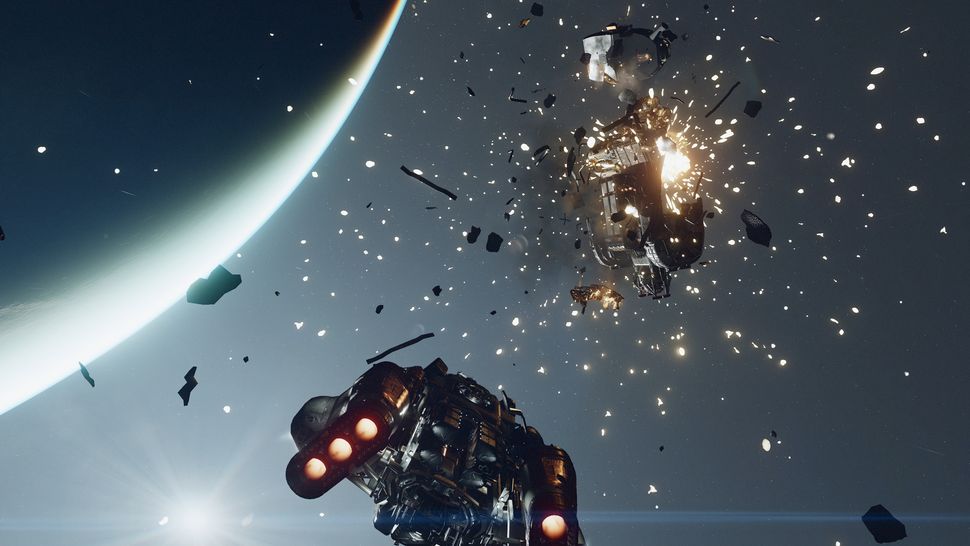 Developer: Bethesda Game Studios
Release date: Spring 2023
Starfield will be the system seller the Xbox Series X and Xbox Game Pass needs in 2023. Developer Bethesda Game Studios is best known as the steward of The Elder Scrolls and Fallout franchises, but with this spacefaring RPG the team will deliver its first entirely new IP in 25 years. Starfield is set to let you define your own adventure between the stars, where you'll be able to create your own character, define their personality, and travel a galaxy comprising over 1000 explorable planets. Between the in-depth crafting and customization systems, the emphasis on dialogue and persuasion alongside considered first-person combat, and the ability to outfit your very own starship, this looks every bit a dream RPG for fans of science fiction. Starfield was supposed to launch as an Xbox Series X platform exclusive on November 11, 2022, but a delay pushed the game to the first half of 2023.
Redfall
Developer: Arkane Studios
Release date: Spring 2023
Arkane Studios earned a reputation for building some of the finest action games of the past three generation cycles through Dishonored, Dishonored 2, Prey, and Deathloop. Now the team is turning its attention towards a new type of experience with Redfall, a cooperative shooter which will let you join up with three friends and hunt vampires in a contained open-world coastal town in Massachusetts. Yet, despite the differences to the immersive sims Arkane is best known for creating, the studio's DNA can be found all throughout Redfall – from the suite of audacious weapons and supernatural powers at your disposal, to a sharp focus on intertwining levels and environmental storytelling. Redfall is scheduled to launch in the first half of the year and, whether you're coming to it via Game Pass or the storefront, it's all-but set to be a defining Xbox Series X game for 2023.
Learn how Redfall is Arkane's love letter to Far Cry, Stalker, and Borderlands in our exclusive Big in 2023: Redfall feature.
Forza Motorsport
Developer: Turn 10 Studios
Release date: Spring 2023
It's funny to think that we used to receive new Forza Motorsport games every two years; that changed in the Xbox One era, and it's now been over five years since the release of Forza Motorsport 7. Thankfully, Turn 10 Studios is making its long-awaited return in Spring 2023 with an experience that is designed to take full advantage of the power and performance of the Xbox Series X. For Forza Motorsport, Turn 10 has focused its resources on creating a more detailed simulation engine to deliver a more realistic driving experience. With improved car physics and weighting comes a greater focus on damage modeling too, while the introduction of ray-tracing will ensure that every blemish on your bodywork is clear for all to see. Forza Motorsport is destined to be the system showcase that the Xbox Series X is in desperate need of, with all signs pointing to this being among the best looking and performing titles on the platform.
Stalker 2: Heart of Chornobyl
Developer: GSC Game World
Release date: 2023
The legendary S.T.A.L.K.E.R. series has long been confined to the realms of PC gaming, but this year Xbox Series X owners will get a chance to see what all the fuss is about. Stalker 2: Heart of Chornobyl is back in active development after GSC Game World was forced to halt production as a result of the ongoing invasion of Ukraine, with the shooter now scheduled to release in 2023. It'll be worth the wait too. Everything we have seen of Stalker 2 continues to impress – from the reactive enemy and mutant AI to the stunning borderless open-world, and the awe-inspiring anomalies cast out across it. Expect a heady blend of challenging FPS action, light survival mechanics, and immersive sim sensibilities to all be present and accounted for in Stalker 2; GSC Game World wants to make the Chornobyl Exclusion Zone truly inhospitable, and we can't wait to dive back into it after so many years away.
Planet Of Lana
Developer: Wishfully
Release date: TBC 2023
Planet of Lana is one of those video games where, once you see it in action, you immediately feel the impulse to dive headfirst into its world and waste away the hours exploring its mysteries. Developer Wishfully is billing this Xbox console exclusive as an "off-earth odyssey" but it's perhaps best described as a love letter to Limbo and Inside with a gorgeous Studio Ghibli-style visual design. This cinematic puzzle adventure is scheduled to launch Spring 2023 and we're already counting down the days, especially after discovering that The Last Guardian composer Takeshi Furukawa will be handling the score. We've been impressed by everything we have played of Planet Of Lana so far, with the adventure offering a nice blend of quiet exploration, logic-based puzzles, and action sequences that'll test your reflexes. Planet of Lana will be available through Xbox Game Pass on day one too, so you've no excuse for not jumping into this awe-inspiring world.
Big in 2023 is the GamesRadar+ guide to the most anticipated games of the year. Join us all throughout January as we explore the biggest upcoming video games of 2023, and the developers making them.