We're in full Starfield fever now, so if you're planning on picking up an Xbox Series X for the blockbuster release we'd recommend checking out this offer at Dell. The retailer has dropped the price of the console itself, and is throwing in a free $75 promotional gift card. That essentially drops the cost of the console down to $400 - a $100 discount all told.
Yes, you're splitting your savings between the $25 price cut on the device and the additional gift card, but with plenty of headsets, controllers, and other Xbox Series X accessories up for grabs at Dell there's plenty of value in here. We've have seen Xbox Series X deals drop the console down to $449 in the past, but without that extra value in gift card form.
We've never seen the value of an Xbox Series X bundle near $400 in the past, which makes this the most impressive offer on Microsoft's console to date. Yes, we've seen that $75 promo card around the shelves a few times, but not in conjunction with a saving as well. If you can put that Dell gift card to good use, it's a must-see as we turn the corner to Starfield's release date.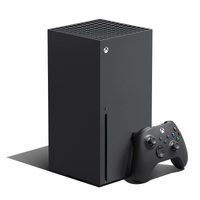 Xbox Series X | $75 Dell promo gift card | $499.99 $474.99 at Dell
Save $25 - Yes, this is technically only a $25 discount on the console itself, but that $75 gift card is bringing some fantastic value to the party here. With controllers and other accessories readily available on the Dell site, there's plenty of options to kit out your new console for free.

Should you buy an Xbox Series X?
Whether you've already got a PS5 and need a console for Starfield, or you're still torn between current generation machines, this offer works particularly hard to provide extra value. The Xbox Series X is a Game Pass machine though, so if you've already got a gaming PC capable of running Bethesda's upcoming blockbuster just fine, it might not make the most sense. Of course, an Xbox Series X is far cheaper than a powerful rig like that, but still offers far more power than the Series S. At this discounted rate, the Series X makes more sense than the cheaper digital-only console. You're spending a little more, but picking up more internal storage, adding a disk drive, and scoring 4K resolution - that's infinitely better value overall.
More of today's best Xbox Series X deals
Of course, there are plenty more discounts to chase this week. We're rounding up all the web's lowest prices across some of the best kit on the market just below.
We're also bringing you all the best Xbox Game Pass Ultimate deals and rounding up our favorite Xbox Series X controllers and the best Xbox Series X headsets as well.