If you thought memes about the release of Barbie and Oppenheimer this weekend stopped at Ryan Gosling prefixing as many words as possible with "Ken", you've underestimated the power of this Summer's biggest Blockbusters. UK-based retailer CCL Computers has launched Barbenheimer deals on some great gaming hardware.
With Barbie and Oppenheimer exploding onto big screens around the world this weekend, there's been a great response online to the two films sharing the red carpet. With the films having such contrasting tones, memes have been all over the place as cinema-goers prepare for the most jarring double bill of the century. It's reminiscent of Doom Eternal and Animal Crossing: New Horizons launching in such a close window way back in 2020.
Call it bandwagon jumping or just good fun, but CCL Computers has lined up some pretty decent deals on all sorts of gaming hardware the Barbenheimer banner. With Prime Day having just come and gone, it is a little surprising to see more deals come around again so soon.
Heading up the bargains are two pretty impressive gaming PC builds as well. If you're interested in a new rig to celebrate either film, you have the choice between a Malibu Gaming PC and an Atomic Gaming PC. Each has a chassis design in keeping with its respective film, but both are Chillblast rigs that house some beefy new-gen components.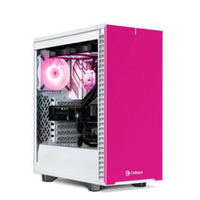 Malibu Gaming PC | £2,299.99 at CCL Computers
Bring out your pink side or show off your Kenergy with this beautiful pink gaming rig. It features an AMD Ryzen 7 7700X CPU, an RTX 4070 Ti OC, 32GB of DDR5 RAM, and 2TB of SSD storage. As CCL puts it, it features the power to slay.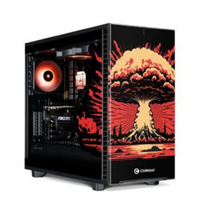 Atomic Gaming PC | £2,299.99 at CCL Computers
Alternatively, you can become death, the destroyer of worlds with this Atomic version of the same configuration. You get the Ryzen 7 7700X, RTX 4070 Ti OC, 32GB of DDR5, and 2TB Samsung 970 EVO Plus.

Below that, you can find all sorts of discounts on Barbenheimer-themed gaming hardware. In the Malibu deals section, standouts include a Nova Pink DualSense Edge for only £59.99, a Pink gaming chair in the form of a Razer Enki for only £299.99, and even a cheaper Horizon RTX 3060 gaming PC that's only £699.99.
If you'd rather channel Christopher Nolan's darker epic, there are some great offers in the Atomic section, too. We reviewed the Philips Momentum 329M1RV back in December and gave it four stars - it's now on offer for £729.99 down from £922. Alternatively, you could get a 16GB kit of Corsair's Vengeance LPX DDR4 RAM for only £38.19, or an Asus ROG Swift E-sports monitor for £309 cheaper.
The Barbie movie stars Margot Robbie and Ryan Gosling as Barbie and Ken, and in our Barbie review we called It "sublime", giving it four stars. Oppenheimer's reviews are yet to drop, but it's the much-anticipated biopic about the father of the atomic bomb, directed by Christopher Nolan and starring Cillian Murphy.
No matter which film you're keener to see, there are some pretty great deals to be had in CCL's Barbenheimer event. Anytime we can tell you about some of our favourite hardware going cheap, we're happy to shout about it.
Waiting until both films hit the streaming services? Before then, take a look at the best gaming TV, the best TV for PS5 and Xbox Series X, and the best OLED TVs.