The latest monthly Sea of Thieves update is finally here, bringing with it a host of new activities and features. The monthly Sea of Thieves updates have consistently brought new loot, new cosmetics, and new ways to have fun on the high seas, and Smuggler's Fortune is no different.
You can read the complete announcement here. Here are the most important additions in the Smuggler's Fortune update.
Monkey around
Monkeys and parrots are now available as pets, and you can get them at a new 'premium' store called the Pirate Emporium, which requires a special currency called Ancient Coins. You can buy Ancient Coins on the Xbox store in-game using real money, but they can also be earned through gameplay. You can find Ancient Coins in-game by killing Ancient Skeletons, which are apparently a rare surprise, so keep your head on a swivel. The Pirate Emporium will also sell new emotes and ship liveries, including a set called Bear & Bird, a cute nod to Rare's Banjo-Kazooie franchise.
New Voyages
The Bilge Rats' Mercenary Voyages are now free-to-accept and you can earn Doubloons by completing them. And September's Rag and Bone voyages are a unique twist on Sea of Thieves' Cargo Runs: they'll send crews to Shipwreck Bay to find hidden crates that have to be hand-delivered to varying Seaposts. It looks like these Rag and Bone voyages will be timed, and Rare warns that "yours won't be the only crew heeding the call." The Rag and Bone Voyages will run throughout the September event and will be replaced by new Voyages come the October update.
Gimme the loot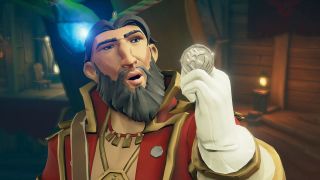 There's a ton of new cosmetics, items, and loot available in the Smuggler's Fortune update. Duke's Black Market will have versions of sets that were previously time-limited, including the Fearless Bone Crusher items. Duke prefers Doubloons, but you can use gold to purchase less exclusive items like the Deep Ocean Crawler weapons.
And Rare says there are heaps of loot floating about at sea for pirates to get their hands (or hooks) on. The Ancient Skeletons and their Ancient Coins can procure you some rare items at the Pirate Emporium, and sinking Skeleton Sloops allows you to steal their wares. "There are more riches than ever just waiting to be found... or stolen!" the announcement reads.
Sea of Thieves tips | How to fish in Sea of Thieves | Sea of Thieves Tall Tales | Sea of Thieves animal locations | Sea of Thieves pirate legend guide | Sea of Thieves gold guide | How to defeat a Sea of Thieves kraken | Sea of Thieves Gold Hoarders guide | Sea of Thieves Merchant Alliance guide | Sea of Thieves Order of Souls mission guide | Sea of Thieves skeleton fort guide