20. Clubhouse Games: 51 Worldwide Classics
Maximum players: 4
Multiplayer type: Local and online co-op
If you're looking for some tabletop goodness to play with friends and family, then you can't go wrong with Clubhouse Games: 51 Worldwide Classics. With card games, board games, sports games, and more, there's a vast range of different classic games on offer. Playable on one Switch locally, or with multiple consoles online, there's also a free Guest Pass version that will let you try out Four-in-a-Row, Dominoes, President, and Slot Cars. There's also the added bonus that if one person has the full game, other players can connect locally to play the whole library together. With the likes of Blackjack, Checkers, Chess, Fishing, Golf, Air Hockey, and more, you're sure to find something you'll enjoy playing with your pals.
19. Mario Tennis Aces
Maximum players: 4
Multiplayer type: Local co-op
The characters of Mushroom Kingdom are back on the tennis court and it's the perfect way to spend some quality time with your chums. With 15 classic characters from Mario to Waluigi and Rosalina, you can play Mario Tennis Aces in singles matches, or spice things up with a round of doubles which splits your group into teams. But this isn't just plain old tennis. When it comes to Mario's take on the classic sport, a lot more comes into play. Special power moves can give you the upper hand and help you bat your way to victory. You can try your hand at power serves and trick shots to catch your opponents off guard, and there's even the option to slow down time, break rackets and even knock the opposing team out with your ball. Yep. Mario breaks all the rules. It also offers the option to aim in first-person, which makes it a lot more interesting to control than the regular third person perspective, and it allows you to try and hone your shots.
18. Death Squared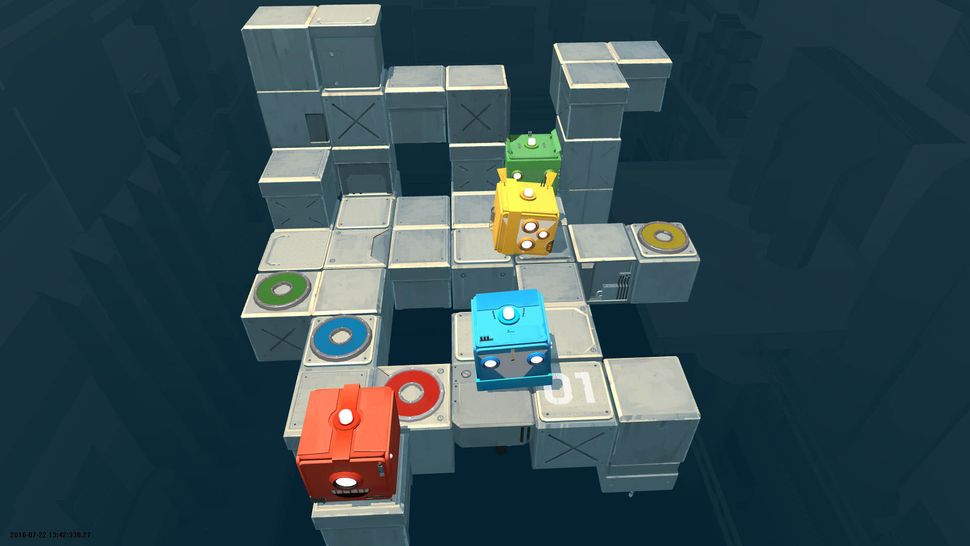 Maximum players: 4
Multiplayer type: Local co-op
If you're after some puzzle-based action, Death Squared will get you thinking. As a co-op puzzle game, two players can take on the main campaign, or up to four players can get stuck into the party mode. In the main campaign each player takes control of a different cube-shaped robot using the Joy-Con controllers. You have to work together to solve every level, and each one gets progressively harder and busier than the last. Every level is made up of grids with different layouts that are filled with traps. You have to try to navigate your little robot to the corresponding coloured space to complete the level, but sometimes your movements can hinder the other player, so you really have to communicate and try to work in tandem to solve the levels. You'll most likely die a lot - be it by falling off the edge, or getting blown to pieces - but you'll have a lot of fun doing it. Party mode makes things trickier because more of you means more chances of falling off or accidentally killing each other.
17. Shovel Knight
Maximum players: 2
Multiplayer type: Local co-op
As tiny 8-bit knights armed with shovel blades, you and one other friend can take on the original Shovel of Hope campaign together. When your loved one gets captured by the evil enchantress, you run to their rescue and set out on an epic retro style quest to be the heroes you were always meant to be. The shovel blade can slash and dig, making it one very multi-functional weapon. The charming platformer is packed full of evil knight foes, crazy bosses to best, and some fantastic music to boot. Every level will present different challenges, and with a fellow shovel knight by your side, you can try and overcome everything thrown at you as a dynamic duo. Yacht Club Games are also working on releasing a multiplayer DLC called Showdown, which will add a four-player mode that sees you duel it out against other players to fight for gems. Originally slated to be released this April, no new date has been confirmed just yet.
16. Diablo 3: Eternal Collection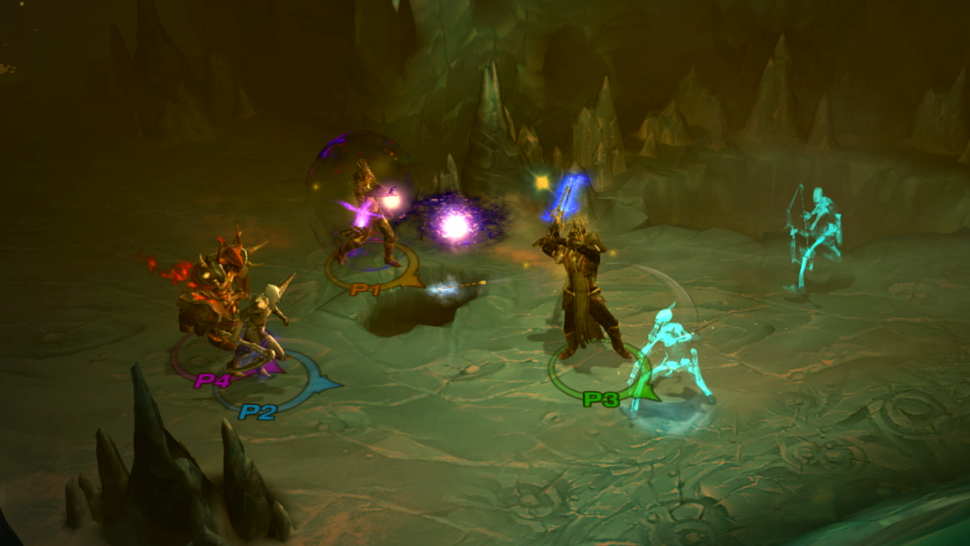 Maximum players: 4
Multiplayer type: Local co-op (online option available)
Blizzard's isometric dungeon crawler feels right at home on the Switch, and hacking and slashing your way through hordes of demons and opening chests is all the more satisfying when you're doing it with your buddies. Up to four players can form the ultimate dungeon faring team and get stuck into the RPG action. You can all get around one Switch and play locally, use multiple switches over Bluetooth, or play together using an online connection if you have a Nintendo Switch Online subscription. The Eternal Collection is packed full of goodies to enhance your experience, including Zelda-themed items. While it still doesn't have split screen like the other console ports, it's a fantastic addition to the Diablo console line-up. There are also lots of controller options: the Joy-Con has been optimised for Diablo's gameplay, and once you get the hang of using it, it actually works quite well.
15. Tricky Towers
Maximum players: 4
Multiplayer type: Local co-op
Playing with others can be really make your gaming session that much more magical, so why not actually bring some magic into your multiplayer line-up? As a wizard equipped with different spells and powers, you have to try and build a tower out of blocks with up to three friends. But as the name of the game suggests, it's a lot trickier than it sounds. As it's physics-based, you really have to think about your block placement to make sure your tower doesn't fall down and dash all your hopes of victory. The tower building mayhem is formed of several different modes you can challenge your friends with. In race mode, you'll compete to reach the top finishing line and build your tower the fastest. Survival mode sees you try to stack blocks without letting too many fall; every block that falls will take away one of your three lives. And finally, there's puzzle mode where you have to place as many blocks down before you reach the cut-off line.
14. Rocket League
Maximum players: 4 offline local / 8 online
Multiplayer type: Local and online multiplayer
Hitting a ball in a goal was never as fun or frantic as it is when you're doing it with rocket-powered cars that soar through the air. With physics-based driving, whizzing around to get the ball in the caged arenas will see you flipping and drifting your way to the goal in every match. With several different modes to try out, including the ice hockey-like mode Snow Day, a basketball-esque mode where you try to shoot the ball through hoops, and a Battle Royale mode where you can go head-to-head against your friends, there's plenty of challenges to bring out your competitive spirit. Fast-paced and endlessly entertaining, Rocket League revs up the ball hitting genre in a uniquely fun way, and with lots of customisation options for your cars (including some fun Nintendo additions), you can hit the arena's with your buddies in style.
13. Minecraft: Nintendo Switch Edition
Maximum players: 4 offline local/ 8 online
Multiplayer type: Local and online multiplayer
No multiplayer list would be complete without some Minecraft goodness. The Switch edition is the most accessible port yet when it comes to co-oping it your friends and family. The blocky building adventure feels right at home on Nintendo's console, and creating your own sandbox world from the ground up with a group of friends is just as fun and creative as it ever was. There are plenty of mini games to get stuck into online, too. Battle Mode puts up to 8 players in a head-to-head battle and whoever's the last one standing wins, Glide mode sees players race against each other by flying through an obstacle course, and Tumble puts players on top of a level above lava and players have to try and knock each other off. While you can play on one Switch with up to 4 players using split screen, you can also play with up to 8 other players online on multiple consoles. And you can make use of Minecraft's cross platform play, so you can join your pals playing on PC or Xbox One.
12. Lovers in a Dangerous Spacetime
Maximum players: 4
Multiplayer type: Local multiplayer
Up for some neon-tinted space battles in a galaxy filled with colour and lasers? This is just the ticket. The evil forces known as Anti-Love have kidnapped the space-bunnies. How despicable! As the heroes, you and three other friends have to save them. Taking command of a big round spaceship, you have to try and control the ship together. By ensuring each part of the ship is being manned - such as the turrets, lasers, thrusters, and shields - teamwork is the key to victory. There's plenty of customisable options to improve your ship so you can get a better handle on different scenarios. The controls are easy to pick up, but you'll have your work cut out navigating all the crazy constellations that make up the galaxy. With some great tunes backing up all your laser shooting antics, the bright, colourful space adventure will keep you on your toes and test your team working skills. You can show the mean evil forces that love truly does conquers all!
11. Jackbox Party Pack
Maximum players: 8
Multiplayer type: Local multiplayer
Any of the Jackbox Party packs are great to play with family or friends, but you can't go wrong with the first selection of Jackbox Party games on offer. The first pack includes the classic You Don't Know Jack comedy trivia game, Fibbage XL where you have to give false answers to bizarre statements and hope the other players fall for your bluff, Word Spud which has you fill in the blanks a bit like Cards Against Humanity, Lie Swatter where you have to decide which statements are true or false, and Drawful which is a humorous take on Pictionary where you have to draw all kinds of silly objects without being able to erase anything you draw in the process. You play all of the games using a phone or tablet as your controller, so you don't have to worry about having enough Joy-Cons or pro controllers to hand.
Turn to page 3 to see our pick for the top 10 best multiplayer Switch games...