There's no denying it - film sequels are everywhere. A quick glance through the cinema listings and you'll find a new sequel or two… Every. Single. Week. Everything from Alien to Zoolander is getting its own follow-up, and that means hundreds of sequels heading to the big screen over the next few years.
There are plenty of obvious ones - Star Trek continues to beam down a new movie every couple of years and I'm honestly surprised that we're not up to Transformers 20 by now. But it's not just the major blockbusters that are putting out sequel; there are plenty of more obscure film franchises that want to cash in, too.
Then there's the sequels of films that haven't even been made yet. We're looking at you, Jurassic World 3. Either way, there are tons of sequels you might not know about. So here's 17 of the most surprising sequels you didn't know were in the works.
1. Alan Partridge 2
Aha! Alan Partridge is back. Well, sort of. The finest radio presenter in Norwich has already taken on the likes of Die Hard and Lethal Weapon with his film debut, Alan Partridge: Alpha Papa. But while a sequel was first announced in 2014, it's been a long time coming, and it looks as though Alan may have finally run out of steam.
What would the sequel be about? It's a Norfolk-based road movie, obviously.
"We were saying that it would be good to do a road trip but rather than route 66 it would be something like A148 from Cromer to Swaffam; it would be totally Norfolk based," said co-writer Neil Gibbons in an interview with the (opens in new tab). "And there would be no incident in it. It would just be him having minor car trouble."
Not exactly The Fast and the Furious, then.
2. American Pie 5
It was 1999 when American Pie saw young Jim Levenstein getting intimate with a warm apple pie. It was excruciating, lewd and downright hilarious, but do we really need another sequel?
American Pie 5 was officially announced back in 2012, but it looks as though the upcoming sequel may have stalled. Universal Pictures still hasn't announced anything about the film's production, and it seems to have completely dropped off the radar. That said, American Pie star Tara Reid confirmed that talks were underway back in 2015, with the story continuing in a surprising new locale. "There's actually talks", she confirmed to the (opens in new tab), adding that "they may be doing it in Las Vegas."
A cynical cash-in on the success of The Hangover? Perhaps. Either way, we've heard nothing about the American Pie sequel, since.
3. Bad Boys 4
It's been over 20 years since Bad Boys was first released, but Martin Lawrence and Will Smith are apparently still up for a third movie… and even a fourth one. Bad Boys 3 will see our favourite Miami detectives teaming up once more to take on the bad guys. But is it an instant hit? The studio certainly seems to think so. After all, they've greenlit another sequel before the first has even started shooting.
Bad Boys 3 was announced by Sony Pictures back in 2015, with a release date in February 2017. That's since been pushed back to 2018 to avoid clashing with the upcoming Wonder Woman movie, but Bad Boys 4 is still planned for July 2019.
A bit ambitious? Well, Bad Boys 3 is still without a director after Michael Bay refused to return. Joe Carnahan was apparently in early talks to take the helm, but we've heard nothing since. Oh well. Whatcha gonna do?
4. Chucky 7
A horror classic, Child's Play has spawned a number of creepy sequels starring Chucky - a red-headed doll possessed by the soul of a serial killer. Most recently, he returned in Curse of Chucky - the franchise's first straight-to-DVD movie. After hugely positive reviews, it looks as though that will be getting a sequel, too.
Appearing on (opens in new tab), Child's Play director Don Mancini confirmed that Chucky 7 is in the works. "HE'S BA-AAAAAACK (SOON)," he said, adding the hashtag: "#Chucky7".
Since then, Mancini, Jennifer Tilly and Fiona Dourif have hinted that shooting will soon begin, with the director and his returning actresses teasing some potential locations for the upcoming sequel. But will Chucky 7 get a theatrical release? After the success of the last instalment, the studio would be mad not to snap it up.
5. Disenchanted
After the huge success of Disney's Enchanted, it's perhaps not a huge surprise that they want to make a sequel, but with the first movie released nearly a decade ago, I thought that ship had sailed. Amy Adams starred as Giselle - a princess-to-be who is torn between her fairy tale prince and a divorce lawyer from New York. But while Enchanted 2 was announced as early as 2010, we've heard very little about it since.
"I think that the clock is ticking on that one," said Enchanted star, James Marsden (opens in new tab). "Amy Adams and I are both saying, 'If there's going to be a sequel, we're not getting any younger'."
That was five years ago. In 2014, J David Stem and David N. Weiss were said to be writing the sequel, with Anne Fletcher directing. It's since been renamed Disenchanted, but that's about all we know.
6. District 10
Neill Blomkamp's District 9 was a sci-fi tour de force. After an alien ship arrives in Johannesburg in 1982, District 9 tells the story of Wikus van de Merwe - a mild-mannered bureaucrat who is in charge of dealing with the city's alien occupants. A mixture of sci-fi and body horror, Blomkamp's breakout movie was a huge hit. But will he ever get around to the sequel he's been promising us?
"Moving forward I would love to realise this idea of District 10," he told (opens in new tab). "I have every intention to do it, I just need to find the right time to do it – to not go back to Johannesburg and shoot something similar, yet."
Although District 10 sounds like a winner, Blomkamp is currently busy with his planned Alien sequel - even though that's likely to take a back seat due to Ridley Scott's Alien: Covenant (opens in new tab). Let's just hope he gets back to Johannesburg sometime soon.
7. Dodgeball 2
It's a true underdog story - Dodgeball saw Vince Vaughn and Ben Stiller going head-to-head in a Las Vegas dodgeball tournament. It's as ridiculous as it sounds, but the 2004 comedy is supposedly getting a sequel. At least, that's what we heard back in 2013.
Being produced by Ben Stiller's Red Hour Films, Dodgeball 2 was reportedly being written by Clay Tarver. But there's been a bit of a strange turn - Ben Stiller recently denied the film's very existence. "I wasn't aware we were doing it!" he told the (opens in new tab).
Whether it's in production or not, the sequel was rumoured to see Vince Vaughn and Ben Stiller teaming up to take on an even bigger dodgeball-shaped threat. Still, after the appalling Zoolander sequel, perhaps we're better off without Dodgeball 2.
8. Flash Gordon 2
Gordon's alive? Probably. Flash Gordon starred Sam J. Jones as the titular hero - a New York football star who saves Earth from the evil Ming the Merciless. Oh, and there's a flying Brian Blessed, too. The camp cheesiness of the original made it a cult hit, and with nostalgia ruling the box office, a Flash Gordon reboot has been in the works since 2015. Except that it's not actually a reboot at all.
Original star Sam J. Jones revealed that the upcoming Flash Gordon film will actually be a sequel. "They're looking to bring out a sequel actually," he told (opens in new tab). "I met with Matt, we're in talks about that. I'm very excited. A lot of people over the years, including Stephen Sommers and Neil H Moritz, have acquired the screenplay rights, but for whatever reason they did not do a follow up on the option. So I'm very excited about it."
Will Ming the Merciless return? At the moment, we've got no idea. But it looks as though Sam J. Jones will be back, in a cameo that might even top his appearance in Ted.
9. The Goonies 2
Goonies never say die, and neither does director Richard Donner. Released in 1985, The Goonies tells the story of a group of friends who set off to find the lost treasure of legendary pirate, One-Eyed Willy. The original became a cult classic, but do we really need a sequel after all this time?
Asked by (opens in new tab) whether he'd ever consider doing a comic book movie, Donner replied: "If you call 'Goonies' a comic book," before adding "we're doing a sequel."
Does this mean it's actually happening? I'm not so sure. Original Goonies star Sean Astin seems keen to reprise his role, but co-star Corey Feldman clearly doesn't think it's going to happen. "Richard Donner is 87 years old," he said. "And it's like, no one really wants to make it without him."
Could One-Eyed Willy live to fight another day? I get the feeling this ship has sailed.
10. Gremlins 3
It's 31 years after the original Gremlins and it looks as though Gizmo still can't keep away from water or those post-midnight snacks. The 1984 comedy horror classic starred Zach Galligan as Billy, a young boy who causes murder and mayhem on a massive scale, all because he's a truly rubbish pet owner.
But while rumours of a reboot have been doing the rounds since 2013, it looks as though the new Gremlins movie is actually going to be a sequel. "It's a completely different direction," director Chris Columbus told (opens in new tab). "It's not a remake of the first movie at all… It's the same universe, the same rules, same Gremlins, but not the same."
Zach Galligan will reportedly return as Billy. Let's just hope he can actually follow those three simple rules this time. Oh, who am I kidding.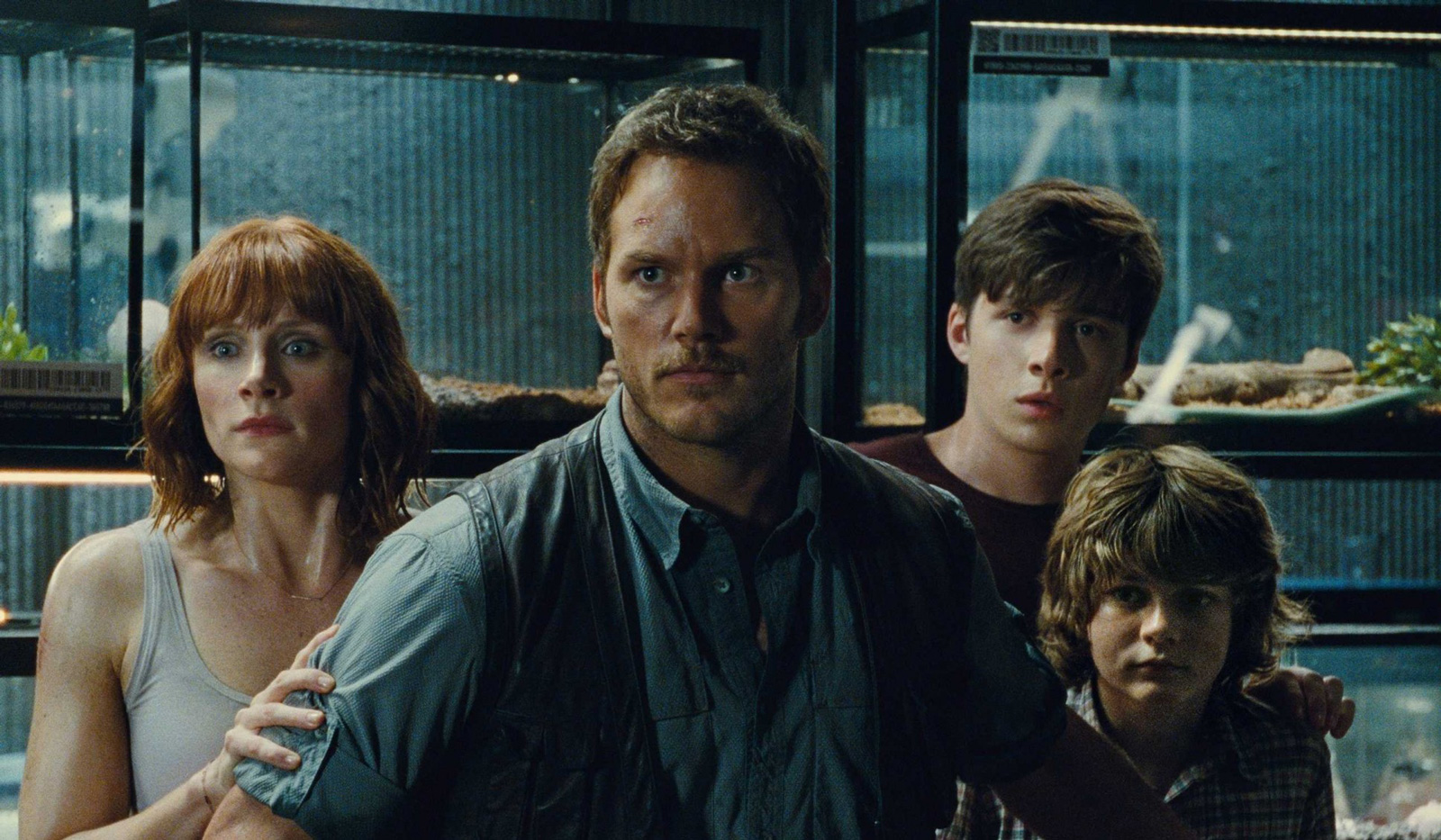 11. Jurassic World 3
Jurassic World sees the return of dinosaurs and dodgy security measures as we head back to Jurassic Park - the least safety-conscious theme park of all time. Starring Chris Pratt as a dinosaur handler and Bryce Dallas Howard as the park's uptight manager, Jurassic World was an instant box office hit. You don't have to be an expert in dinosaur DNA to figure out a sequel was inevitable. But apparently, Jurassic World is just the first part of a new trilogy.
"[Director] Colin Trevorrow is busy working on an outline [for Jurassic World 2]," said studio chief (opens in new tab). "He's been working with Steven [Spielberg]. And they have an idea for the next two movies actually. It was designed as a trilogy, unbeknown to us. It's a happy surprise."
What will the rest of the trilogy bring? At the moment, we know very little about the upcoming sequels, except that the first is going under the working title, Ancient Futures. Mysterious.
12. Lucy 2
Ever wondered what might happen if Scarlett Johansson had god-like powers? That's the exact plot of Lucy - the 2014 sci-fi flick from Luc Besson. It's an interesting premise, as the titular character begins to unlock the full potential of her mind. But the philosophical leanings soon turn to sci-fi schlock as Scarlett Johansson begins her transformation into a USB stick. I really wish I was kidding.
Still, at least the rather finite ending can't spawn a dodgy sequel. Right? "I don't see how we can do one," Besson told (opens in new tab). "It's not made for that. If I find something good enough, maybe I will, but for now I don't even think about it."
Obviously, this meant a sequel was announced the following month and is currently in development. How will that work? Who knows… but perhaps Lucy can return as a memory card this time.
13. Now You See Me 3
A stylish heist film with an all-star cast, Now You See Me makes robbery cool again. Jesse Eisenberg, Woody Harrelson, Isla Fisher, and Dave Franco star as the Four Horsemen - a group of magicians who perform bank heists during their performances, distributing the cash to their audiences.
There's already been a sequel - Now You See Me 2 - which brought the rebellious magicians back together (except with Lizzy Caplan replacing Fisher) for a seemingly impossible heist. But what about the third movie? Before the release of Now You See Me 2, Lionsgate CEO Jon Feltheimer revealed that the studio had already begun working on another sequel. "We've already begun early planning for 'Now You See Me 3'," he said.
However, Now You See Me 2 failed to ignite the box office, earning less than the original film with a far larger budget. A third film is still a possibility, but it looks as though the magic may have fizzled out.
14. The Raid 3
The Raid is huge amongst martial arts fans. Debuting in 2011, the action flick from Welsh director Gareth Evans was an incredible success. The Raid follows an incursion into a high-rise apartment in Jakarta's slums by Indonesian special tactics officers. It's already spawned one sequel, with another on the way. But what can we expect? The Raid 3 will take place three hours before the end of The Raid 2, which would see the upcoming sequel overlap the saga's previous instalment. Yeah, I don't know how that's going to work either.
Don't get too excited, though - the third film isn't being made just yet. "The Raid 3 isn't going to be happening anytime soon," said director Gareth Evans. "Ideas in my head. Nothing written. No set date. 2018/19 possibly."
Still, the plan is to continue the franchise eventually, and that's definitely good news for fans of the previous films. Let's hope it's packed with all the bone-crunching ferocity of the original.
15. Rounders 2
It looks as though Matt Damon is going all in for another Rounders movie. The 1998 gambling drama follows the story of Mike McDermott - a gifted poker player who's forced back into the game when a friend (played by Edward Norton) runs up an unpayable debt.
Although the world of professional poker has changed a lot since then, Damon is determined that a Rounders sequel would still work, and the writers apparently have some great ideas.
"[Brian] Koppelman and [David] Levien - the two guys who wrote it… they have a really good idea for a Rounders story," Damon told (opens in new tab). "This young generation, they start playing when they're in their adolescence. They're looking at 10 hands at a time, playing for real money online. By the time they're 21, they've seen millions and millions and millions of hands… It's now gone into deep game theory. It's at a whole other level. It's just a very, very different game."
How would Matt Damon fare in this new poker-playing landscape? If Rounders 2 ever sees the light of day, perhaps we'll find out.
16. Super Troopers 2
The hilarious story of five Vermont state troopers, the original Super Troopers gained a cult following back in 2001. Promising a sequel for several years, director Jay Chandrasekhar pulled it out of the bag with an impressive (opens in new tab) campaign. Raising a whopping $4.5 million, the film began production last year and will see many of the original cast returning. That is, except for Brian Cox who was listed as a stretch goal.
At the moment, details are scarce when it comes to the movie's plot, but the creators promise some hot-and-heavy action. "For anyone who doesn't know, two of the Lizards are making out with each other in this movie," said an Indiegogo post. "There's also going to be more male nudity – we're still giving back to the ladies after all these years."
Oh, and there are bears. Live bears. Make of that what you will. Super Troopers 2 began filming in October 2015 and is expected to debut sometime this year.
17. Tucker & Dale Vs Evil 2
Imagine if the hillbillies in Deliverance had been completely innocent - that's Tucker & Dale Vs Evil. The off-kilter comedy horror follows the story of two well-meaning hillbillies who have just bought the holiday home of their dreams, but end up being stalked by a group of teens who think they've kidnapped one of their friends. Obviously, the misunderstanding gets more and more out of hand, with death and destruction resulting from every awkward mix-up.
But the nightmare isn't over for poor Tucker and Dale.
Appearing at the Horrorhound convention in Cincinnati back in 2014, Alan Tudyk revealed that a sequel was in the works. "We have an outline," he said, recounting an email from the film's producers. "We're honing in on who we want to write it, we really want to make another one."
It's nowhere near official, but Tucker & Dale Vs Evil 2 may eventually happen. What that means for the hapless pair remains to be seen, but surely Chad will be back for revenge?