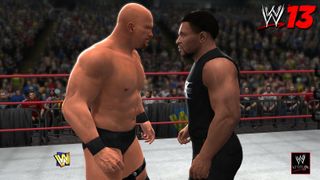 October's WWE 13 isn't just intended to satisfy current wrestling fans. The pro wrestling game contains a massive tribute to the Attitude Era, the time in the late 1990s when WWE was WWF and they were pushing the envelope with incredibly popular, raunchy content. We've already seen that the game recreates such moments as Stone Cold Steve Austin's WrestleMania XIV win and Mankind's brutal fall off the top of Hell in a Cell, but Attitude was so much more than that. We picked out the stories we hope to see WWE 13 recreate in Attitude mode, along with a few feuds we hope to never see again. And if you're not down with that, we've got two words for ya...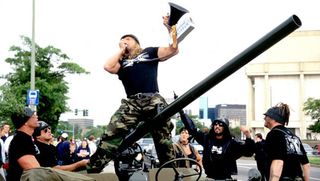 DX invades WCW
Back when WWF and WCW were trading blows weekly during the Monday Night Wars, fun-loving, immature bad boys Degeneration X declared war on Monday Nitro. Invading WCW's Nitro taping and its home base in Atlanta, GA was great TV at the time, but ultimately amounted to little more than hurling insults from across the street. If the moment is recreated in the game, maybe it can be reimagined as a literal invasion, with HHH and X-Pac storming the front door while the New Age Outlaws use that tank to cause collateral damage for Ted Turner's baby.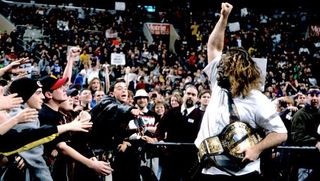 Mankind becomes WWF Champion
Any world title change on Raw will become a major moment, but when Mankind took the gold in the first week of 1999 it was more than just a new champion being crowned. It was the fulfillment of a lifelong goal for Mick Foley after years of being dismissed as not ready for the main event. Though Stone Cold was firmly the top star in those days, Mankind's championship win over The Rock elevated him to stardom. Here's hoping that magical moment, including the electrifying cameo by Steve Austin, is included in the game.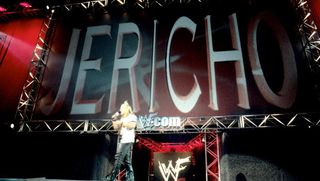 Raw is Jericho!
For smart fans, Chris Jericho's smarmy bad guy was one of the top reasons to watch WCW. Jericho was one of the funniest heels on Nitro, but WCW gave him virtually no support. When he switched to the competition, he exploded onto the WWF stage with an unforgettable promo, trading insults with The Rock on live TV. It took some time before Chris was firmly in the main event, but that night the world seemed to belong to Jericho, something we'd love to relive in WWE 13.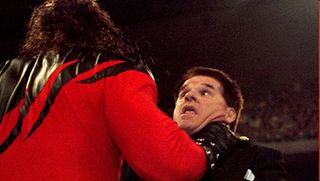 Kane vs Pete Rose
The Attitude Era is filled with intense rivalries, but none were as oddly compelling as Kane vs Pete Rose. At three WrestleManias in a row, Pete Rose appeared alongside Kane, and ultimately The Big Red Machine would attack the Cincinnati Red. It became a bit of a tradition and granted some levity to the usually dark character of Kane. Though Rose may never be inducted into the Baseball Hall of Fame, Kane inducted Rose into the WWE Hall of Fame, this time without attacking him. Rose would make some great DLC for WWE 13, especially if he has an optional San Diego Chicken costume.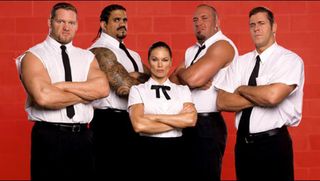 Right to Censor
Though it didn't lead to many great matches, having the Right To Censor storyline in WWE 13 would at least give you a good idea of the Attitude Era's effect on pop culture. RTC was a parody of the Parents Television Council, a group that called for a boycott of WWF's raunchy programming. RTC took dirty characters like porn star Val Venis and The Godfather, transforming them into morally superior superstars. It would work as a fun throwback to a very different time in WWE history.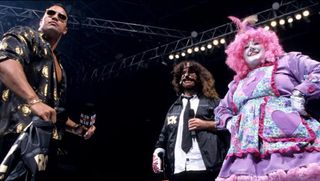 Rock, this is your life
Once The Rock stopped being the Corporate Champion and switched back to being the People's Champ, the fan favorite teamed up with his former enemy Mankind. Pairing Rocky with goofball Mankind seemed strange at first, but the two ended up having great chemistry as the tag team Rock 'n Sock Connection. The moment that crystallized their relationship was when Mankind gave tribute to Rock in a "This is Your Life" trip down memory lane. Mankind called out former friends, girlfriends, and teachers, all of whom Rock told off in hilarious fashion. One of the highest rated moments in Raw history, this was some of the best live TV of all time.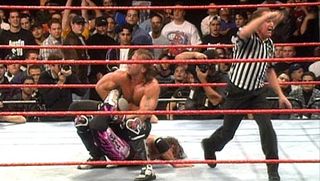 The Montreal Screwjob
A defining moment of the early Attitude Era, this was a night that changed wrestling forever. In planning his scripted final match, Bret Hart didn't want to lose the WWF title in Canada to his backstage nemesis Shawn Michaels. Despite agreeing on Bret retaining the title as the planned finish, Vince McMahon had other plans. Tricked into losing when he didn't submit, Bret said he was betrayed, while Vince proclaimed that "Bret screwed Bret." It made Vince the most hated man in the WWF, something he parlayed into the epic Austin/McMahon feud. Likely to be appear in some form in WWE 13, it would be interesting to play as either superstar, or even as referee Earl Hebner. He had promised he'd watch out for Bret and instead called the end to the match when Bret was least expecting it.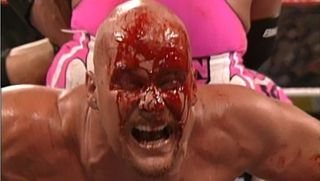 Bret Hart vs Austin at WrestleMania 13
It's hard to pick one moment that defines the start of the Attitude Era, but this match at WM13 should be on the short list. A submission match between old school hero Bret Hart and nasty bad guy Steve Austin ended with a total role reversal. Bret looked like the whiny jerk while Austin, bleeding profusely and choosing to pass out from pain rather than quit, was now the tough-as-nails hero. Fans had already been cheering Austin, but this is the match that finally put him on the path to becoming a legend.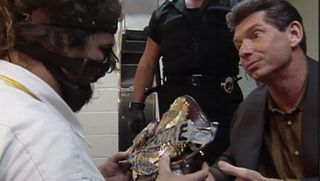 Mankind is given the Hardcore Championship
Whether known as Cactus Jack, Mankind, or Dude Love, one thing united the three faces of Mick Foley: taking insane amounts of damage. All were hardcore icons, taking brutal chair shots, falling off cages, and hitting the cold, hard concrete. So it was fitting when Vince bestowed upon Mankind the Hardcore Championship. Meant as a joke and patched together from an old WWF belt that Mr. Perfect destroyed, Mankind elevated it to a real title that became a constant of the Attitude Era. Since Mankind and Boss Man, the first two Hardcore champs, are in WWE 13's roster, hopefully we'll see their inaugural feud.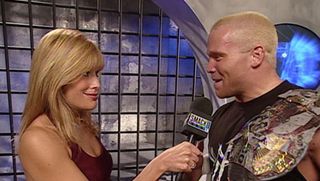 Hardcore Championship goes 24/7
Hardcore wrestling was all the rage in the late '90s, with WWF and WCW emulating the extreme tendencies of cult federation Extreme Championship Wrestling. WWF's Hardcore Championship was a hotly contested belt for lower tier superstars, but when the title went 24/7 it became a classic. Anyone could challenge the champ anywhere so long as a referee was present. This led to many unforgettably silly title changes, sometimes in the same night. It was certainly ridiculous, and the gimmick eventually burnt itself out--but for a time, it was a great source of chaotic fun in the WWF.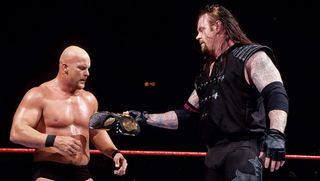 Highway to Hell: Austin vs Undertaker
After Stone Cold dealt with Dude Love and Kane during his first reign as champ, he had his biggest challenge yet at SummerSlam in 1998. At the time, Undertaker was arguably the toughest guy in the WWF, and Austin hadn't faced anyone that established since getting the title. Backed up by the classic rock hit Highway to Hell, the confrontation was hyped all summer and paid off in a mat classic that saw Austin beat 'Taker in a close contest. After the match, Austin had earned Taker's respect, and it further established Stone Cold as the top dog of the Attitude Era.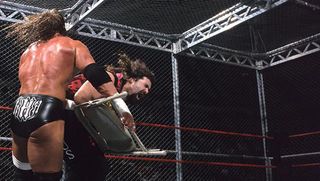 Mick Foley retires
Mick Foley's Mankind character had become one of the most beloved characters in the WWF, but by early 2000 his career was winding down. Foley had taken too much abuse and was in need of a break, but not before he challenged Triple H for the title a few times. The two had some insanely good matches, including an historic meeting at Hell in a Cell and an incredibly brutal Street Fight at Royal Rumble. Mick went out on top, and we hope to recreate these moments in Attitude mode--though maybe we can change history and have Foley win the world title he so richly deserved.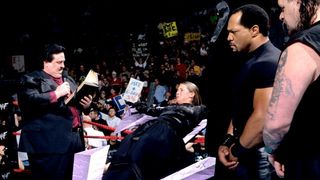 These are better left buried
Of course, not every moment of the Attitude Era is worth celebrating. The company tried so many wild stunts back then, and not all of them paid off. Pictured above is when The Undertaker threatened to crucify Stephanie McMahon, but there are at least five other moments worse than that one that should be left out of WWE 13. Such as...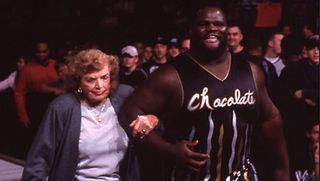 Mark Henry, Sexual Chocolate
Mark Henry is usually cast as a powerful monster, the unstoppable "World's Strongest Man." But for a time he became the extra large lady lover by the nickname of Sexual Chocolate. Unfortunately for Henry's pride, this was played almost exclusively for laughs, featuring misadventures such as being tricked into making out with a transvestite, admitting he was a sex addict, and falling in love with the grandmotherly Mae Young. Mark has tried to leave this in his past, but fans still chant "Sexual Chocolate" at him, which has to be just a little bit annoying.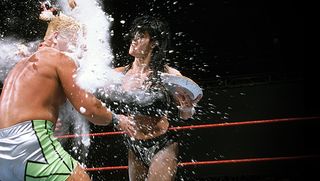 Chyna vs Jeff Jarrett
Jeff Jarrett wasn't the worst Intercontinental Champion ever, but we'd love to forget how his reign (and his career in WWE) ended. Jarrett was in this hilarious storyline where he disrespected and beat up women, including the aging Fabulous Moolah. After Jeff had thoroughly displayed his woman-hating ways, former DX enforcer Chyna decided to defend her gender in a match with Jeff. Chyna ultimately beat Jarrett, becoming the first female IC champ in a messy match WWE likes to forget. Chyna defended the belt a few times, but it was hard to escape the bad memories of the terrible situation that led to her win.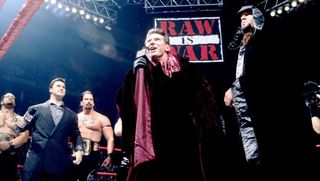 "It was me all along, Austin!"
As Undertaker's occult group The Ministry of Darkness was running wild over the WWF, Vince was so threatened by it that he teamed up with Stone Cold to fight the collective. Austin and McMahon briefly battled the darkness together, causing fans to begin cheering Vince. That ended with the "shocking" swerve of the newly-formed Corporate Ministry... and its secret leader. In one of the most predictable moments of the unpredictable Attitude Era, Vince revealed himself as the mastermind, part of a draconian scheme to destroy Austin. Fans rejected it with a passion, and it remains one of the worst twists in wrestling history.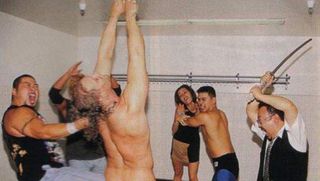 Val Venis vs Kai En Tai
Most of the plots for Val Venis, the porn star turned wrestler, involved the passable superstar sleeping with his opponent's girlfriend. When he tried that with the painfully stereotypical Japanese stable Kai En Tai, this led to the team's leader, Yamaguchi-san, threatening to castrate Venis with a samurai sword. His battle cry was--no joke--"I choppy choppy your pee pee." This storyline came to an abrupt end the following week, as we think even WWF felt too ashamed to let it continue.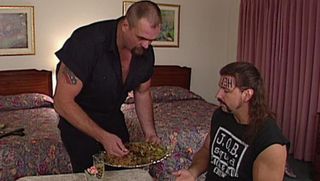 Boss Man feeds Al Snow his dog
The bad guys in wrestling have done some heinous, homicidal things to their rivals, but this feud might be the sickest. Al Snow was gaining some popularity by coming to the ring with an adorable chihuahua named Pepper. Former cop Boss Man couldn't stand this, and responded by kidnapping the little canine. After holding him hostage, Boss Man promised to return him to Snow, but only after an apology dinner. Once Al had taken a few bites, it was revealed that the dish was a special "Pepper steak." That's right, Boss Man killed the dog and fed it to Snow. Al Snow's revenge was the hideously bad Kennel From Hell match, which was more of a punishment for viewers than Boss Man.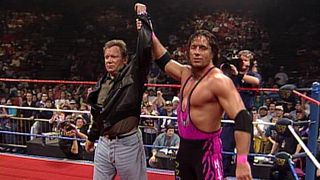 The good old days
There were so many classic moments from the hundreds of hours of TV that comprise the Attitude Era, we surely missed a few. Tell us in the comments which moments you'd want to see recreated in WWE 13, or even share the horrible feuds that you hope stay lost to history.
Want some more wrasslin'? Read our first hands-on preview of WWE 13 and our breakdown of the WWE 13 roster.