As we rattle towards the Christmas season, the Nintendo Switch is getting sweeter by the day. Not only are there some absolute gems you can play right now, including The Legend of Zelda: Breath of the Wild, Mario Kart 8 Deluxe, and Splatoon 2 , but there are a ton of brilliant games on the horizon too.
There have been a ton of fantastic indie game releases announced for 2017 and 2018. What that means is that our list of upcoming Nintendo Switch games ever longer. But in a really good way. These are the ones we'd really recommend, either because we've played them or they already exist on other platforms and are getting a Switch port.
And don't forget to check out our best Nintendo Switch games round-up for everything you should be playing right now.
FIFA 18
Release date: September 29, 2017
Genre: Sports
Why it's so interesting? We originally thought EA's Switch entry of the famed soccer series was going drop the year and make this version its own standalone entry, but it turns out the Switch is straight up getting its own version of the upcoming FIFA 18. While it won't run on the same engine as its Sony and Microsoft counterparts or include The Journey, it'll have most of the other modes at your disposal for football fun anywhere you go.
Battle Chasers: Nightwar
Release date: October 3, 2017
Genre: RPG
Why is it so interesting? The name may be Peak Video Game Silliness, but don't let that deter you from what's looking like a solid RPG throwback. Based on the unceremoniously canceled comic series from Joe Madeira (whose work also includes the criminally underrated Darksiders games), Battle Chasers: Nightwar continues the story from the comics, thrusting you into a world of demons, dungeons, and endless loot. With randomly generated worlds and non-linear progression, it's looking like it'll be a fun time whether you're digging in on your couch or out and about.
Lovers in a Dangerous Spacetime
Release date: October 3, 2017
Genre: Co-op action game

Why is it so interesting? Lovers in a Dangerous Spacetime is easily one of the best fits for the Nintendo Switch. Of course, you can play this solo with the help of an AI cat or dog at your side, but this is a game that absolutely needs to be played with a friend - or, even better, a lover. Together you must work together to protect your ship from dangerous alien forces, switching between the controls, weapons and defences in a strategic and (hopefully) coordinated attack. You can play with up to three other friends in this colourful world, and might even have to rescue a few space bunnies along the way.
Yono and the Celestial Elephants
Release date: October 12, 2017
Genre: Adventure/Puzzle
Why is it so interesting? Ok, you caught us. We've mostly got this in here because it features adorable little elephants. But, there's an intrigue to this little game too. It's described by the developers as as an adventure game filled with puzzles, treasure hunts and a "sprinkling" of combat. The world is inhabited by people, undead Bonewights and the Mekani robots. Little Yono the elephant can headbutt enemies, spray water or fire with his trunk and toss explosives. Following the gaming world's obsession with chickens, he can also give feathered friends a ride. It looks to be just the right mix of adorable and grey matter taxing.
Super Mario Odyssey
Release date: October 27, 2017
Genre: Platformer
Why it's so interesting? Taking in the sights and sounds of a fresh Mario platformer is always exciting, but Super Mario Odyssey looks truly out there (in the best way possible). The sprawling stages look like colorful playgrounds with no boundaries in sight, and the additional mobility options provided by Mario's cap - like throwing and jumping on it as a makeshift platform - should expand your exploration capabilities even further. Plus, you've got Bowser dressed up like a magician cavorting around a NYC-esque metropolis called New Donk City. I mean, come on.
Lego Marvel Super Heroes 2
Release date: November 14, 2017
Genre: Adventure
Why is it so interesting? The original Lego Marvel Super Heroes was a massive hit because it managed to combine two childhood passions into one. It smashed together the vastness that is the Marvel universe with the love that kids, big and small, have for Lego. And it did all that with the brilliant TT Games' humour, which pokes fun and twists stereotypes on a level that appeal to the whole family.
Lego Marvel Super Heroes 2 is doing all that again, but on a much bigger scale and with a brand new story. From what we've seen so far, it's going to be quite the adventure.
Earth Atlantis
Release date: Fall 2017
Genre: Action
Why is it so interesting? You've got to love the look of this side-scrolling shooter, because Earth Atlantis has a fantastic old-timey charm. The game will see you hunting down sea monsters in your dinky submarine as you explore this post-apocalyptic underwater world. You can unlock different ships and abilities to better prepare you, but there are going to be big monsters lurking in the depths.
Looking for games to play right now? Don't miss our list of the best Nintendo Switch games that are in stores or available online today.
Doom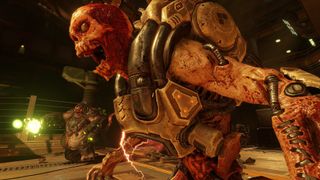 Release date: Holiday 2017
Genre: FPS
Why is it interesting? The 2016 Doom reboot is an absolutely brutally awesome game, that sees you mowing down aliens with ridiculous weapons. And now it's coming to the Nintendo Switch in all its gory glory. The Switch version of Doom will contain the full single-player campaign, and you'll also be able to download the multiplayer component. The game's SnapMap feature, which allows you to create and share your own multiplayer maps, won't be included. But nevertheless this is a great addition to the Switch roster and is a sure sign Bethesda is fully behind the Switch.
Golf Story
Release date: TBC 2017
Genre: Sports RPG
Why is it so interesting? Nintendo and Camelot's Game Boy Color take on golfing was a revelation, even for people who hate golf. Mario Golf GBC combined RPG-lite character upgrades and progression with a simple and intuitive arcadey version of golf - and it happened exactly once. Sidebar Games has clearly taken this to heart, and is making its own full-on golfing adventure, complete with eight unique environments, side-quests, and even a story. I don't even like golf and I can't wait to play this.
Ultimate Chicken Horse
Release date: TBC 2017
Genre: Party
Why is it so interesting? Ultimate Chicken Horse is as silly as its name suggests. Gather up to four people and run through a series of platforming gauntlets filled with a deadly array of sawblades, spikes, enemies, and other obstacles. The catch: you actually get to design the levels. Each player takes turns placing these obstacles in such a way that they'll catch your opponents while letting you sail past them, then all four players simultaneously attempt to complete the level. It's simple, it's stupid, and the multiplayer fun of this once PC-exclusive feels right at home on Nintendo's console.
Dandara
Release date: TBC 2017
Genre: Platformer
Why is it so interesting? Don't listen to the haters - pixel art is great, especially when it looks as good as it does in Dandara. Here, you'll move through its strange, inventive world by bouncing off of the walls and ceiling, taking out foes with charged blasts and generally trying to navigate a world where up is relative. While it's coming to other platforms, Dandara is specifically designed to take advantage of the Switch and its touch-screen, allowing for unique control methods outside of its standard Joy-Con input.