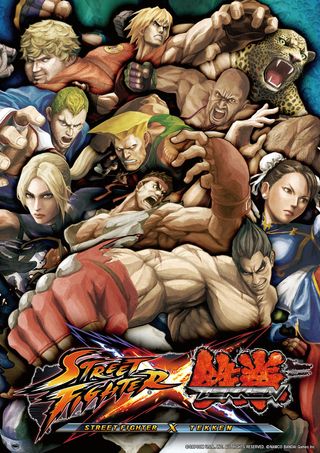 Tag battle action in the palm of your hand
Street Fighter X Tekken can't be contained on consoles--it's now made the jump to the handheld arena with the release of the PS Vita version. But just who will you pick for your tag-team duo? We'll get you reacquainted with all 55 members of the line-up, with the DLC characters now thankfully included right from the get-go in the Vita version of the game. Ready? Fight!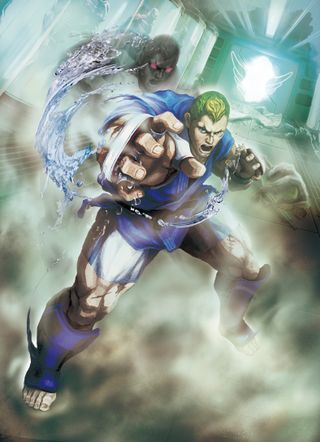 Abel (Street Fighter)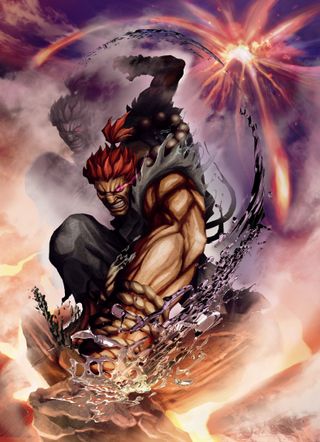 Akuma (Street Fighter)
AKA Gouki, Akuma epitomizes the dark side of the martial arts presented by his brother Gouken, Ken and Ryu's teacher. Until Goukens return in SFIV some thought Akuma was his murderer, though Akuma did kill his own teacher after discovering the dark powers that fuel him. He wears his late master's prayer beads as a strange tribute to him. A brutal fighter, Akuma isnt a world-conquering sociopath, but is fueled by an urge to be the strongest. Normally cast as Ryu's nemesis in the Alpha games, perennial loser Dan sees Akuma as a rival, while Akuma just ignores him. A veteran of versus titles, Akuma has appeared in almost all of the crossover games Capcom developed.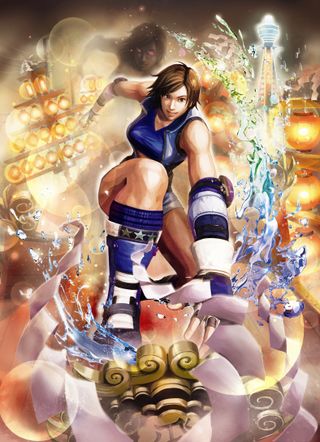 Asuka (Tekken)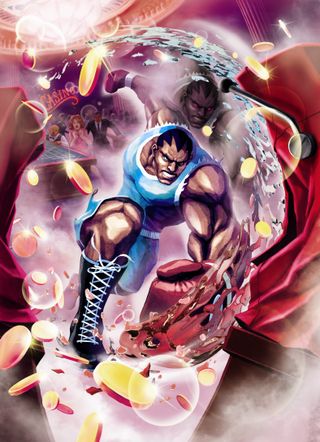 Balrog (Street Fighter)
This hard-punching bruiser is another SFII favorite that many love for his below the belt boxing techniques. The former champions evil ways brought him to the attention of M Bison, who brought Balrog into Shadaloo to be his personal bodyguard. A shortsighted individual more interested in immediate gains than planning, Balrog softened his image (slightly) when he saved a bandaged kid in SFIV. Though we cant tell if its tough love or because he thinks she has special abilities similar to Bison.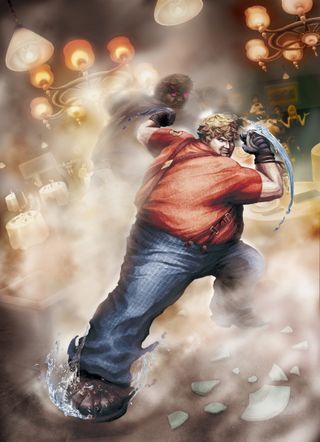 Bob (Tekken)
This portly karate champ hails from America (as if there was any doubt). Introduced fairly recently in Tekken 6, Bob is one of the series most recent comedic characters, with surprisingly fast moves for his rotund figure. In SFXT he has a kindred soul in the form of Rufus, but will their commonalities make them friends or enemies?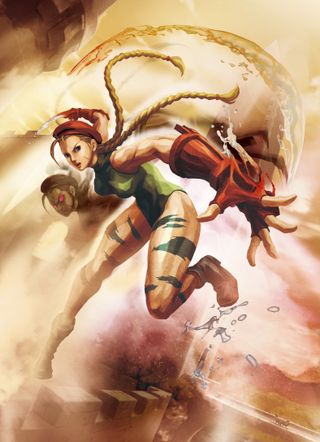 Cammy (Street Fighter)
Cammy has a complicated past to say the least. Cloned from the DNA of evil mastermind M Bison, she once was a brainwashed assassin for Bison's crime organization Shadaloo. Eventually she broke free of her programming, losing her memory and joining Britain's MI-6 intelligence group, putting her killer abilities to good use. No longer ashamed of her past, she's recommitted her group of agents to taking down evil worldwide. And she does it all from a confusingly revealing leotard, which is apparently standard MI-6 attire.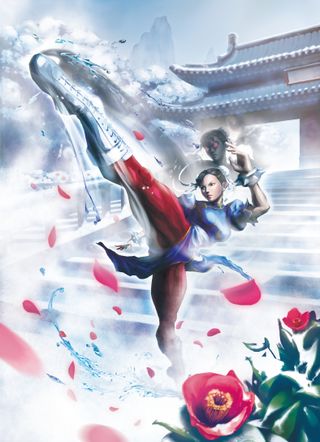 Chun-Li (Street Fighter)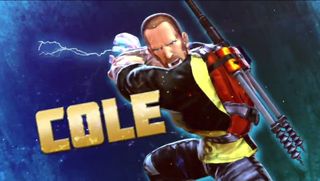 Cole (Sony Exclusive)
The star of Sonys inFamous series, Cole MacGrath was your everyday parkour practitioner until getting caught in an explosion in Empire City that leaves him with electrical powers and the city decimated. Depending on how you played the games in those series he either became a savior of the ruined town or a despot crushing free will in his iron grip. No matter what happens though, the ethically grey, electrically-powered super human needs to battle a huge energy monster called The Beast before turning into a vampire. Hes one of five characters exclusive to the PS3 and PS Vita versions.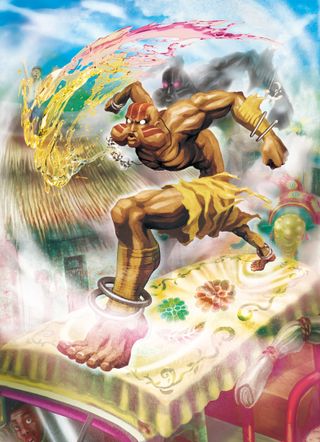 Dhalsim (Street Fighter)
Dhalsim and his inscrutable, mystic ways have become part of fighting history. A peaceful soul who only got into fighting to earn money for his destitute village, when not in combat Dhalsim has a quiet home life with his wife, son and a friendly elephant. As for his other accomplishments, the stretchy fire breather helped free Cammy from her brainwashing. One of the eight original SFII fighters, hes appeared in multiple crossover titles, with SFXT just another notch in the yoga masters rope belt.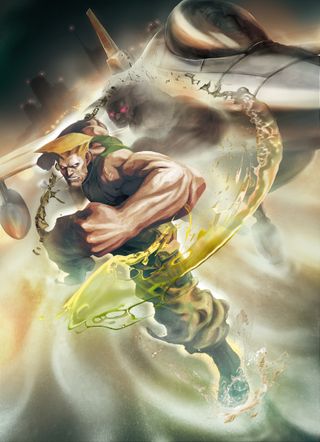 Guile (Street Fighter)
This Air Force Major joined the informal world of street fighting to avenge the death of his best friend, Charlie. In SFII he fought his way to the top to take down the guilty party, M. Bison, though should he win the tournament, Guile chooses to be the better man and spares Bisons life. When Guile isnt out travelling the world and chasing after Charlies ghost, hes with his family. In fact, the ripped master of the Sonic Boom is related to Ken by marriage, as each is married to one of a pair of sisters.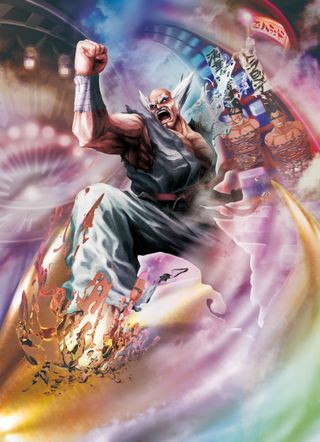 Heihachi (Tekken)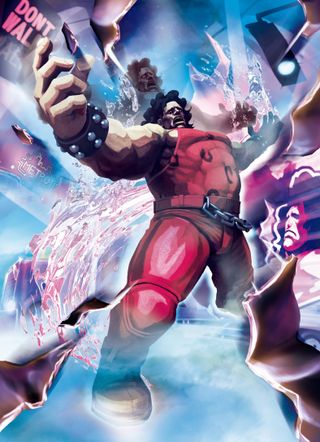 Hugo (Street Fighter)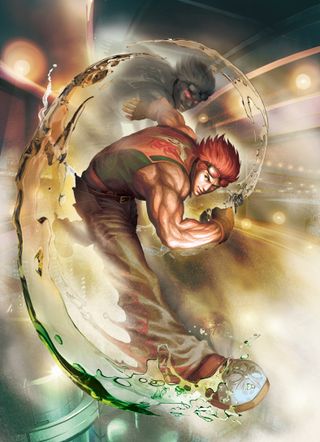 Hwoarang (Tekken)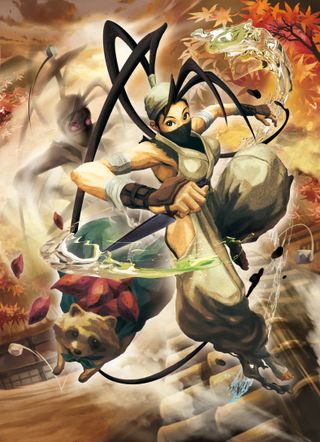 Ibuki (Street Fighter)
A female ninja first introduced in Street Fighter III, shes one of the few new characters from SFIII to gain any lasting popularity. Trained in a secretive ninja village, Ibuki is a pretty normal young woman all things considered. Though she loves a good tournament, like most Japanese teens, shes also focused on high school and college. Despite her becoming proficient enough as a ninja to graduate and hopefully lead a normal life, it seems like Ibuki just cant escape her heritage.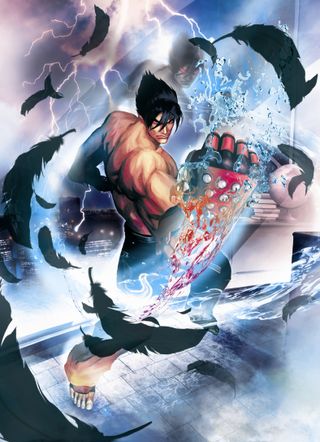 Jin (Tekken)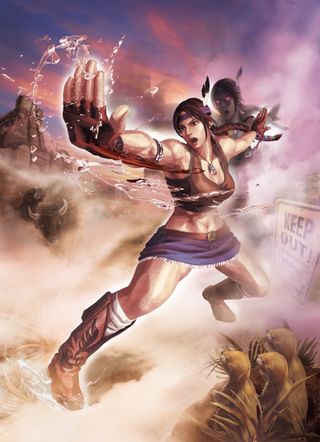 Julia (Tekken)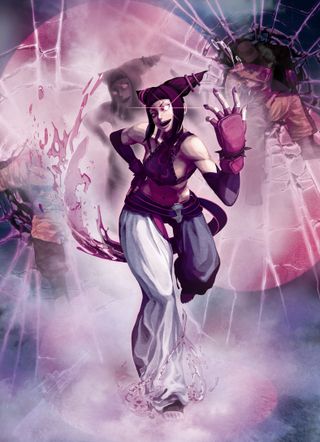 Juri (Street Fighter)
First seen in Super Street Fighter IV, Juri seems to love being a bad guy. A Tae Kwan Do expert from South Korea, Juris main drive in fighting is to inflict pain on others. Quite the femme fatale, Juri is a sensual villain who uses her augmented power to make herself the most evil woman in the Street Fighter universe. Her chief rivals are Chun-Li and Cammy, though shes no fan of Bison either.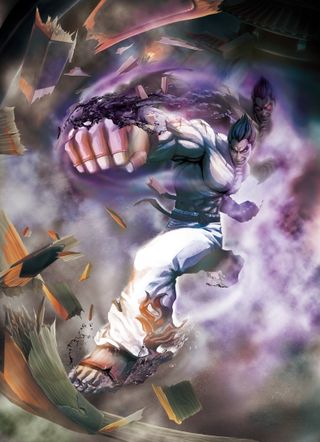 Kazuya (Tekken)
Once the fresh faced hero of the Tekken series, Kazuya soon became a twisted villain thanks in part to his upbringing and partially because of his devil gene. Thrown off a mountain by his father Heihatchi for being too weak, he eventually proved he was far stronger than his father gave him credit for. After beating Heihatchi and fathering an illegitimate son named Jin, eventually Kazuya turned his eye to world domination, turning into his Devil form as the need strikes. This anti-hero turned out to be much more complex than most fighting game leads, just dont get on his bad side.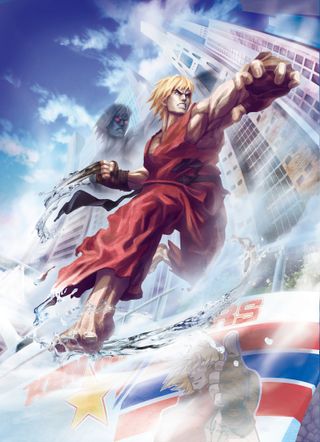 Ken (Street Fighter)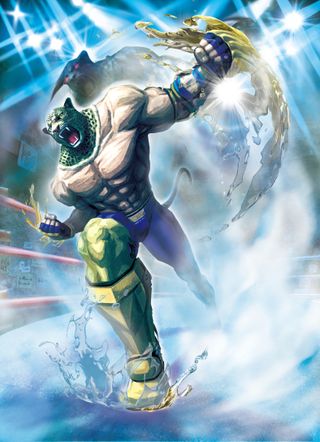 King (Tekken)
A pro wrestler in the lucha libre tradition of Mexico, the original King entered the first two Tekken tournaments to win money to build an orphanage. After achieving that goal, King met a tragic end, murdered by Tekken 3 boss Ogre. Soon a new wrestler (and former member of his orphanage) picked up the jaguar mask and trained to avenge him. Eventually King II became the equal of his inspiration as a fighter and performer. At one point he was in a deadly rivalry with Marduk, but eventually they buried the hatchet and became tag team partners. Isn't it nice when that happens?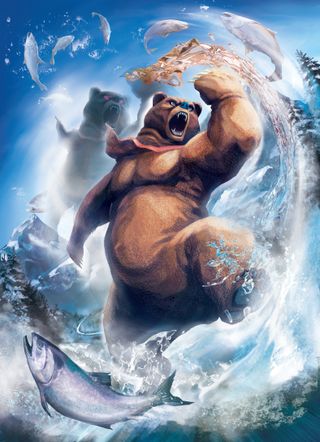 Kuma (Tekken)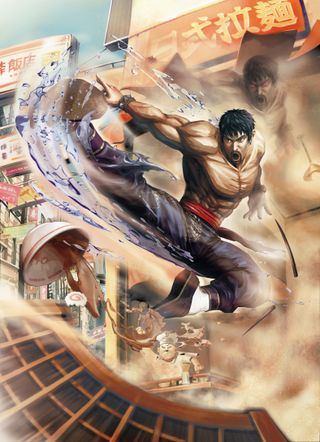 Law (Tekken)
Part of a long tradition of Bruce Lee clones in fighting games, Marshal Law looks, dresses and fights just like the late real life martial artist. Often entering the Tekken tournaments to pay off a debt of some kind, Law is a respectable fighter pulled down by the bad luck more than his own choices. A friendly rival of Paul's, Law was replaced in Tekken 3 by his son, but has appeared in all the main games since, even though he's pushing 50.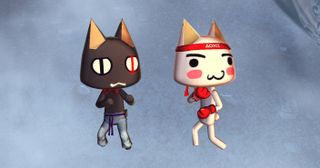 Kuro and Toro (Sony Exclusive)
Virtually unknown in the US, adorable white cat Toro is Sonys mascot in Japan, appearing alongside his black cat neighbor Kuro on numerous Sony products, and have appeared in games dating back to the original PlayStation. Obviously exclusive to the Sony version, the delightful mascots play like the SFXT leads, with Toro copying Ryu and Kuro duplicating the moves of Kazuya.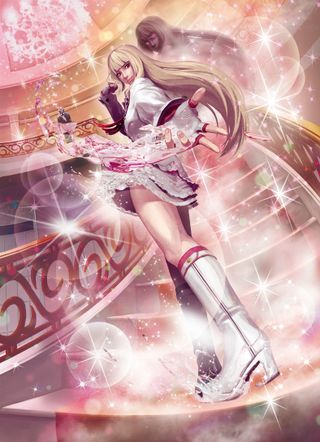 Lili (Tekken)
Introduced in Tekken 5, Lilis fighting ability seems out of placed with her rich upbringing. A natural fighter, she fell into the world of street fighting in secret, travelling the world on her familys private fortune. After losing to Asuka at the end of Tekken 5, the Mishima Zaibatsu bought her fathers oil field, causing her father tons of stress. Lili joined the Tekken 6 tournament to get revenge, on both Jin and Asuka.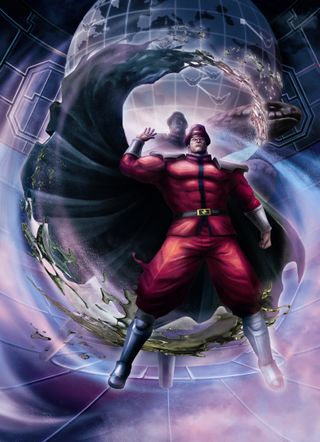 M Bison (Street Fighter)
Arguably the most dangerous bad guy in Street Fighter, M. Bison and his terrorist organization Shadaloo had been slowly poisoning the world when he decide to invite the world's best fighter to face him in a tournament. Not a great idea really, as said tournament was ultimately the cause for the destruction of his empire. You wouldn't think that would happen, as Bison is insanely powerful due to his Psycho Power, which he expresses with electricity and flying headfirst at people. Despite dying in SFII, he returned in SFIV, inhabiting a new and more powerful body, proving you can't keep a good man down.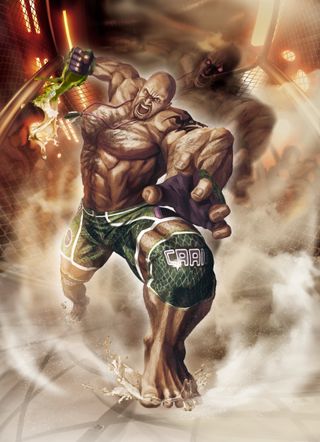 Marduk (Tekken)
An angry soul that hails from Australia and is trained in Vale Tudo, Craig Marduk has quite a lot of blood on his hands from killing opponents in fights, and that includes King II's mentor Armor King. After losing to King in Tekken 4, Marduk trained harder than ever for a rematch, and said rematch ended in a draw that saw the two become unlikely friends. When not training, Marduk is fending off another revenge-seeker, Armor King II, brother to the original.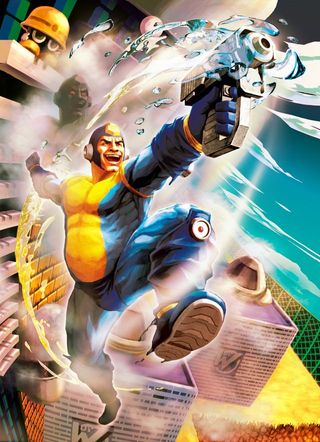 Mega Man (Sony Exclusive)
This isnt your fathers Mega Man oh wait, this is exactly your fathers Mega Man. In celebration of MMs 25th anniversary, SFXT recreates the classic, so-bad-its-good Mega Man from the US box art for the first game on NES. Out of shape and a bit silly, ultimately he still seems like a pretty cool guy holding a laser gun. This might not be the Mega Man fans want right now, but hes a fun tribute nonetheless. Hes also one of the Sony exclusive characters.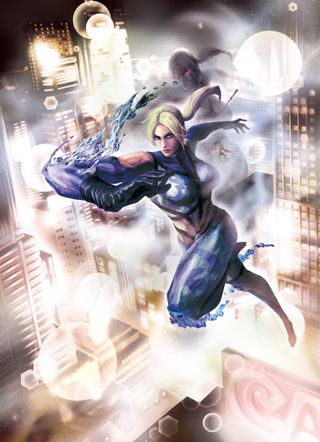 Nina (Tekken)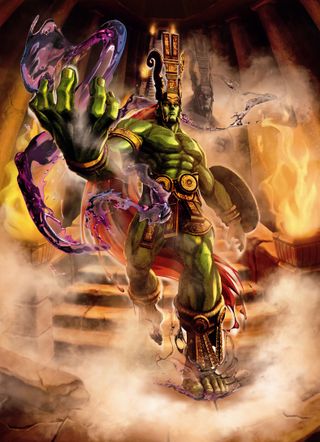 Ogre (Tekken)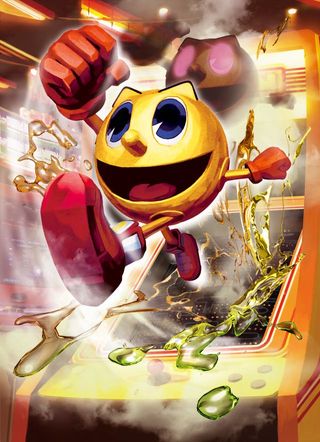 Pac-Man (Sony Exclusive)
One of the characters most synonymous with video games, Pac-Man joins in on the fighting fun with his Namco friends, but with a twist. Mokujin, the wooden fighting dummy come to life in the Tekken games, serves Pac-Man as his fighting vessel. Mokujins body grants the diminutive yellow sphere a fun, competitive edge and is a worthy member of the Sony-exclusive section of the roster.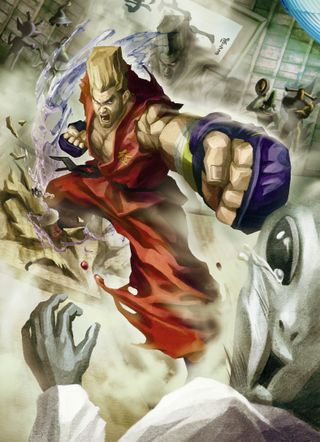 Paul (Tekken)
Paul got his start in Tekken as the Ken to Kazuyas Ryu, but things didnt stay that way for Paul, as more and more he became a joke character. Sometimes hes begging his old friend Law for money, sometimes he beats the first form of the final boss and leaves before the second appears, and other times hes fighting a bear. A motorcyclist with an impressive head of hair, Paul Phoenix might be silly, but he at least is determined (or too dumb to know when hes beat).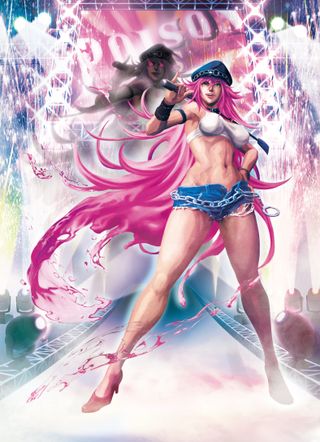 Poison (Street Fighter)
Poison has been a favorite of many fans despite rarely being playable in most Street Fighter games. She just must have a certain something that makes all the players want her. Originally from the Final Fight beat em up series, Poison transitioned into her new role as a manager for man mountain Hugo in the Alpha games. A favorite of the internet due to a trivial debate, Poison is one our favorite ladies in gaming and were happy to see her transition into a more active in-game role.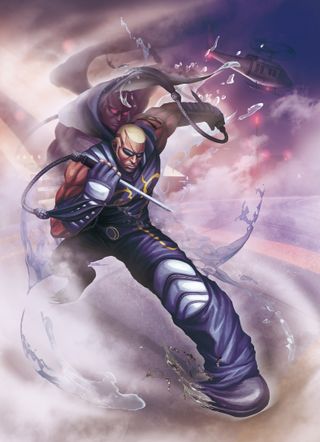 Raven (Tekken)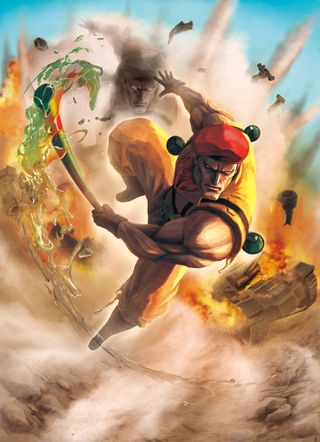 Rolento (Street Fighter)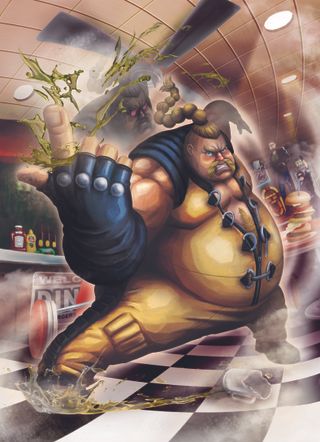 Rufus (Street Fighter)
This portly biker considers himself the best fighter in the United States and is out to take that title officially by beating the man he considers his rival, Ken Masters. Faster than he appears, the Street Fighter IV original loves kung fu but seems more into it for the violence than learning anything. But many fighters were ultimately impressed with his skill, as it turns out his silly looks hide the soul of a skilled fighter.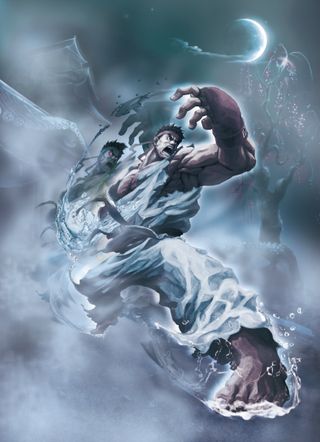 Ryu (Street Fighter)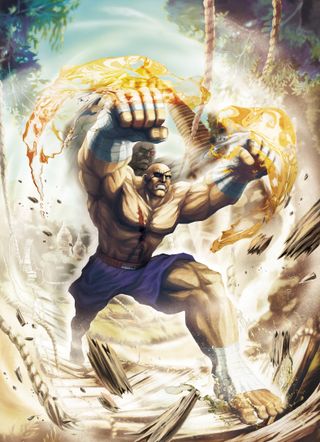 Sagat (Street Fighter)
A Muay Thai chanp infamous for his deadly power, Sagat was one of the more fearsome battlers of SFII. He lost his eye in a fight with Dan Hibikis father and gained his scar thanks to an uppercut of Ryus, which has given him a burning passion for revenge ever since. When not committed to his rivalry with Ryu, hes often fending off the humorously inept attacks of Dan.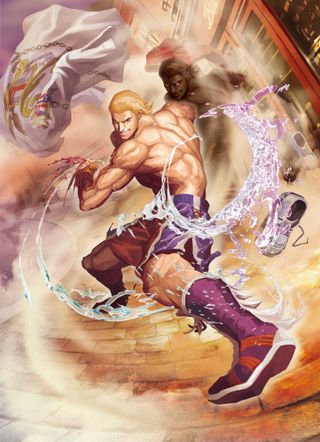 Steve (Tekken)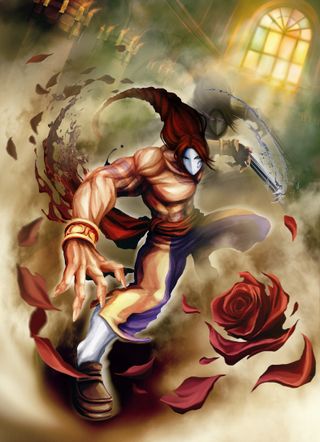 Vega (Street Fighter)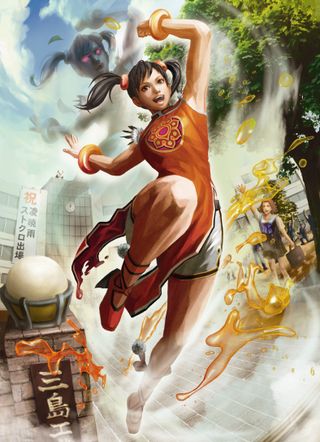 Xiaoyu (Tekken)
A 16-year-old high school student that wanted to fight in the Tekken 3 tournament to earn enough money to build her own amusement park, Xiaoyu somehow kept her innocence around the oppressive world the Mishimas built around her. Following the death of Heihatchi, she joins the fifth Tekken tourney to try to gain enough money to go back in time and save the despot. Later she joins in on Tekken 6 in an attempt to save Jin.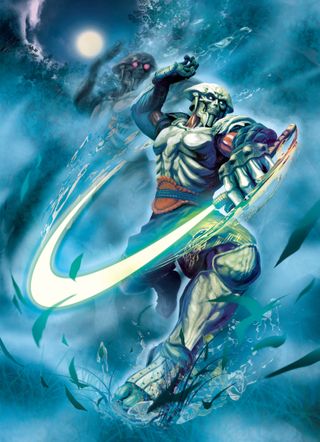 Yoshimitsu (Tekken)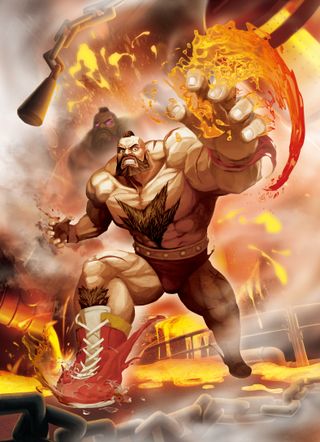 Zangief (Street Fighter)
After emerging from the forests of Russia having had his fill of punching bears, Zangief became a popular wrestler in his homeland. At the request of his government he joined the M Bisons street fighting tournament to bring glory to Russia. This mountain of a man has some complicated but devastating moves, including his patented pile driver, but is often used as one of the more humorous characters by the designers.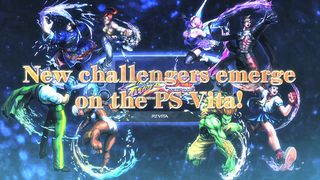 But wait, there's more!
Instead of gating them through paid DLC, Capcom's done you a solid and given you the additional 12 characters free of charge, as you soon as you start up the PS Vita version of the game. In case you held out to play them, here's who you'll be saying hello to...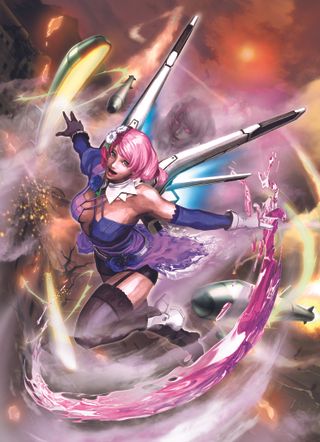 Alisa (Tekken)
Introduced in Tekken 6, Alisa is a the robotic "daughter" of Dr. Boskonovitch, but acts like your typical friendly teenage girl despite her synthetic origins. She befriends Lars Alexander in his quest to stop Jin, though eventually her programming puts her at odds with Lars. They eventually make up, and Lars still ranks among Alisa's friends alongside Xiaoyu and Panda. Though new, the mechanically winged android has become one of the lead stars of the franchise.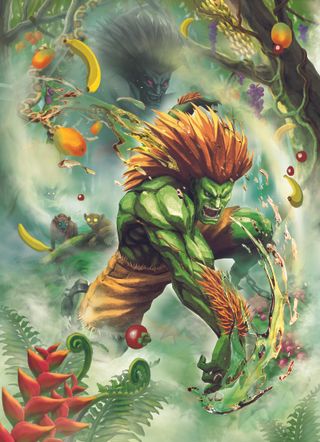 Blanka (Street Fighter)
After being lost in a plane crash as a baby, Blanka grew up a wild man in the forests of Brazil, slowly developing his unique style of fighting. He's known the world over for his electrical powers, striking green skin and wild orange hair. Reunited with his mother after the end of SFII, Blanka still finds time to fight in tournaments whenever he can.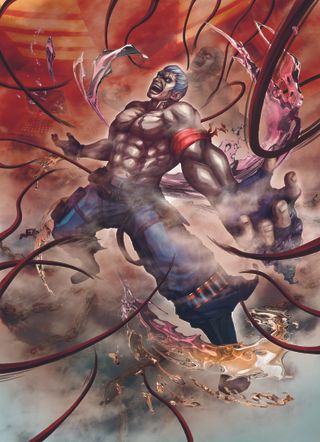 Bryan (Tekken)
Once an officer in Interpol, Bryan Fury died and was reborn as a cyborg via the work of Dr Abel. His main rivalries have been with Yoshimitsu (a fellow cyborg created) and Lei, as Lei knows of Bryan's former connections to the Hong Kong underworld. Sometimes searching for a way to extend his artificial life ala the villains in Blade Runner, other times simply entering the tournaments to test his powers, Bryan is one of the tougher customers in the Tekken series.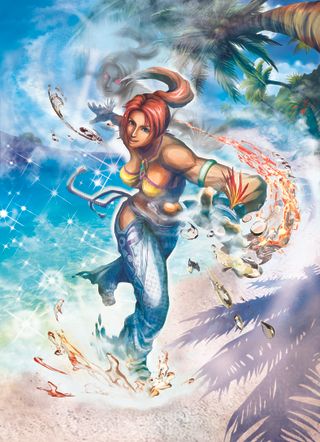 Christie (Tekken)
Supplanting Eddy Gordo as Tekken's featured capoeria expert, Christie brought her J Lo looks to the series in Tekken 4. Taught by Eddy's master, she joined the Tekken tournaments not to be champion, but usually to get answers on the whereabouts of Eddy or her master. She has few friends in the series, but her main rivals have been Nina, Julia and Bruce.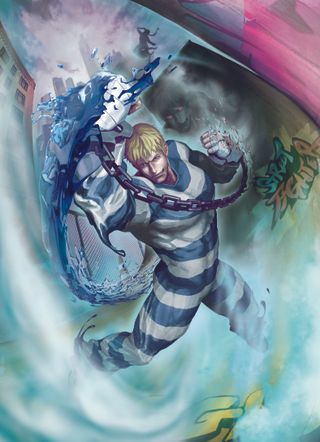 Cody (Street Fighter)
Originally starring in the Final Fight games, Cody joined the Street Fighter Alpha roster in the third game. Jailed for fighting a little too hard to free the streets of Metro City in FF, Cody is a tough sumbitch that's ultimately on the side of good. He often breaks out of prison whenever he feels like it, usually to get in more fights and seek out his rival/friend Guy.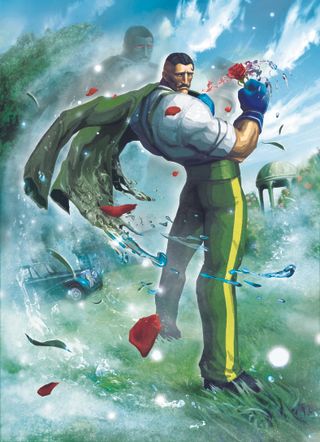 Dudley (Street Fighter)
The son of a wealthy British family, Dudley reflects a simpler, more gentlemanly era of boxing. Once his fancy family fell on hard times, Dudley put his boxing skills to the test in the realm of Street Fighting. Dudley can come off as either chivalrous or snobbish depending on the game, it's nice to see the SFIII original remembered unlike most of that roster.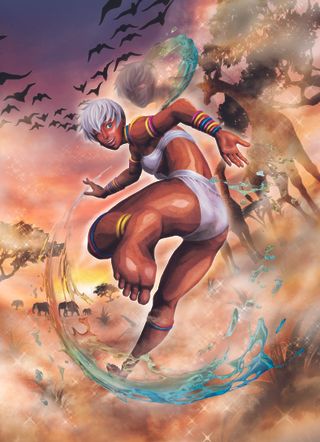 Elena (Street Fighter)
Famous as one of the most gorgeously animate sprites in fighting game history, Elena was another memorable Street Fighter III addition. Born an African princess, she's in expert in the style of capoeira native to her homeland. A lighthearted teen, Elena is out to see the world and fights for the fun of it.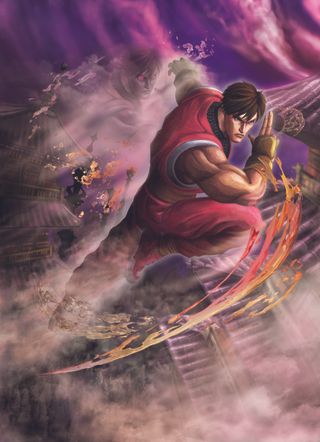 Guy (Street Fighter)
Guy is one of the earliest heroes from Capcom's pantheon, and he got his start as a teenage ninja helping clean up the streets of Metro City in Final Fight. Guy continues his training in the Alpha games, eventually becoming a ninja master. When not fighting with friendly rival Cody, Guy is usually out righting wrongs, which often brings him into contact with SF bosses like Bison.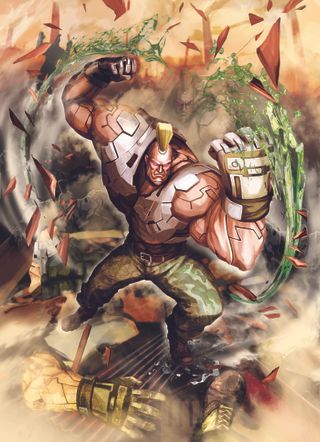 JACK-X (Tekken)
Jack doesn't refer to one man, but rather a series of cyborgs created by the Russian government. Jack-X seems to be one of the newest models in the series, the buff robot sometimes works for the Mishimas, other times he competes to learn something about himself. We're just not sure what type of Jack we're going to get in SFXT.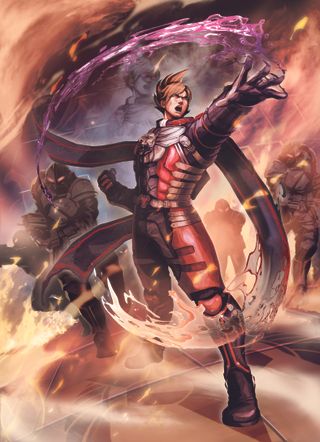 Lars (Tekken)
As former heroes of Tekken like Jin and Kazuya gave in to their darker impulses, Lars rose through the ranks to fight for good. Ostensibly the lead hero in Tekken 6, he teamed with Alisa to try and take down Jin's Mishima Zaibatsu before it destroyed the world. Until entering the tournament, Lars alone held the secret that he was Heihachi's illegitimate son. Bonus fact: Lars appeared as a guest character in one of Namco's Naruto games.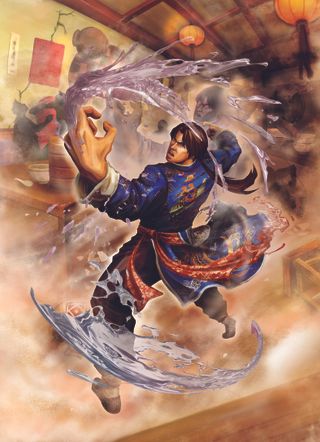 Lei (Tekken)
A Super Cop that's clearly inspired by Jackie Chan and his films, Lei is a kung fu expert/police officer whose work often brings him into contact with the shady types that enter the King of the Iron Fist Tournaments. Sometimes searching for the links between his partner's death and the Mishima, other times chasing down Bryan Fury or Bruce Irvin, Lei tries his best to keep things light. If you need any more proof he's based on Jackie Chan, Lei's also an expert in Drunken Boxing.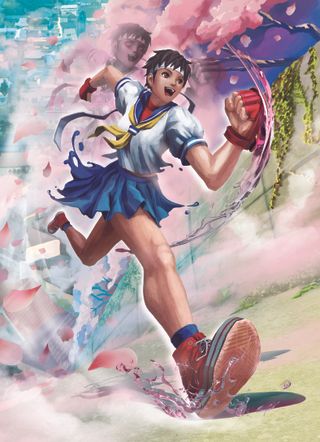 Sakura (Street Fighter)
Thanks in part to her fun personality and style, Sakura is one of the most popular Street Fighters in the series. She got her start in high school, learning martial arts quickly after being inspired by Ryu. Soon she was entering tournaments in the hops of meeting and training with him, though things never worked out that simply. Slowly her admiring of Ryu turned into a stronger emotions, though Ryu may not feel the same way for her.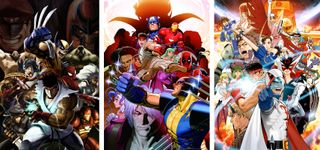 Want to learn more?