Internal SSDs have been going cheap for a little over a year now. The best SSDs for gaming are at discount prices almost constantly, and that goes for even the latest and greatest drives.
In the US right now, the brand new officially licensed WD Black SN850P PS5 SSD is on sale at Amazon. Despite launching to markets in June, is now on offer - reduced by 13% to $129.99.
For newcomers to the best SSDs for gaming market, or even experienced shoppers, seeing a brand new officially licensed PS5 SSD discounted so soon will likely be an appealing prospect. The RRP in the US is $149.99, after all, so this is a genuine first discount for US buyers.
Meanwhile, there's no equivalent deal in the UK, and I can't even see it listed on WD Black's Amazon store here. That said, the UK list price is a bit lower anyway at £123.99 for 1TB.
Regardless, I wouldn't jump on this US deal, and I recommend you don't either.
The WD Black SN850P is an iteration of the brand's previous SN850, and SN850X SSDs. While the older models come with and without integrated heatsinks, the SN850P only comes with that pre-attached heat spreader since it's designed for PS5 users.
For most folks that'd be interested, a PS5 SSD with a heatsink is all they'll really need. Unfortunately, manufacturers like Samsung, Seagate, and Western Digital use these pre-attached coolers as a reason to up the price of their PS5 products, and it isn't always worth the extra money. On WD's retail page for the SN850X, for example, it says that drive is only compatible with PS5 if you buy the Heatsink model, with the note that "Compatibility may vary depending on user's hardware configuration and operating system."
This, of course, isn't the whole truth - any M.2 Gen 4 SSD will work in the PS5 so long as it has qualifying speeds because you can just buy a separate heatsink and slap it on.
The SN850P has the same quoted read and write speeds as the SN850X, which is over a year older and is currently on sale on Amazon in the US without a heatsink for just $72.75 (1TB). In the UK that translates to £69.97. Given that the best PS5 heatsink is under $20, I can't recommend you splashing out $130 needlessly when the only real difference between the two drives is a small PlayStation logo.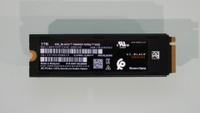 WD Black SN850X 1TB | $159.99 $72.75 at Amazon
Save ~$20 from its average Amazon price - Although we haven't seen it at its listed price of $159.99 for a long while, this is still one of the best SSDs on the market at a really affordable price, whether you're looking to use it in a PS5 or gaming PC.
More than that, in our WD Black SN850P review, I was disappointed by the fact that this latest drive didn't even reach those on-paper speeds that the SN850X exceeds. On the box, both drives are supposed to reach sequential write speeds of 6,3000 MB/s and read speeds of 7,3000 MB/s. Despite some less-than-ideal 4K random access numbers, the SN850X smashed those figures in our benchmarking tests. All things considered, it's one of the best Gen 4 drives money can buy, and it's right up there with the Samsung 990 Pro and Seagate Firecuda 530.
However, the SN850P is not. When installed in the PS5, the console gave it a recognizable read speed of 6,293MB/s. Moreover, in CrystalDiskMark, we found similar disappointment. Read speeds were an average of 6,947MB/s, with writes being a saving grace at 6,384MB/s.
We have since been contacted by WD's PR as they seemed puzzled by our benchmarking scores, and did suggest our review unit was potentially faulty. They told us we might hear back about a replacement version, in which case we'll be sure to update you on those numbers.
Even if we did receive a faulty unit, it doesn't give me the biggest urge to recommend it, even at this slightly lower deal price. I certainly wouldn't want to pay $130 for a newer drive, expecting better performance, and then receive something that doesn't even get the performance that an older drive that's almost half the price would - faulty or not.
---
Would you rather stick with external storage? Check out the best PS5 external hard drive, the best external hard drive, and the best PS4 external hard drive.