Meet the Xbox Series X, the latest and most powerful Microsoft gaming console ever. It arrived in November last year - alongside the lower spec and more affordable Series S - and offers a gaming experience with reduced loading times and best-in-class graphics. 
The Series X is a high-end machine for delivering Xbox Game Pass and all its delicious upcoming Xbox Series X games. This monolith design hides some seriously powerful tech hardware under the hood, all aimed at making sure the Xbox Series X delivers faster loading times, better graphics, and overall enhanced performance.
However, regardless of the fact that actually getting your hands on Xbox Series X stock continues to be difficult, we know why you're here - you want to know more about Microsoft's latest console. Whether you're the proud new owner of one yourself, or you're trying to decide whether or not to make that purchase, this article has everything you need to know about the Xbox Series X. 
Xbox Series X review
Xbox Series X review: After spending a few weeks with the Xbox Series X we are ready to offer our final verdict on Microsoft's next-gen console. 
From the basic details like the Xbox Series X price (£449 / $499), what to wishlist from the upcoming Xbox Series X games, or just all the information you need to decide between the Xbox Series X and Xbox Series S, we've got it all right here. We'll even go deeper into what the future of Xbox Series X might look like, comparisons with the Xbox Series S, and all the information on Game Pass, Project xCloud, Microsoft acquisitions, and first-party studios (will Elder Scrolls and Fallout be Xbox exclusives? Starfield already is.). 
What is Xbox Series X?
What is the Xbox Series X?
The Xbox Series X is the star of Microsoft's next-gen show and the bigger, badder sibling to the Xbox Series S. Built around powerful new hardware from AMD, including its new Navi graphics architecture and a Zen 2 CPU, the Series X is designed to minimize (or completely eliminate) load times and get you into games as quickly as possible. In the announcement reel, Microsoft employees threw out some pretty baller numbers: four times more powerful than the current most powerful console on the planet, the Xbox One X, four times better performance than the current generation in terms of load times, and the biggest generational leap in Microsoft's console history.
Xbox Series X In Detail
Xbox Series X In Detail: GamesRadar+ has been exploring the Xbox Series X in detail, so be sure to click the link to find all of our exclusive reporting, hands-on impressions, interviews, and more. 
Dynamic Latency Input (DLI) optimises latency, starting with the Xbox Wireless Controller, which makes sure that input is synchronised immediately with what's displayed, making controls even more precise and responsive. HDMI 2.1 support introduces even more latency-reducing technology too. 
Smart Delivery is super exciting too, and means you're getting the best version of the game possible without having to pay for the Xbox Series X version. Basically, if you buy a game on the Xbox One, you will also be able to play on Xbox Series X - including Halo Infinite.
Xbox Series X specs
Xbox Series X specs
You ready? Let's get technical. The Xbox Series X features eight Zen 2 CPU cores at 3.8GHz. That helps make the 'Quick Resume' feature possible, allowing users to "continue multiple games from a suspended state almost instantly". When combined with 12 teraflops of GPU power, we're left with a system capable of hardware-accelerated ray tracing. That means more realistic lighting, reflections, and sound. 
What's more, that Unreal Engine 5 demo showed that the Series X will be able to render unbelievably detailed, photo-realistic environments without a hiccup, not to mention exquisite, believable lighting and more immersive audio. It even offered immense draw-distances without stumbling, and without compromise. That would be flat-out impossible on today's consoles.
4K resolution at 60FPS is another welcome addition, with the potential for 120FPS in certain games. What does that mean in a practical sense? That'll result in a smoother, more detailed experience than we've ever had on a console before.
Microsoft also threw a Solid State Drive (or 'SSD') into the mix, allowing for lightning-fast loading. An example of this can be seen in the Xbox Series X loading times comparison video. More specifically, we now know for sure that the Series X is fitted with 1TB of internal storage thanks to an NVMe SSD.
Xbox Series X design impressions
Xbox Series X design impressions: You know the specs, but how does the hardware handle in the wild? Here's our extended impressions on the Xbox Series X console and its industrial design. 
This accompanies 16GB RAM, the option of expandable storage/external hard drives, and a 4K UHD Blu-ray disc drive. To translate, that's enough grunt to give the Series X an advantage over its competitors, Google Stadia and Sony's PS5. 
Indeed, if you dig into the numbers, the PS5 lags just slightly behind the Series X. Although Sony's new CPU is only a few points below (it's otherwise identical), the GPU is lagging by a few teraflops. More specifically, the PS5 graphics are comprised of 10.28 teraflops and 36 CUs at 2.23GHz. That's quite a way behind Xbox's 12 teraflops, even if the Series X equivalent's 52 CUs are running at 1.825GHz.
Something both systems have is speed, though. As mentioned above, their SSDs are incredibly quick. That'll totally change the game for Xbox. Well, mostly. It's worth pointing out that you can't load Xbox Series X games from most external HDDs or SSDs. In fact, you can only do so from the console's own SSD or proprietary cards sold by Microsoft.
What is Project xCloud?
What is Project xCloud?
Project xCloud is the streaming platform that originally debuted back in March. Xbox boss Phil Spencer says the service would enable you to transform an Xbox console into an xCloud server (as well as using actual servers), streaming games and media to connected devices. How robust this will be against, say, the Google Stadia initiative remains to be seen, but Microsoft definitely looks committed to leveraging its massive infrastructure and resources towards allowing gamers to play where they want, with who they want. 
Xbox Series X cost
How much does Xbox Series X cost?
You can buy one for $499 / £449, with a monthly pay option available via Xbox All Access. Prices for that start at $34.99 in the US for the Series X, while in the UK prices start at £20.99, but that's for the Series S. 
The Xbox Series S will cost $299 / £249 when it launches on the same day. 
Xbox Series X backwards compatibility
Xbox Series X backwards compatibility
Xbox Series X is going completely backwards compatible. According to the Microsoft blog post, a section on Xbox Series X backwards compatibility reads:
"Our commitment to compatibility means existing Xbox One games, including backward-compatible Xbox 360 and original Xbox games, look and play better than ever before. Your favorite games, including titles in Xbox Game Pass, benefit from steadier framerates, faster load times and improved resolution and visual fidelity – all with no developer work required. Your Xbox One gaming accessories also come forward with you."
Xbox Series X backwards compatibility impressions
Xbox Series X backwards compatibility impressions: In our testing of the Xbox Series X, we've found that its backwards compatibility is the best way to experience games from the Xbox One, Xbox 360, and original Xbox generations. 
Plus, with Xbox Series X's Smart Delivery feature, for any game that supports the tech, if you buy it on Xbox One, you can then get the Xbox Series X version for free. 
"This technology is available for all developers and publishers, and they can choose to use it for titles that will be released on Xbox One first and come to Xbox Series X later". 
Cyberpunk 2077 has already confirmed that it will take advantage of Smart Delivery. 
Xbox Series X controller
Xbox Series X controller - What does it look like?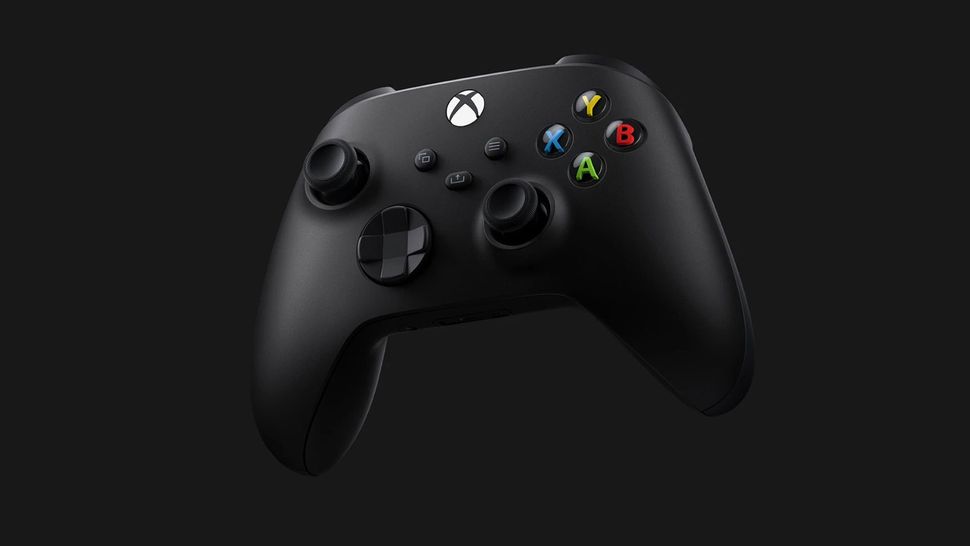 Xbox Series X controller impressions
Xbox Series X controller design impressions: From our hands-on testing, we've found that Microsoft has learned the right lessons from the Xbox Series Elite 2 and poured them into the Xbox Series X controller design.
We finally have a proper look at the Xbox Series X controller, and it's rather – reassuringly – familiar. You can take a look at it above, but here are the biggest takeaways in quick, bullet-point form:
New D-Pad with slightly deeper dish, and finely tuned angles to give you more leverage with less movement
Bluetooth Low Energy connectivity for pairing with more devices, including PC, Android and iOS
USB-C port for charging
Share button
Tactile dot pattern on the triggers and bumpers
Matte finish on D-Pad, bumpers and triggers
Still uses batteries
Xbox Series X memory cards
Xbox Series X memory cards - What's up with that?
Don't panic, the world of memory cards for your saves is looooong gone, but there's a brand new feature / accessory for the Xbox Series X that's putting a new spin on the idea of memory cards. The Xbox Series X Storage Expansion Card was announced as part of the Xbox Series X tech unveiling, and "provides additional game storage at peak speed and performance by replicating the console's internal custom SSD experience. The 1TB card is inserted directly into the back of the console via the dedicated storage expansion port." No word on price yet, but it'll be the best way to boost the Xbox Series X internal storage for more games. 
Xbox Series X VR
Does Xbox Series X have VR?
Microsoft has an interesting relationship with virtual reality. On the PC side, its Windows Mixed Reality initiative has found moderate success, featuring a broad variety of lightweight VR headsets and offering an expansive library of games and experiences. On the console tip, however, news has been less positive - at last year's E3, Microsoft's CMO for gaming told Gameindustry.biz that the company "doesn't have any plans specific to Xbox consoles in virtual reality or mixed reality."
However, all hope is not lost. A newly discovered patent seems to suggest that Microsoft is working on a VR headset along with motion controllers, a stylus, and fully fledged boundary mat which can turn your living room into its very own digital playground. With the continuing success of Playstation VR, which currently boasts the most sales of any high end VR headset, Microsoft may well still have an appetite to dip its toes into the virtual pool. 
What do you think about the rumours surrounding the Xbox Series X at the moment? Let us know in the comments below.