Mobile companion apps have, on the whole, been rubbish. Whether it was Microsoft trying to sell SmartGlass (remember that?) as the coolest new way to distract yourself from actually enjoying the game you were playing, or Assassins' Creed: Unity overcomplicating its core gameplay with needless mobile unlocks, those things have hardly ever felt essential, more likely being either a waste of time or total hindrance. One app managed to justify the entire, sorry genre though. In fact one feature of one app did. Because when Destiny introduced the ability to remote-manage gear from Vault to personal inventory, over multiple characters, in real-time, in-game, it completely changed the way the game played. And now the system is getting an upgrade.
Being tentatively rolled out to selected players right now, the new Gear Manager – as revealed on Reddit – is a vastly expanded, much more nuanced evolution to the current set-up, allowing detailed, browser-based search, sorting, and delivery of gear between the Vault and multiple Guardians.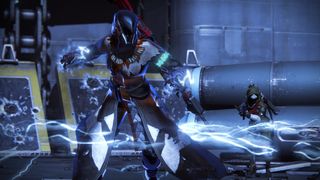 There are a bunch of screenshots showing off the Manager's new pane-based UI and filtering function above, but the general gist is that we're soon going to have a clean, drag-and-drop interface to replace the current menu-based click-fest, and will be able to swiftly and neatly home in on exactly the piece(s) of gear we want via an extensive filtering system taking in everything from weapon type to elemental damage.
It even looks possible to search for gear by perk name, which might sound innocuous, but will be invaluable when putting together super-specific custom builds for particular jobs. No word yet on when the Gear Manager will be rolled out to everyone, but we'll give you an update as soon as we know anything.