The best Xbox One S bundles, prices and deals are dropping fast thanks to 'Deals Unlocked', Xbox's E3 2019 sales promotion. There's never been a better time to pick up the console as a result, so we've gathered our favorite savings into one place. You'll find those bargains below.
Best deal today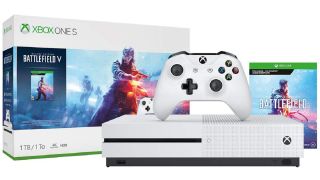 1TB Xbox One S + Battlefield 5 | $199.99 at Walmart (save $100)
This is the cheapest Xbox One S bundle around right now.
If you're wondering what the difference is between Xbox One S and Xbox One X deals (which is entirely fair), it comes down to price, power and 4K. To start with, the best Xbox One S bundles, prices and deals are significantly cheaper than their X equivalents. Usually $100 less, in fact. That's because the S doesn't pack as much horsepower, thereby lowering the cost. Which isn't something to freak out over, by the way - they'll both play the same games. Meanwhile, the Xbox One S can't display games in 4K like the X… but it can still run 4K Blu-Ray discs in ultra-HD. Subsequently, the S is a good choice for anyone wanting a media centre or to dabble in the Xbox library for as little money as possible.
Speaking of which, don't forget about the disc-less, All-Digital Xbox One S that's just launched. This one's even cheaper than normal at a very affordable $199 (thanks, Deals Unlocked). It comes with Minecraft, Sea of Thieves and Forza Horizon 3 to get you started.
Fancy Rage 2 or The Division 2 for your brand new console? Be sure to check out our guide to cheap Xbox game deals. It's got everything from blockbusters to Xbox One accessories like Xbox Live Gold, Xbox One external hard drives and ways to get an Xbox One controller cheap.
Best Xbox One S deals
You're in the right place if you want up-to-the-minute deals on an Xbox One S; this page is updated on a daily basis with new savings and bargains. Although you can get the console by itself for $200 or less, we'd advise grabbing a bundle with games where possible. It's often better value for money, particularly when the offer includes more than one game.
Best Xbox One S bundles
Want the best possible value for money? Getting an Xbox One S with games included is the way to go. You can usually pick up a console with big hitters like The Division 2 for only a little more than the system by itself. It's frequently cheaper than buying each item separately, too.
We've listed our favorite deals of the week right here.
1TB Xbox One S + Battlefield 5 | $199.99 at Walmart (save $100)
This long-running series goes back to WWII in its latest instalment, but this time it's got multiplayer customisation.View Deal
1TB Xbox One S All-Digital Edition is $199 | Walmart (save $50)
A disc-less model of Xbox One landed last month with three games in tow. Get it for $50 less than normal at Walmart.View Deal
1TB Xbox One S Fortnite Battle Royale Special Edition | $249 at Walmart (save $50)
This special purple edition Xbox One S is gorgeous. You also get the Dark Vertex Cosmetic Set and 2000 V-Bucks.View Deal
1TB Xbox One S + The Division 2 | $249 at Walmart (save $50)
The Division 2 is a gem of a game and one of 2019's best. Getting $50 off is much appreciated as a result.View Deal
1TB Xbox One S + Anthem | $248.88 on Amazon (save $51)
It's hardly a perfect game, but those interested in Anthem for their new Xbox One shouldn't miss this deal.View Deal
1TB Xbox One S Minecraft Creator Bundle | $214.62 at Walmart (save $80)
Even though it's not the most modern of bundles, that huge discount makes it worth your time.View Deal
1TB Xbox One S + Forza Horizon 4 | $248.74 at Walmart (save $48)
Fancy tearing across a beautiful open-world in equally beautiful cars? Do so for less with this deal.View Deal
Best gaming chair | Best Xbox One headsets | Xbox One steering wheels
Xbox Game Pass | Best HDMI for gaming | Best Fortnite toys
Some online stores give us a small cut if you buy something through one of our links. Read our affiliate policy for more info.