The Suicide Squad might just be the most unpredictable blockbuster of the summer. As the (sort of) new line up of supervillains take on another mission on pain of death, expect a high body count, an extremely offbeat ensemble and a well-earned R-rating.
Guardians of the Galaxy's James Gunn directs, bringing his unique blend of humour to another ragtag comic-book collective. But if you thought a talking raccoon and sentient tree were weird, wait until you get a load of this line-up.
In the new issue, Total Film gets the lowdown from Gunn and his expansive cast, including Idris Elba, Margot Robbie, John Cena and Peter Capaldi. And, in order to fit the entire Squad on the cover, this month there's a super-size foldout cover showcasing the whole gang.
The Suicide Squad cover story
The supervillains of The Suicide Squad have been dispatched on another off-the-books mission, but this time they've brought a "douchey Captain America", a talking shark and the director of Guardians of the Galaxy along for the ride. Total Film meets James Gunn and the cast of the wildest comic-book movie of 2021…
On set of Army of the Dead
Following a fractious end to his time at DC, Zack Snyder is going back to brain-bashing basics with Army of the Dead – a zombie heist movie 15 years in the making. Total Film visits the post-apocalyptic Atlantic City set to meet a filmmaker and cast of zombie-killers in their element.
The making of The Underground Railroad
Barry Jenkins' adaptation of Pulitzer Prize-winning novel The Underground Railroad provides an illuminating new perspective on a harrowing part of US history. Total Film speaks to director Jenkins and stars Thuso Mbedu and Joel Edgerton about the year's most revolutionary TV series.
A Quiet Place Part II
Ssh! Don't make any noise. John Krasinski's sequel to his post-apocalyptic smash A Quiet Place is finally hitting cinemas, promising a deeper dive into its uniquely silent world. Total Film talks (quietly) to Part II's team to find out more.
Ben Wheatley's In the Earth
Ben Wheatley's grisly, beautiful, extraordinary horror movie In the Earth speaks to the pandemic and so much more. Total Film journeys into the darkness (and pulsing light) with the director and his cast…
Mads Mikkelsen career interview
He's been a staple of tentpole cinema in Bond, Marvel, Star Wars and the upcoming Fantastic Beasts 3 and Indiana Jones 5, but Danish actor Mads Mikkelsen still manages to find time for complex dramatic work, such as the forthcoming genre-blender, Riders of Justice. Total Film meets a blockbuster character actor…
The Conjuring: The Devil Made Me Do It
In the front-section, Teasers, Total Film speaks to the director of the latest instalment of the Conjuring universe. Plus, Spiral: Book of Saw, In The Heights, The Meg 2, Those Who Wish Me Dead, and loads more.
Out now!
And if you're a print subscriber, you'll already have the magazine waiting for you on your doormat, with this exclusive, subscribers-only (also fold-out!) cover:
Subscription offer!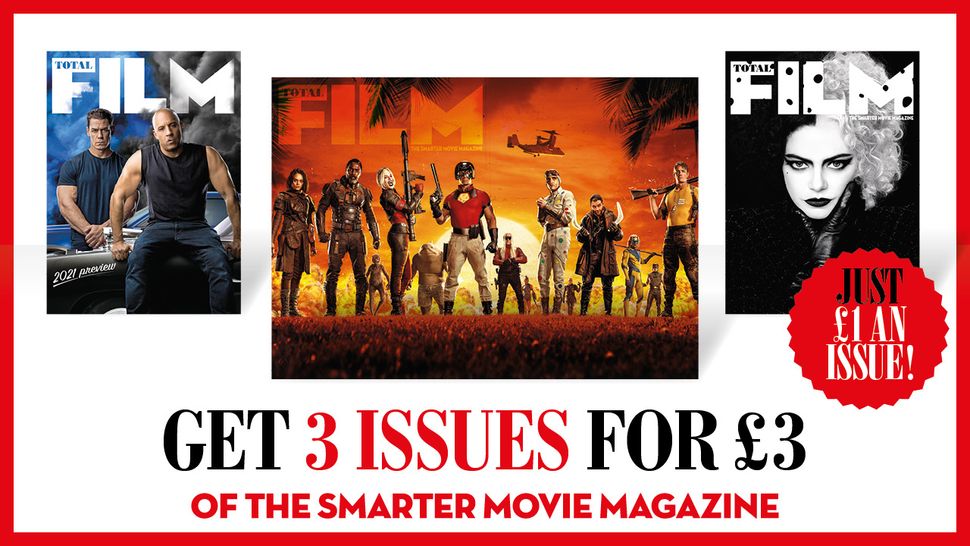 If you're a fan of Total Film magazine, why not subscribe so that you never miss an issue? Sign up with MagazinesDirect and with the latest offer you can get your first three issues for just £3! Choose a print subscription to get a copy delivered to your home, or a digital subscription to get the magazine direct to your device. Print subscribers get exclusive subscribers-only covers (like the ones pictured above), as well as receiving the magazine before it's in shops. What are you waiting for?
Subscribe to Total Film magazine now and you'll never miss an issue (as well as saving money on the cover price). Get the digital version for your tablet or have an exclusive subs cover through your door every month - or save even more with a print/digital bundle! You can also get the digital magazine for your tablet via PocketMags (for Android) and Apple (for iOs).