We love a good SSD. The freedom to jump in and out of as many games as you want without the hassle of waiting for countless downloads to complete. That's what next-gen is all about, and why getting a PS5 SSD is always worth investing in.
That's why we have to shout about this new SSD deal from Amazon, which reduces the price of WD_Black SN850X 2TB SSD from $309.99 all the way down to $179.99 (opens in new tab). This sizable 42% discount (equivalent to a saving of $130) now means that this particular SSD has never been cheaper. Add to the fact that it comes with a heatsink already supported means that you can simply plug in the storage upgrade and you're away.
Western Digital has continuously proven itself as one of the best PS5 SSD makers on the market with the SN850X being one of our favorites – especially now that it's dropped in price. Often without a good deal like this, you will need to spend well over $200 to reach this level of storage so make sure to snap one up while stock lasts.
Today's best SSD deal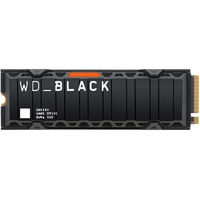 (opens in new tab)
WD_Black 2TB SSD (with heatsink) | $309.99 $179.99 at Amazon (opens in new tab)
Save $130 - Save 42% on this 2TB SSD and never worry again about running out of game space with your PS5. This is the cheapest price we've ever seen for the SSD and it even comes with a heatsink, so you can pop it straight in. No hassle.
What we really appreciated from our experience with the SN850X is the SSD's improved operating temperatures over its predecessor, the SN850, alongside its easy use for the PS5 and solid speeds that help improve performance. While its 4K performance leaves a little to be desired and those on PC likely won't be able to take advantage of the heatsink, it's still proven to be a must-buy for any PS5 owner.
As the PS5 only arrives with 667GB of storage, you will quickly find that room needs to be made with some of the biggest blockbuster releases coming in at over 100GB each, such as Cyberpunk 2077 and Assassin's Creed Valhalla. There are smaller storage options too. This Crucial PS5 Plus 500GB SSD is currently going for $75.98 (opens in new tab), or if you fancy getting something slightly bigger there is also a Samsung 980 Pro 1TB SSD with heatsink available at $109.99 (opens in new tab). We recently broke down how to upgrade your PS5 storage for under $100, so head there for further details.
More of today's best SSD deals
Looking for more deals? Here's where to find the best SSDs for gaming in 2023. We've also put together a guide on the best cheap PS5 game sales so you can really put that increased storage to good use as well as the best PS5 accessories to help fill out your console setup.