These are perhaps the most expensive PS5 bundles we've ever seen (and that's including the price jumps during the low stock days) but these Sony Bravia OLED TV deals actually make sense if you're looking for a console and display. The free PS5 sits with the 65-inch Sony Bravia XR A80L. Amazon has both the OLED TV and PS5 console at $2,347.99 right now - that's a significant figure considering Sony's own site has the 65-incher at a $2,499.99 MSRP. You're not only netting yourself a free PS5 but also saving $150 on the TV itself.
Amazon has a previous price of $3,099.98 on this bundle, which goes over the $2,499.99 cost of the TV and the $499.99 console MSRP by $100. Of course, these OLED TV deals only make sense for those looking to grab a new console and upgrade their display at the same time, but if you find yourself in such a position this week we wouldn't wait for this luck to run out.
If you're after something a little smaller you can also pick up a 55-inch Sony Bravia XR A80L with a PS5 console for $1,847.99 at Amazon . With the TV itself previously holding a $1,799.99 MSRP you're essentially spending less than $50 on the console itself. Considering the TV by itself holds a $1,799.99 MSRP via Sony's own site that's a considerable offer. Amazon has a previous bundle list price of $2,399.98 for both of these items ($1,799.99 plus the $499.99 PS5 price), saving $551.99 in total.
Of course, you'll find PS5 bundles covering these OLED TVs all the way up to an 83-inch screen, but these two represent the best value today.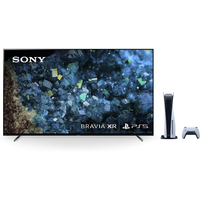 55-inch Sony Bravia XR A80L OLED TV | PS5 | $2,399.98 $1,847.99 at Amazon
Save $551 - You're saving just over $550 on this 55-inch Sony Bravia OLED TV and PS5 bundle at Amazon right now. Considering the TV by itself costs $1,799.99 at MSRP that's a stunning offer.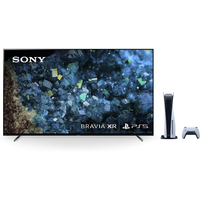 65-inch Sony Bravia XR A80L OLED TV | PS5 | $2,999 $2,347.99 at Amazon
Save $651 - The $2,499 MSRP of the 65-inch Sony Bravia A80L OLED is a little lower than the previous price listed at Amazon, but you're still getting an incredible deal here. Not only is the cost of the PS5 covered but you're still saving an additional $150 on top.

Should you buy the Sony Bravia XR A80L?
We went hands on with Sony's 2023 lineup earlier this year and found excellent features across the board. However, that PS5 is particularly well paired with this particular screen. The A80L packs a serious punch even for a gaming TV, combining a Black Equalizer mode for hunting down shadow-lurking enemies, video size downsizing for more focused fps play, Sony's new Cognitive Processor XR, and a dedicated Game Menu for VRR control and Motion Blur Reduction.
While all those features will serve Xbox players nicely, the Sony Bravia A80L is a contender for the best TV for PS5 specifically, thanks to its Auto HDR Tone Mapping and Auto Genre Picture Mode - these features are only supported when the TV is connected to a PS5 console.
More of today's best OLED TV deals
Of course, there are plenty of panels vying to be considered the best OLED TV, and we're rounding up all the latest cheap TV deals on each of them just below.
Of course, we're also rounding up all the best 120Hz 4K TVs for more console action, as well as the best QLED TVs and the best 8K TVs for the next generation players.