We haven't been short of bundles in the UK's recent PS5 restocks. However, we generally only see higher-priced packages holding their positions on the shelves. Amazon's latest drop might just change that. You'll find the Horizon Forbidden West bundle live and available at Amazon right now, coming in at £529.99.
That price includes the higher RRP of the console (after a jump earlier in the month), but it's still one of the cheapest bundles you'll find right now. The current PS5 restock market is full of £600+ packages right now, so grabbing one at £529.99 with speedy Amazon delivery is well worth it.
While PS5 stock is certainly far more plentiful than it once was, we wouldn't wait too long to jump on this drop. We still regularly see these cheaper PS5 bundles running off the shelves, or retailers like BT placing additional membership requirements on them. We might not see these consoles available by the end of the day, so if you don't want to stock up on accessories from day one we'd recommend moving quickly.
If you do miss out on this drop, we'd recommend keeping a close eye on the aforementioned BT and also heading to Sony directly. The latter is offering those with a PSN ID a chance to buy a console by itself right now, at the new £479.99 RRP. The former, however, has some of the best priced bundles on the shelves right now, with a DualSense bundle coming in at just £508.99. At the time of writing you do need to be a customer to shop these bundles, but that does change from time to time so keep a look out.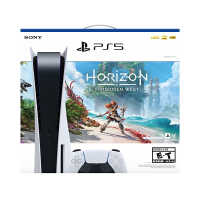 PS5 Horizon Forbidden West bundle | £529.99 at Amazon
The Horizon Forbidden West PS5 bundle is in stock at Amazon right now, at the standard £529.99 price point. We rarely see stock actively live here, so considering that speedy delivery this is well worth a look before the well runs dry.

More of today's cheapest PS5 bundles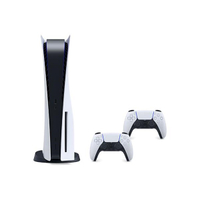 PS5 | extra DualSense controller | £508.98 at BT (customers only)
This is BT's cheapest bundle, and the cheapest overall on the shelves right now. The only catch is that you need to be a BT customer to have access, via a specific code. However, we'd recommend keeping your eyes on this one - we've seen that caveat lifted a couple of times over the last week.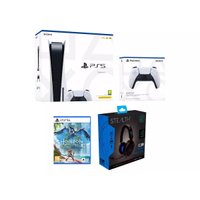 PS5 | DualSense controller | Horizon Forbidden West | Stealth gaming headset | £569.99 at Argos
Stock is regional, but you'll find a larger bundle available at Argos right now, offering a DualSense controller, a copy of Horizon Forbidden West, and a Stealth gaming headset for £569.99. That all prices up well, so if you're after plenty of accessories we'd recommend checking your local store.

We're also rounding up all the best PS5 accessories if you're after more kit for your new console, as well as the best PS5 games to get you started right. If you're really looking to resupply we're showing you the best TVs for PS5 on top.