The free PS Plus games for January 2022 are live now, giving you the chance to dive into three very different action-packed experiences across PS5 and PS4.
The latest lineup of free PS Plus games is Persona 5 Strikers, Dirt 5, and Deep Rock Galactic. Whether you're into Dynasty Warriors/Musou-driven action, hardcore offroad racing, or co-op procedural mining and bug blasting, you'll have plenty to keep you busy all throughout January.
The new set of free PS Plus games went live on January 4, and they'll remain available through Tuesday, February 1. Remember, you don't need to download each game to get access, you just need to claim them in the store before they're replaced by next month's selection. We've also included all the free PS Plus games which were available in December, in case you're wondering what you may have missed.
Free PS Plus games for January 2022
Persona 5 Strikers (PS4)
The cast from Persona 5 embark on Dynasty Warriors style action in Persona 5 Strikers, a direct followup to the events of the RPG original. Familiar characters and abilities return in a new form as you progress through an all-new story of the Phantom Thieves' summer vacation gone wrong. Clear crowds of enemies, steal hearts, and make it back in time for the school year to start again.
Dirt 5 (PS4 & PS5)
Flecks of mud and spraying gravel have never looked as good as in Dirt 5, the latest, dedicated off road racer from Codemasters. Race across a number of disciplines including rallycross, super trucks, and even ice racing in tracks all across the world. You can even become racing rivals with Nolan North in the career mode.
Deep Rock Galactic (PS4 & PS5)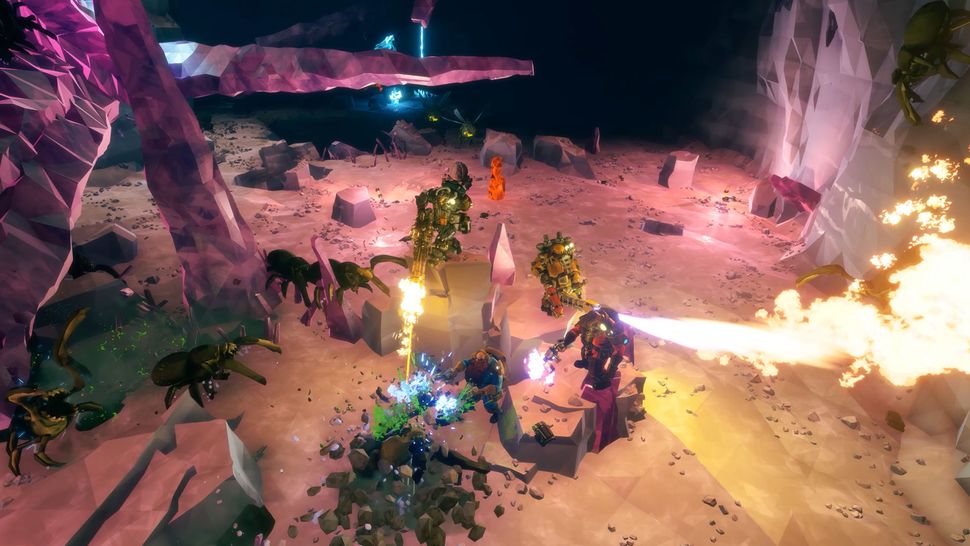 Dwarves still love mining ore and fighting monsters in the sci-fi future, and that's what they're gonna do in Deep Rock Galactic. Play on your own with AI buddies or delve into the procedurally generated cave systems with teams of up to 4, but don't get tunnel vision - mining up the most valuable ore will inevitably attract the attention of hostile wildlife.
Free PS Plus games for December 2021
Godfall: Challenger Edition (PS4 & PS5)
Lego DC Super-Villains (PS4)
Mortal Shell (PS4)
The Persistence (PSVR)
The Walking Dead: Saints & Sinners (PSVR)
Until You Fall (PSVR)
For more PlayStation fun, check out our guide to upcoming PS5 games and find where to find a PS5 restock.