The Meta Quest 3 is set for launch, and thanks to the Meta Connect conference's keynote speech, we now have even more details about the platform including the price, launch date, content, and more.
Meta Quest 2 very much set the bar for accessible, modern VR headsets, and while the Quest Pro, Vive XR Elite, and Apple Vision Pro duke it out for a futuristic spatial computing market that doesn't quite exist yet, Meta's most powerful headset so far looks to be blurring the lines between fully immersive VR power and the potentials of mixed-reality.
The Quest 3 will launch on October 10, 2023. It's available in a 128GB SKU which is priced at $499.99, as well as a 512GB SKU which will cost $649.99. The headset itself will be the first device to use Qualcomm's Snapdragon XR2 Gen 2 processor, meaning it has roughly double the processing power compared to the Quest 2. Carrying over from the Quest Pro are pancake lenses which provide a slimmer profile without sacrificing depth. There are plenty of other features that will boost the Quest 3 to the status of the other best VR headsets on the market, but we'll cover them more in-depth below.
In this article, we want to give you a proper rundown of everything you need to know about the Meta Quest 3. We're not far off release at this point, so if you're on the fence about grabbing yourself a Meta Quest 3 pre-order, this is the place to do your homework and make a buying decision.
Meta Quest 3 specs and features
For its price, the Meta Quest 3 packs some pretty impressive features compared to a lot of the other VR headsets we've tested. The closest competitor is probably the likes of PSVR 2, which launched earlier this year and is currently our top VR headset recommendation. For gaming, that headset has an excellent feature set that makes high-end VR more attainable compared to PC-dedicated headsets. Of course, Quest 3 is not only cheaper than PSVR 2, but doesn't have to be tethered to a console or PC to be used.
When we reviewed the Meta Quest Pro, we were a bit disappointed by the battery life of the device. Of course, Quest 2's battery life was never its strongest suit, but let's hope the increase in power for the Quest 3 doesn't sacrifice its longevity. Supposedly, the Quest 3 will have the same battery life as the Quest 2, so around about two hours on a full charge.
For more formal specs, take a look at the table below:
Swipe to scroll horizontally
Meta Quest 3 Specs

| | |
| --- | --- |
| Processor | Snapdragon XR2 Gen 2 |
| Resolution | 2064 x 2208 per eye |
| Refresh rate | 90Hz / 120Hz |
| Field of view | 110 degrees |
| Sensors | RGB cameras, 4 IR cameras |
| Storage | 128GB / 512GB |
| Cameras | 2x RGB 18PPD cameras |
| Audio | Integrated 3D spatial audio speakers |
| RAM | 8GB |
| Weight | 515g |
| Eye tracking | None |
| Battery | Up to 2.2 hours average |
| Connectivity | WiFi 6E |
In particular, I'd draw attention to the FOV despite the slimmer optic profile, as 110 degrees is the same as PSVR 2 and just shy of the HTC Vive Pro 2. Per eye, the Quest 3 looks to have a better resolution than those two headsets, with PSVR 2 having 2000 x 2040. That said, PSVR 2's display is OLED, and the Quest 3 seems to use LCD technology - so it will be interesting to see how the two compare. Either way, this is a super-impressive resolution for a standalone headset.
One very promising feature is the Quest 3's audio prowess. With integrated 3D spatial audio speakers built into the side of the visor, you're bound to feel a real difference in immersion when playing the best Meta Quest 2 games.
Somewhat disappointingly, there's no eye tracking or foveated rendering in the Quest 3, which may be a bit of a letdown for folks wanting all the high-end features VR headsets can offer these days.
Connectivity is fairly standard, you get USB-C as a charging port, and just like its predecessors, the Quest 3 can connect to a PC using the Oculus Link dongle you can buy separately. Wirelessly, you do get Wi-Fi 6E, which will be nice and futureproofed.
Meta Quest 3 release date
The Meta Quest 3 launches on October 10, 2023, so mark your calendars. Pre-orders are available now through Meta's own website and at select retailers. The Quest 3 is launching three years after the Quest 2 which was released in 2020, and has since made it onto the heads of some 20 million users.
Meta Quest 3 price and bundles
As mentioned previously, the 128GB model of the Quest 3 will set you back $499.99 / £479.99. Meanwhile, the 512GB SKU which will cost $649.99 / £619.99.
This release does have a knock-on effect for the Quest 2, as that headset's price has dropped to $299.99 for the 128GB model. This was announced back in June when the Quest 3 was revealed initially, and late-to-the-party shoppers have been able to benefit from a price drop to the larger 256GB model too, which now costs $349.99. It's unconfirmed whether the Quest Pro will see a price drop after the Quest 3 hits the shelves.
In the way of bundles, Meta does have some tricks up its sleeve for launch window. For an undisclosed limited time, any pre-order purchase of the Meta Quest 3 will give you a free license for Asgard's Wrath 2, which will launch in December.
Any pre-order of the beefier 512GB headset (during the same unspecified limited time) will get you Asgard's Wrath 2, and a six-month-trial of Meta Quest+, the new subscription service for Meta Quest platforms that will get you two free games for every month you're subscribed.
How these pre-order bundles will impact Prime Day Meta Quest deals, or indeed Black Friday Meta Quest deals, remains to be seen.
Meta Quest 3 games and content
The great news is; Meta Quest 3 is fully backwards compatible with previous Quest headsets, meaning you'll have access to all your existing games and apps if you've used the Meta Quest 2 extensively. These should even see a performance bump depending on the game, and if developers have worked on a port for the new platform. In the Connect keynote, The Walking Dead VR was shown as an example of the potential difference in graphical fidelity.
So, from day one, your Quest 3 will have access to over 500 VR experiences and games. But with the Quest 3 being more tilted into mixed reality, you'll also be able to use content designed for Quest Pro.
Furthermore, it seems as though Meta is working toward building more of its Metaverse concept into the Quest 3, so there are bound to be plenty of ways to access social media through the new headset.
Similarly to Apple Vision Pro, the Quest 3 looks to make "spatial computing" a big part of its marketing vision. Mixed reality means you can integrate your VR apps into your physical space, so you can easily watch YouTube or other media streaming services through a big digital screen that appears to be in your living room - think of PSVR2's cinematic mode, but the display isn't surrounded in a dark void.
One great addition in the way of content for the Quest 3 is the addition of Xbox Game Pass Cloud Streaming. This will let you kick back and play any title on Game Pass in mixed reality.
Meta Quest 3 privacy
One thing I'm intrigued to see with the Quest 3, is whether or not Meta has integrated its Metaverse gubbins intrusively or not. When I reviewed the Quest Pro, I wanted to do so through the lens of a gamer picking up the system with no desire to use it for anything else. I myself have no interest in Zuck's Metaversal vision, and I have a profound lack of trust when it comes to Meta's track record with data mining, privacy, and the ways it uses the personal information it collects.
The Meta Quest 2, while it had Metaversal elements added in later, was fairly tame on the whole, and didn't feel completely ominous to use. It was originally the Oculus Quest 2, remember. Now these headsets are being released under the Meta banner and look to be building in AI and spatial computing, I am a bit concerned with how disruptive these things could be for folks like me who just want to use the headset for gaming.
Meta Quest Pro, as I found out in my review tests, failed at that, and even though playing games worked and the features added up to a coherent VR experience, the metaverse's shoe-horned intrusions ruined the experience for me, and I couldn't shake the feeling my data was being mined with every single app I booted up.
I sincerely hope Meta has considered the ethical and privacy concerns brought on by the Quest Pro. With all the talk of this being the first mass-market mixed-reality headset, it seems as though Meta is doubling down on its Metaverse vision, not drawing back. If nothing else, the jabs at the Apple Vision Pro during the keynote definitely signal that.
If you want to know more about the way Meta and other social media giants collect and use data before you make a buying decision, I'd recommend The Social Dilemma, or The Great Hack as accessible starting points. For more in-depth reading, I'd recommend the journalistic work of Carole Cadwalladr which investigated Cambridge Analytica.
Meta Quest 3 Accessories
Of course, one of the best parts about the Quest 2 is that you have access to a massive range of Meta Quest 2 accessories. While many of these come from third parties, there is a limited range of official accessories made by Meta itself.
When it comes to the Quest 3, however, it looks as though Meta wants to steal away more of the accessory profits from smaller brands, as straight out of the gate it's releasing a wider range of add-ons for the new headset. We've listed a few you can find just below.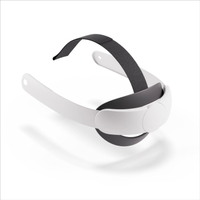 Quest 3 Elite Strap | $69.99 at Meta

Give yourself a bit more comfort with the Elite Strap for Quest 3. This is also available with an extra battery pack, although that will cost you even more.
UK: £69.99 at Amazon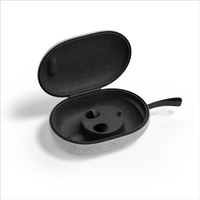 Meta Quest 3 Carrying Case | $69.99 at Meta
Take your headset and controllers on the go as soon as your Quest 3 arrives by pre-ordering the official Quest 3 carry case.
UK: £69.99 at Amazon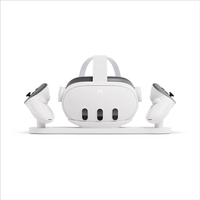 Meta Quest 3 Charging Dock | $129.99 at Meta
This one's a little pricey, so it might be worth waiting for a cheaper third-party charging stand once your headset arrives. If you'd rather get the official one, you can grab it here from Meta.
---
Want to stay in the age of non-spatial computing? Check out the best gaming PCs, the best gaming chairs, and the best gaming desks.