20. Lovers in a Dangerous Space Time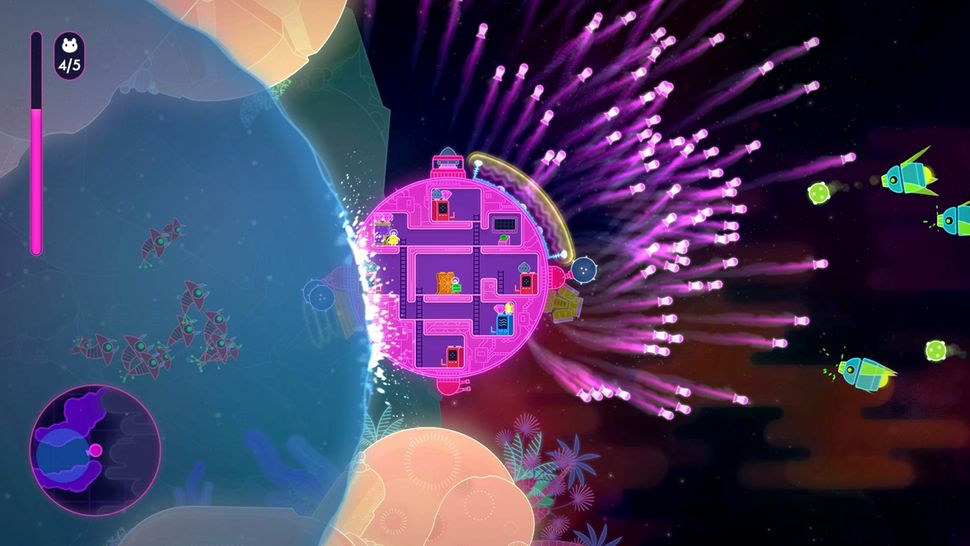 Genre: Action
Gameplay Style: Co-operative
Trying to navigate a neon battleship across space is a complicated business, one that really needs all hands on deck. Thankfully, that's where you come in. Grab a pal and work together to man the turrets, the lasers, the shields and also work out how to move your ship around using the thrusters. It all gets a bit maniac as you leg it around your ship
19. Moving Out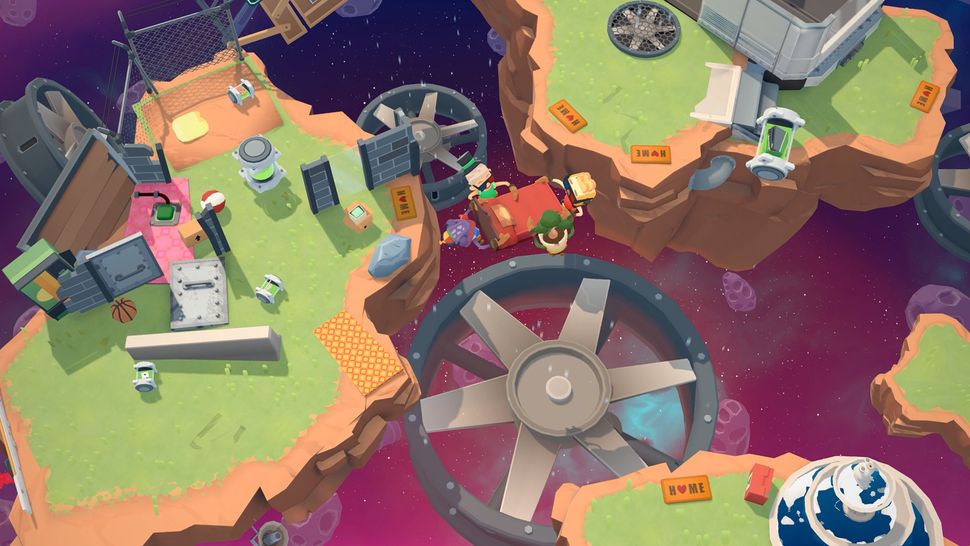 Genre: Action / Simulator
Gameplay Style: Co-operative
Moving home is one of the most stressful things you can do, but this quirky co-op game brings you all the physics and flapping about, none of the potential muscle strain or worrying about getting your deposit back. Up to four players have to move beds and couches into your moving truck. Can be bothered to get that microwave down the stairs? Throw it through a window! As your skills increase so does the fiendish layout of the levels, with some taking to space or adding things you won't find in everyday homes, like jet streams or revolving cylinders of spikes. It's family-friendly with lots of customization options and is a spiritual successor to the massively popular Overcooked series.
18. Cuphead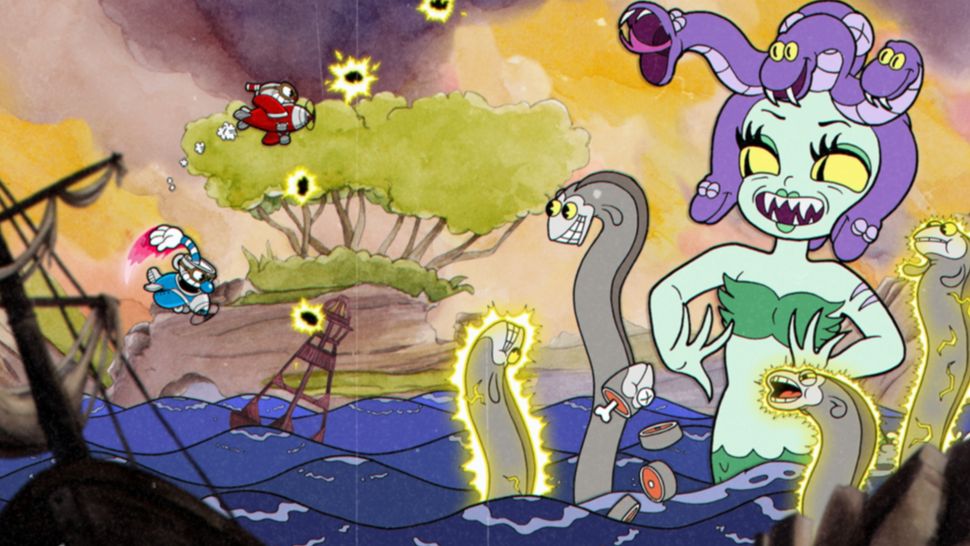 Genre: Action / Platformer
Gameplay Style: Co-operative
Once your eyes are drunk on the incredible hand-animated 1930's style of Cuphead, you'll realize you're up against one of the toughest run and gun action games in recent memory, so having a friend to help out is a massive plus. Together you play as the eponymous Cuphead and his pal Mugman, racing through levels that require perfect timing to get to villainous bosses that will test your reaction times and sanity. You'll learn special moves like Smoke Bomb and get hold of weapons like the Peashooter and Chaser to increase your odds. Co-op is drop-in, drop out too, so no penalties if your chosen comrade has a bladder the size of a kumquat.
17. Keep Talking and Nobody Explodes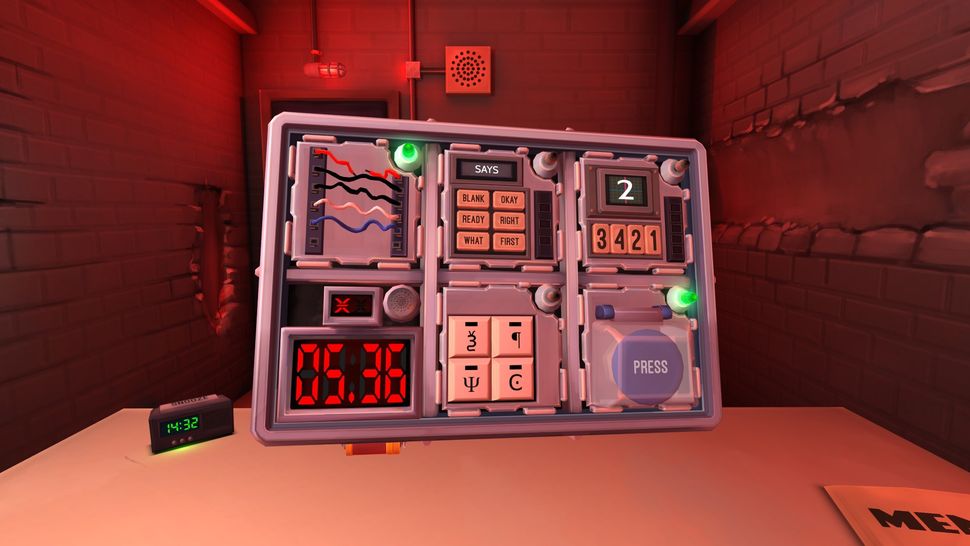 Genre: Puzzle
Gameplay Style: Co-operative
If you're the passive type then screaming at people will probably be good for you, and if you are usually in a rage then at least this game will direct it in a positive way. One player is in a room with the bomb and can see all its nefarious mechanics, while the other players have the manual. If you're the player with the bomb you'll need to describe what you can see to the players with the instructions, who will then relay what you need to do to defuse it. It's a simple concept that gets very tense very quickly, as the time counts down and your friend insists there is no serial number on any side of the damn bomb even though you know there bloody is STEVEN.
16. Rayman Legends: Definitive Edition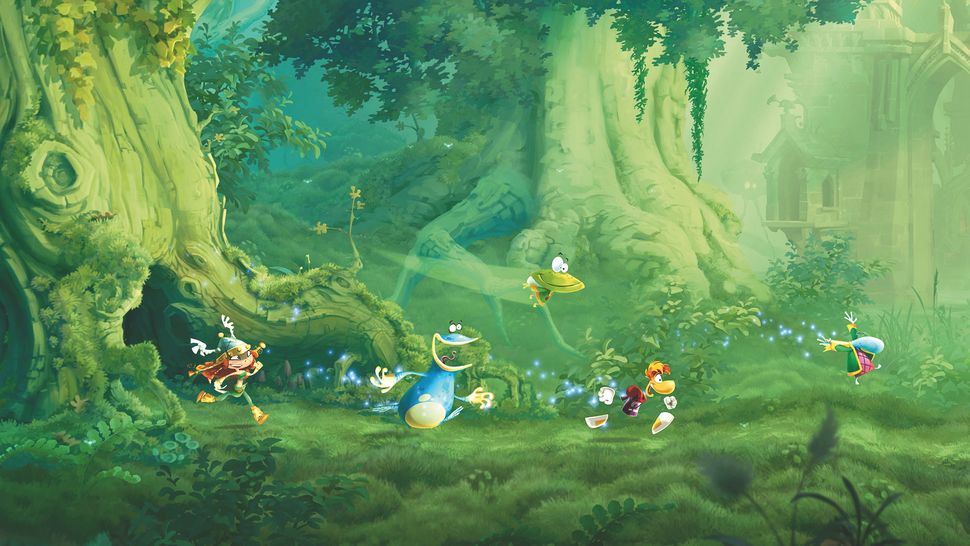 Genre: Platformer
Gameplay Style: Co-operative
There's no mistaking the dreamlike world of Rayman, and now you can share it with wireless local co-op for up to four players. In this adventure Rayman, Globox, and the Teensies travel through various paintings to explore new, magical lands. The platforming is challenging but at least you've got something pretty to look at when you fail to make that jump for the 24th time.
15. Unravel 2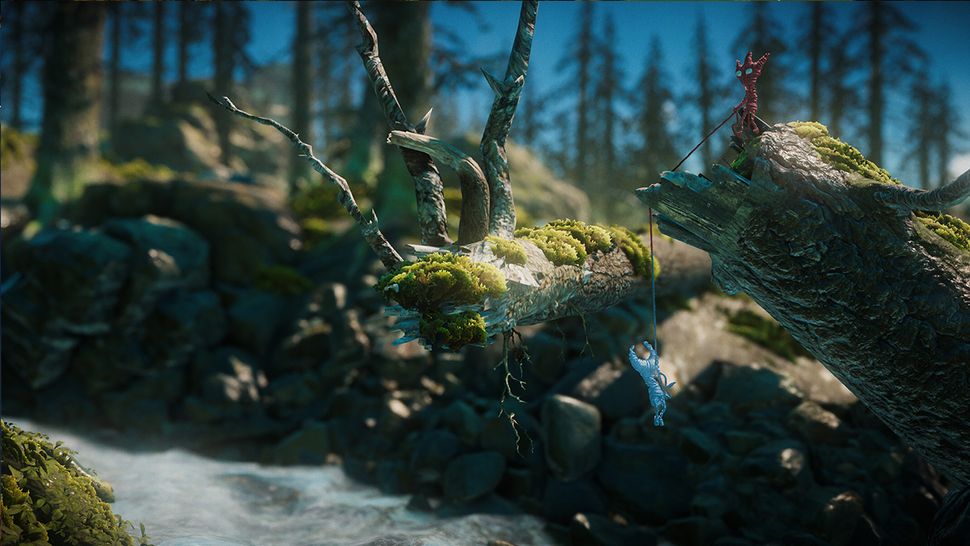 Genre: Puzzle / Platformer
Gameplay Style: Co-operative
Brace yourself for this one, because there's nothing more gut wrenching than two little creatures made from yarn dying repeatedly as you fail to clear that jump. Again. But, at least this time around with Unravel 2 you can die over and over again with a friend or loved one. As this pair of customizable cotton critters, you have to navigate through the human world that's full of dangers, whether it's birds wanting to unravel you thread by thread, or an unclimbable wall. Work together, solve puzzles, survive - and be adorable while you're doing it.
14. Super Mario Maker 2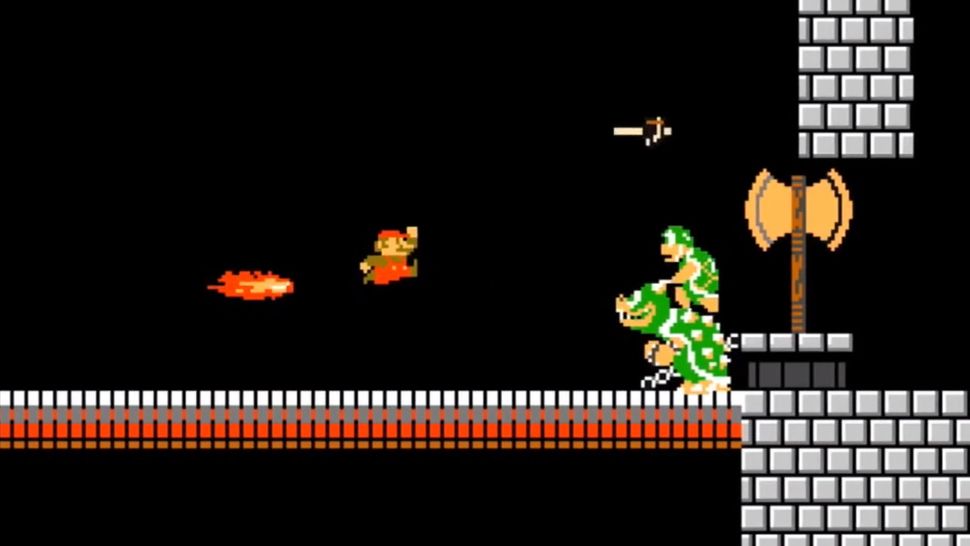 Genre: Creation / Platformer
Gameplay Style: Co-operative or Competitive
Although the creation side of Super Mario Maker 2 is a solo endeavor, playing through either your own or the community's creations is much more of a two-player affair. It's not your traditional multiplayer game by any means, but some of the best fun comes from heading online to play the courses players from around the world have brought to life. There are new stages being added all the time too, so there's always something fresh to play through. And hey, you might even get some inspiration for your own courses too.
13. Animal Crossing: New Horizons
Genre: Simulation
Gameplay Style: Co-operative
The game that's getting the world through a pandemic lockdown right now, Animal Crossing: New Horizons is a glorious multiplayer game that gently ticks away the hours spent trapped in your home. Solo, it's your goal to create the desert island paradise of your dreams. Invite villagers to bulk out your population, plant trees and flowers, tweak river courses, add cliffs, and generally make your island exactly how you like it. From there, you can visit other people's islands, trade resources, sell turnips, or just frolic together living out a life outdoors that we currently can't otherwise have. New Horizons is a little slice of paradise to cultivate and share with others.
12. The Stretchers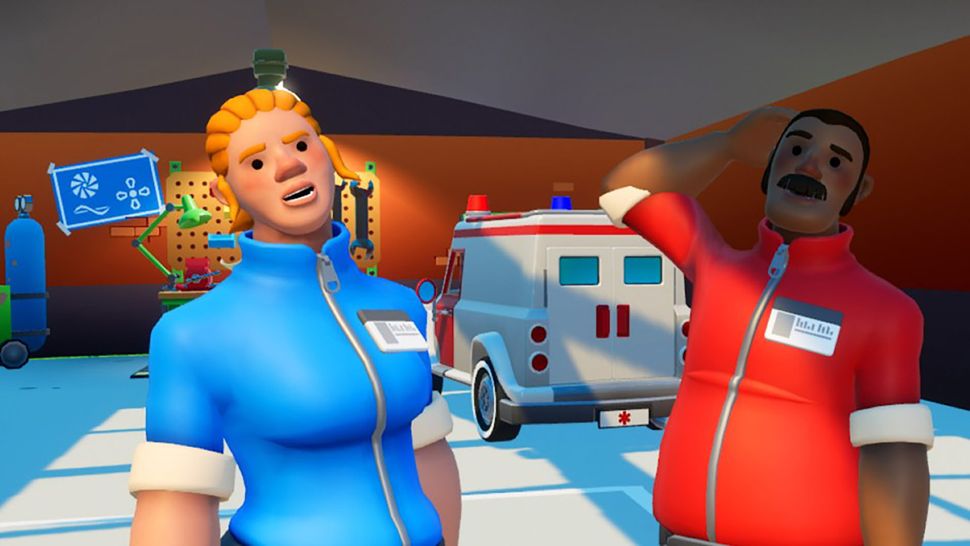 Genre: Puzzle
Gameplay Style: Co-operative
Not some weird Stretch Armstrong spin-off but a game where two players work together to handle medical stretcher and rescue people who have a case of the "Dizzies." It's bright, loud and has the look of those toy towns we all had growing up. As well as carting people around on stretchers you'll be smashing your ambulance through fences and hedges to get to those in need. Don't worry if the idea of anything hospital related feels a bit anxiety-inducing right now, this is totally tongue in cheek and packs in plenty of laughs and slapstick. There's lots of collectibles to reply for and customization options, and at least it feels like you're helping. Ish.
11. Mario + Rabbids Kingdom Battle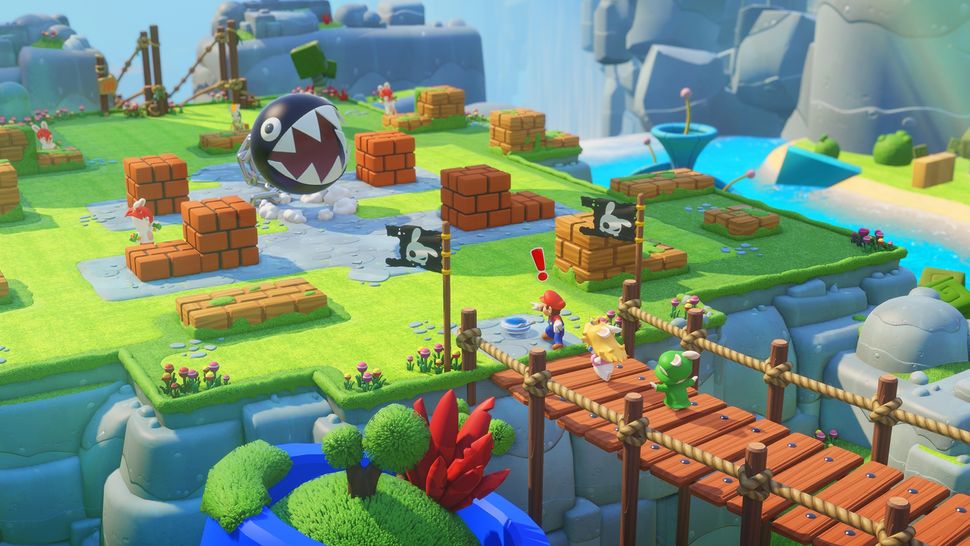 Genre: Turn-based tactics
Gameplay Style: Co-operative
Don't be fooled by the adorable combination of Mario and the rambunctious Rabbids, this is a true strategy game that takes some smarts. Battle through the Mushroom Kingdom with the help of a friend with local multiplayer, solving puzzles in candy colored levels. As well as Mario and the Rabbid old favorites like Luigi, Princess Peach, and Yoshi make an appearance - all with their own special skills you'll need to use to take on puzzles and bosses - and there are plenty of nods to Nintendo nostalgia too.
Turn to page three for our top 10 best two-player Switch games