What to watch, what to watch. It's a question that tends to plague us, be it on a Saturday night or after a long day at work. Thankfully, the best movies on Netflix are here to grab your attention, whether you want an emotional rollercoaster ride, or a balls-to-the-wall Hollywood blockbuster. Below, we've got the likes of Shrek, Black Panther, and Rogue One: A Star Wars Story, plus a few more deep cuts if you fancy something a little different.
But it's not always quite so easy to sit down and watch the best movies on Netflix. Netflix US and Netflix UK can differ in what movies they've got available, so why not dig into the best VPNs for Netflix to ensure you're never going to have a FOMO moment. That's especially true when you can watch all of Marvel here, plus some of the best movies of all time on the streaming service. Don't believe me? Have a look through and see what takes your fancy.
25. Shrek (2001)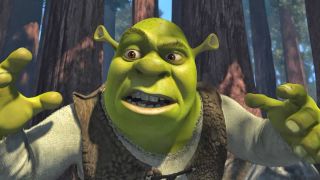 Region: US, UK
The movie: In a world filled with fairytales, ogre Shrek is an anomaly. A loner and a bit of a brute, he scares away everyone who comes near his swamp. That is, until a chance meeting with Donkey sets him on a course to do battle with the despotic Lord Farquaad and on the path to rescue Princess Fiona. This is without mentioning Shrek, already a surly grump, comes into contact with a bunch of classic characters who irritate and infuriate him around every corner, all the way from Robin Hood to the Big, Bad Wolf.
Why it's worth watching: Whisper it, but Shrek might be better than any movie Pixar has put out. A cliché it may be, but this is really one for adults and kids. Plus, now the movie is just shy of being two decades old, we can now pass on the fart jokes, Donkey songs, and superb soundtrack to the next generation. Yes, we're old.
24. Train to Busan (2016)
Region: US

The movie: Your daily commute might be a nightmare, but trust me, it's peachy compared to the antics people have to deal with in Train to Busan. This bunch find themselves in the unfortunate position of sharing a very busy train with a very hungry horde of the undead. Having to group together is the only way they'll combat the flesh-munchers. Well, until the humans start squabbling and fighting amongst themselves, and then it's anybody's guess who will survive.

Why it's worth watching: Whoever said zombie movies are dead, is either trying to make a funny or hasn't seen this crackin' South Korean horror outing. Think of this as the perfect genre mashup: part 28 Days, part Snowpiercer, and part utterly bananas, you haven't seen anything quite like this before.
23. The Departed (2006)
Region: US
The movie: The concept of over-stuffing a film with A-listers was of no concern to Martin Scorsese when he set about constructing a remake of the 2002 Hong Kong Infernal Affairs. Jammed to the rafters with stars, The Departed wastes no time in getting stuck into its tangled plot, that unravels in Boston where Irish mob boss Frank Costello (Jack Nicholson) plants one of his crew (Matt Damon) with the local cops, while the police do the same with state trooper Costigan (Leonardo DiCaprio). That's just for starters.

Why it's worth watching: Going up against an original that's well-loved by critics and fans alike is no easy feat, yet this is Scorsese we're talking about. Whether or not you loved or even saw the original doesn't matter. Plus, this includes Mark Wahlberg's finest performance to date (not counting The Happening, obvs).
22. The Nice Guys (2016)
Region: UK
The movie: Channeling the best elements of every buddy cop movie and crafting something wholly unique, Shane Black's action comedy noir The Nice Guys is simply one of the funniest flicks of recent years. Ryan Gosling stars as Holland March, a broke private eye living it up in '70s Los Angeles. After getting hired to investigate the mysterious death of a fabled porn star, he soon meets Jackson Healy (Russell Crowe) - a thuggish enforcer, who quickly becomes his partner-in-crime. A madcap scramble
Why it's worth a watch: Black, who penned the sorely under-seen Kiss Kiss, Bang Bang, sculpts fantastically far-fetched dialogue and bonkers scenarios, and his characters are juuuust a hair's breadth away from becoming caricatures. It's that great combo that makes Gosling and Crowe the action duo of the decade.
21. Scream 2 (1997)
Region: US
The movie: Two years after the events of the first Scream, and Sidney Prescott is Ghostface's crosshairs again. Relocating to college doesn't stop the masked killer with a penchant for horror movie trivia and senseless slaughter, who targets Sid, Randy, Dewey, Gale and her new school pals with glee. Director Wes Craven and writer Kevin Williamson effortlessly combat sequel fatigue by packing Scream 2 with even more scares, gloriously tense stalk sequences, and some of the finest back-and-forth banter between killer and victim that rivals Scream's Drew Barrymore cold open.
Why it's worth a watch: This is how you do a truly solid sequel. Taking what made the first one strike a chord with horror hounds, Scream 2 raises the stakes (or should that be blood-soaked knife?) considerably, adding loads of memorable nail-biting sequences that will stay with you… and make you really never want to join a sorority.
20. 1922 (2017)
Region: UK, US
The movie: Is there such a thing as the perfect murder? While 1922 doesn't strictly dabble with that query, it does dive into the next best thing: what guilt can do to a man after committing one. Another King adaptation, this Netflix Original hails from director Zak Hilditch, who opts for the long, slow-burn tale, as we open on farmer Wilf James (Thomas Jane) struggles to deal with his wife Arlette (Molly Parker)'s aspirations. After inheriting a large plot of land, her plan is to sell it so they can move to the city with their son. Wilf, a rancher at heart, is reviled by her plans, so plots to kill her.
Why it's worth a watch: Unlike other King adaptations, that boast flashy villains and shocking twists, this is old-school horror. If you like your scares with a hint of the gothic to them, and are more intrigued by the darkness that lingers inside of people rather than the boogeyman, this is for you.
19. Rogue One: A Star Wars Story (2016)
Region: US
The movie: Ever wondered about the Rebels mentioned in the opening scrawl of the first Star Wars movie? So did SFX guru John Knoll, who thought that band of resistance fighters deserved their own movie and pitched the idea to Lucasfilm. The result saw up-and-comer Gareth Edwards take directorial control of a new type of Star Wars film, a spin-off untethered from the central Skywalker saga and instead focused on Jyn Erso, an ass-kicking Rebel with the best one-liners.
Why it's worth watching: Rogue One has its work cut out for it because anyone watching knows exactly where it's going to end up. And yet, it comes packed with surprises and triumphs at every turn with new perspectives on a galaxy far, far away. Its handful of well-written characters (old and new) make for an absolutely killer connection to A New Hope.
Read more: You know how Star Wars: Rogue One ends… but that might actually make it a better movie
18. No Country for Old Men (2007)
Region: US
The movie: A crazed hitman Anton Chigurh (Javier Bardem) runs rampant after cop Llewellyn Moss (Josh Brolin) stumbles across a drug deal gone very, very wrong. What follows is a pulsating chase across state lines as Tommy Lee Jones' aging cop, Ed, tries his level best to stop things escalating. It doesn't go well. It comes packed in with some of the greatest twists committed to film – and an ending to die for.
Why it's worth watching: Why isn't it worth watching? Javier Bardem gives a career best performance as the instantly iconic Chigurh; the Coen Brothers somehow transcend their lofty legacy, too, and the cast – from minor character right through to the pair or two stoic, heroic leads – is one of the best ever assembled. Stay for the shootouts, be in awe of the existential commentary and beautiful landscapes. This really is a must-watch movie.
17. Monty Python's Life of Brian (1979)
Region: UK
The movie: Now approaching its 40th anniversary, Life of Brian still stands as one of the funniest films ever made. To prove that Holy Grail wasn't a fluke, and eager to craft a winning follow-up, the Monty Python crew got together and gave us Life of Brian. Another period film, another set of ridiculous circumstances blended together to be as offensive as possible. This time, the focus is on a young Jewish man named Brian, who, through an unfortunate mixup, is heralded as being the Messiah. But he's not. He's a very naughty boy...
Why it's worth watching: Razor-sharp dialogue, witty one-liners, daft slapstick scenarios… there isn't a type of comedy that Life of Brian doesn't wrangle into its story. This is classic comedy cinema which will no doubt still be topping 'best of' lists in another forty years.
16. Hot Fuzz (2007)
Region: UK, US
The movie: The juicy filling in the middle of Edgar Wright's Cornetto Trilogy brings back his trusted comrades Simon Pegg and Nick Frost as Nicholas Angel and Danny Butterman, two cops living in a quiet English 'burg. Where Angel is straight-laced, Butterman is more of a free spirit. They're essentially an action movie duo happiest when spoofing their favourite blockbusters. It's not all fun and games, though. Things inevitably go awry as they often do in quiet, idyllic movie villages when the bodies start to pile up...
Why it's worth watching: Imagine your favourite buddy cop movie. And now imagine it retold in a quaint West Country village through the cheeky, meta-tinted eyes of Pegg, Wright, and Frost. Who would have thought that two polar opposites - the blazing balls-to-the-wall sequences of the action genre and the snail's pace of small-town life - would work so well together. This is how you homage.