10 Awesome Samurai Star Wars Action Figures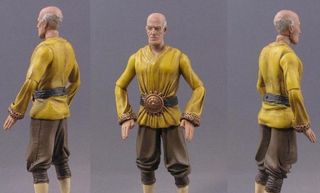 Chipao
In honour of awesome new Samurai-style Star Wars character figures ( check them out in their full here ), we imagine how these new lads and ladies might fit into a whole new storyline...
Enslaved to a Sultan, Chipao was forced into a life of hard labour as a young man, when Sultan Daku Joutei raided his village and slaughtered his family. Dragged back to the Sultan's palace, Chipao has worked his hands raw obeying his new master's every whim.
But the rage that he has bridled deep down in his belly has opened a portal inside of Chipao that means the slave man can tap into the strange, mystical powers of the cosmos. Could he be about to undo Daku forever?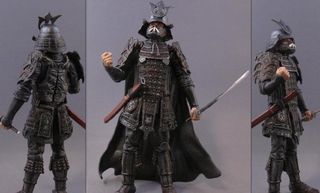 Daku Joutei
An evil Sultan who inherited the throne after his father and three brothers all died under particularly suspicious circumstances. Daku raped and pillaged many a village, taking children from their mothers in order to raise them as slaves and members of his army.
But Daku has a weakness – long ago, he cut out his own heart and buried it deep in the caverns beneath Mount Grymlen. Legend has it that if anybody can find and destroy his heart, Daku's deathgrip on the world will be ended.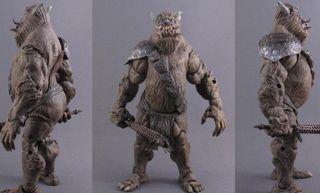 Chikushou
Tavern owner Chikushou used to be the most handsome man in town. Sadly he was also the most arrogant. After turfing a homeless, harmless old lady out of his bar for requesting a slice of bread, she bewitched him to make him as ugly on the outside as he was on the inside.
The cure? Cut off the old broad's head, of course. Trouble is, the witch has disappeared, which means Chik is off on a quest to find her and claim back his heart-melting visage.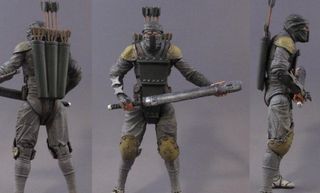 Fetababe
A master of all weapons, Fetababe was slaughtered in a war against Daku. But before he died, Fetababe transferred his soul into the mystical sword Alskar that he himself forged. Now, whenever a warrior discovers his sword and takes it as his own, Fetababe seizes control of that warrior's body in order to complete his mission – destroy Daku at all costs. Only then will he rest.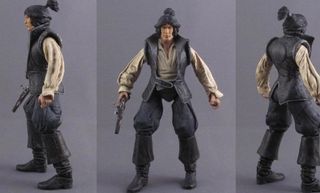 Han Dokuen
A style-conscious buffoon nevertheless blessed with cunning and intellect, Han Dokuen dreams of one day becoming Sultan of the land. He has kept this desire secret from his master Daku, though, understanding that if Daku ever found out Han would be put in the gibbet and left for the Scree-crows.
Daku's most trusted advisor, Han Dokuen is all about battle strategy – even if he goes about it in a reckless and headstrong manner.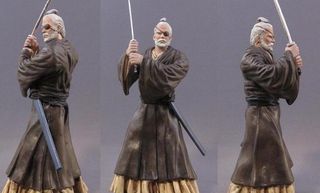 Obu Wankabe
Ever since his village was destroyed by Daku and his forces, Obu Wankabe has trained in the mystical ways of the Samurai. Quietly assembling his own private army, Obu and his men hide out in the mountains and hone their plans to overthrow the Sultan.
Every night, he is tortured with nightmares of his brother Chipao being burned alive by Daku's armies, but remains possessed of an irrational certainty that one day they will be reunited.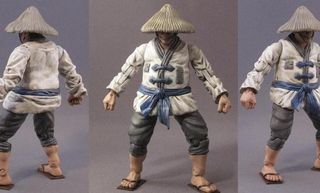 Ryuuto
A skilled fighter, what Ryuuto lacks in stature he makes up for with sheer force and ability. Trained from a small boy in the way of the Samurai, Ryuuto is one of the most prized assets in Obu Wankabe's expanding artillery.
Not only is he a fighter, but Ryuuto is a talented snake charmer, utilising his own slithery pets during particularly tricky stealth missions.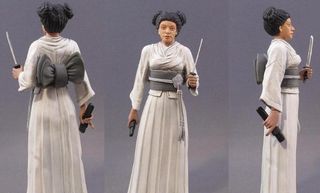 Princess Layu
Self-appointed Princess Layu is a seductress gifted with the song of the siren. She is able to weave spells on simple-minded men with her delicate and mellifluous melodies. This is how she has survived for so long, free to wander the land.
After a bar brawl that resulted in her fair-weather beau - tavern owner Chikushou - being transformed into a towering beast, Layu hit the road armed only with a dagger and her own wiles. Before long, she stumbles on Obu Wankabe…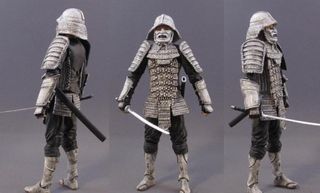 Soto-Mu Bushi
Believed to be an unstoppable force, the collective warriors known as the Soto-Mu Bushi made a promise to their God aeons ago that they would no longer shed blood in battle. Now they reside in an enclosed temple far from the lands ruled by Daku, where they pray and unite with their God.
When a fatigued and travel tired Layu stumbles upon their monastery, they take her in and nurse her. But as she requests they join the fight against Daku, they politely refuse. Which is exactly why Layu was sent by Obu to talk with them, thanks to her particularly persuasive personality...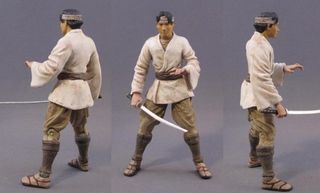 Sora Hokosusha
Hailing from the lands of the north, where Sultan Daku's presence is little felt, Sora resides near Mount Grymlen with the rest of his family. While the rest of his clan are keen to steer clear of entering into battle with Daku, Sora feels a strong pull toward the battlefield and feels it's his duty to help save the world from tyranny. But will leaving the shade of Grymlen actually help?