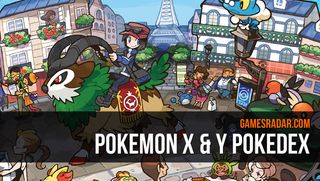 The Kalos region is full of monsters!
It's finally here. Pokemon X and Y have been released, and add dozens of new pocket-sized (and building-sized) monsters to the world. You've likely read our Pokemon X and Y review, but now it's time to see all of the new creatures with your own eyes.
It's hard enough to remember the first 649 (most of us can't get past the original 151), so we've prepared this handy-dandy guide with images of every new Pokemon in the game. These are the 'mons you'll see as you spend the next few dozen hours attempting to catch as many of them as possible--maybe even 'em all!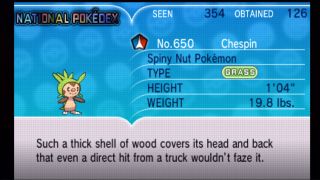 Chespin
The sixth generation's Grass Type starter, Chespin is a "shelled chestnut Pokemon." Basically, it's a living chestnut that also resembles a chipmunk or other small rodent. That hard shell protecting his head and body should prove useful, though.
How to get: Given by a friend at the beginning of the game.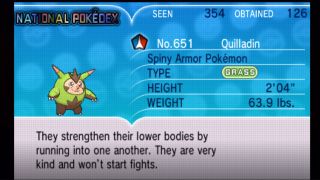 Quilladin
The first evolution of this generation's Grass Starter is Quilladin, and... well, we're not sure what he's supposed to be. He looks like a squirrel that ate a pine cone so big he took the shape of it. Quilladin can learn Mud Shot, a Ground-type move super effective against Fire types. That should help out a lot in battle, considering how many people have already pledged allegiance to Fennekin.
How to get: Evolves from Chespin at level 16.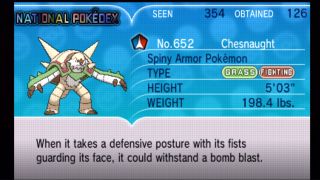 Chesnaut
How to get: Evolves from Quilladin at level 36.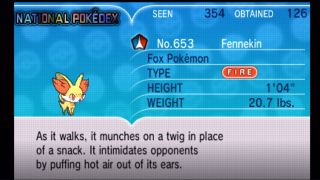 Fennekin
Following in the Pokesteps of Charmander and Chimchar is Fennekin, based on the real-life fennec foxes of the Sahara Desert. Fennekin can blow hot air out of those large ears that will reach temperatures of over 200 degrees Celsius. We bet hot air will be coming out of opposing trainers' ears too when our Fennekin kicks some butt.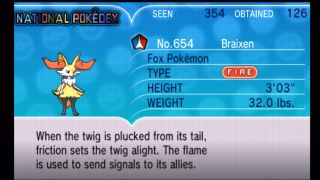 Braixen
By evolving into Braixen, the Fire-type starter shifts from four legs to two and brings along a stick wedged in its tail. That stick will factor in battle, as Braixen can turn into a burning wand with which to use Fire attacks as if they're magic spells. Farfetch'd can take his leek and go home. Its featured move is Psyshock, a special attack that deals damage based on the opponent's Defense like a physical attack, not Special Defense.
How to get: Evolves from Fennekin at level 16.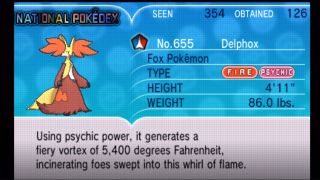 Delphox
How to get: Evolves from Braixen at level 36.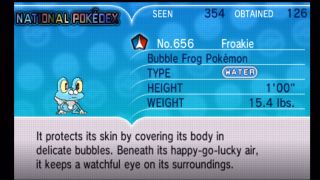 Froakie
This bullfrog carries the Water-type starter flag championed by Squirtle, Totodile, and Mudkip. The bubbles on its chest serve as both protection and projectiles in battle. What does that tell you? Froakie here will be learning Bubble and Bubblebeam at some point.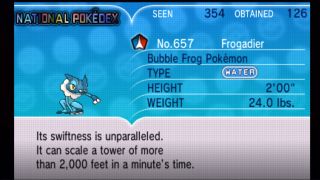 Frogadier
Frogadier takes the cuteness of Froakie and turns it into a look of flash and debonair. Using his enhanced jumping capabilities, Frogadier can learn Bounce, a Flying-type move that's super effective against Grass types. That should help with one of his biggest weaknesses, but we hope he has something up his sleeve to deal with those Electric types. The last thing we'd want is to be Thundershocked to oblivion when we're on a roll.
How to get: Evolves from Froakie at level 16.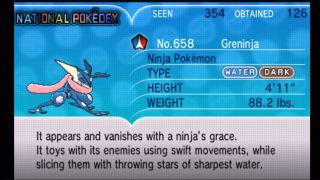 Greninja
How to get: Evolves from Frogadier at level 36.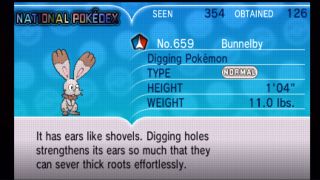 Bunnelby
Bunnelby is a bunny Pokemon with a name that sounds like a snooty English butler. Perhaps it could serve some tea and scones from its shovel-like ears, which enables him to use Dig, move quite familiar to longtime Pokemon players. Hopefully he'll say his name with an English accent should be ever be featured in the cartoon.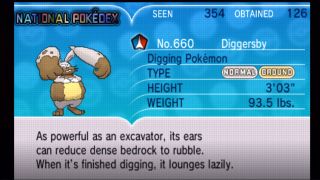 Diggersby
How to get: Evolves from Bunnelby at level 20.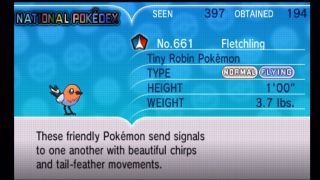 Fletchling
Fletchling serves the "bird Pokemon found in the beginning of the adventure" purpose championed in the past by Pidgey and Spearow. Sure, it may seem like it's destined to be the Fly/Cut HM slave, but we wouldn't suggest being so quick to use this little guy. Once it evolves, things start to heat up.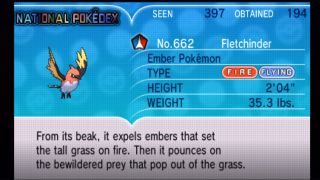 Fletchinder
From cute bird to different cute bird. Oh well, we're not complaining--this evo is easily one of the better ones we've seen from an "early dex bird thing," with a cool art style and some powerful moves.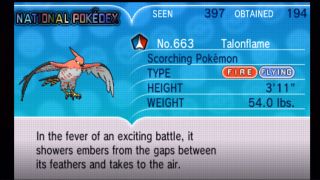 Talonflame
Somehow during the evolution process, Fletchling gains pyrokinetic abilities and transforms into Talonflame. This fiery falcon is known to dive at foes, then attacks with kicks from its sharp talons. Wait, a falcon who specializes in fiery falcon kicks? Bet you can't wait for it to show you its moves.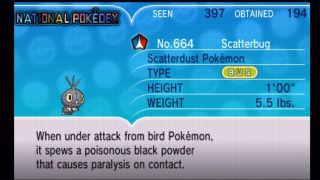 Scatterbug
Scatterbug begins Pokemon X and Y's version of the evolutionary trio of Bug types, like Caterpie/Metapod/Butterfree or Weedle/Kakuna/Beedrill. If you've played other Pokemon games, you know exactly where this is going.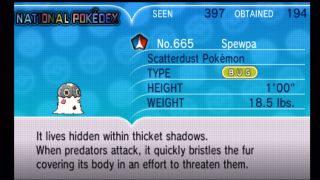 Spewpa
Spewpa is the evolutionary link between Scatterbug and the next Pokemon on the list, and, guess what, he's a cocoon of sorts. Surprised? You must be new here, then. But even if you haven't played a Pokemon game in your life, you must know what's right around the corner for 'ol Spewpa.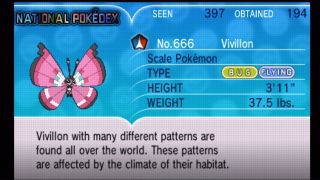 Vivillon
This beautiful butterfly is what all Scatterbugs desire to become. Early legends state that the designs on the wings of this Pokemon hold some kind of secret, though no one knows what it is yet. We'll be sure to check it out as soon as we can.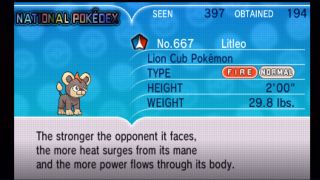 Litleo
We've now come to the pinnacle of cuteness in Pokemon X and Y. Seriously, look at those round eyes, that little mouth, and those big ears. No Pokemon introduced this generation will match the sheer "dawwwww" factor of Litleo here. We just want to hug him and never let go, even though he may, you know, spit fire at us.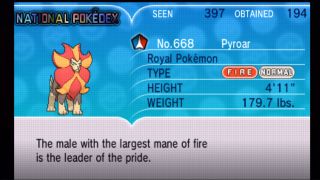 Pyroar
Look at this majestic specimen! Look at that flowing mane of pure unbridled power! Litleo is currently winning the "cutest new Pokemon" race, and now Pyroar jumps onto the "most badass looking Pokemon" list. Pyroar learns a move called Echoed Voice, which grows in power every time it's used, even in Team Battles. Three Pyroar, all using Echoed Voice, will be a force to be reckoned with in the right situation (read: not against Water types).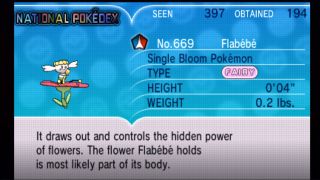 Flabebe
Flabebe may look like a floating flower, but it's actually a small humanoid Pokemon grasping the stem on the top. It's also a member of the brand new Fairy-type of Pokemon. And that flower? It changes color depending on the color of the flowers you found one in. Adorable.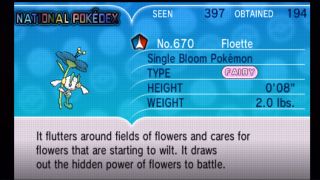 Floette
While it doesn't look all that different from its previous form (honestly, it kind of looks like it just moved its flower), Floette is still an interesting-looking 'mon, especially if you're looking for a new Fairy-type.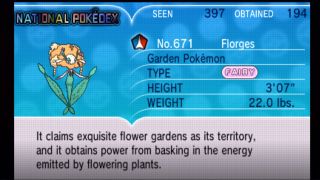 Florges
The final evolution in this line is the interesting Florges, who decides to stop looking like an ant holding a flower in favor of being an awesome, pollen-covered beast. Well, it still kinda looks like a flower, but at least it has a unique style.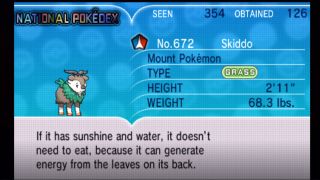 Skiddo
The pre-evolution of Gogoat, Skiddo is a smaller, cuter version of the grass goat Pokemon. Legend has it that Skiddo here was the first ever species of Pokemon to live alongside humans, which explains it will allow trainers to ride on its back. Also, every time a trainer grabs its horns, Skiddo can read that trainer's feelings. That ability would have been useful in high school.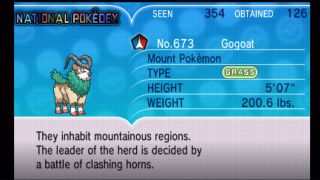 Gogoat
This Grass-type goat served as the first example of mounts in Pokemon X and Y. For the first time, we'll be able to saddle up on our favorite Pokemon and ride across certain areas of the world. Aside from that, Gogoat is a goat with big horns covered in grass. Oh, and we officially reserve the nickname "Gadget" for our Gogoat. "GOGOAT GADGET, HEADBUTT!"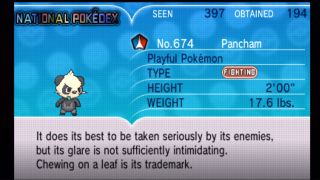 Pancham
There have been nearly 700 species of Pokemon throughout its history, and there hasn't been a single black-and-white panda in the bunch. Sure, Spinda is a "spot panda" Pokemon, but Pancham here is a honest-to-goodness PANDA. He's a Fighting type too, which means he's a panda that knows kung fu. Better yet, his evolved form looks a little... dark.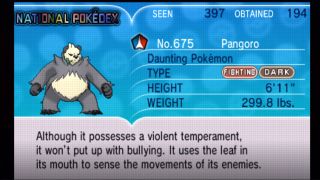 Pangoro
Level up a Pancham with a Dark-type Pokemon in your party, get him past level 35, and you get Pangoro--a mean kung fu panda machine. We fully expect to be throwing Shadow Balls and Aura Spheres with this bad boy...although with the name PanGORO we expected four arms, not two. Oh well.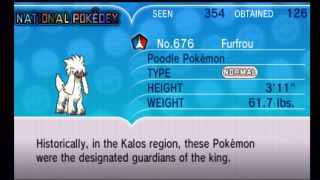 Furfrou
We've now come to the end of Pokemon as we know it with Furfrou, the Poodle Pokemon with a fur coat that can be modified and decorated like a real poodle. All of those rich Hollywood types with the designer dogs now have a Pokemon to call their own. Not to mention its ability, Fur Coat, cuts all damage from physical attacks in half, so they're going to hang around for awhile. We fully expect every online battle from Hollywood, the Hamptons, and other affluent areas to be all Furfrou, all the time. We'll be ready.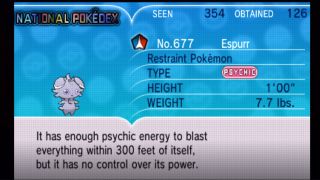 Espurr
Psychic cat with weird ears? Sign us up! Espurr is fairly power at low levels, and has the same creepy, cool vacant expression of Slowpoke--our other favorite crazy-looking Psychic-opath.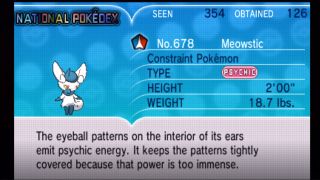 Meowstic
Meowstic sounds like the perfect support Pokemon in Double Battles. For one, it learns Miracle Eye, which makes the recipient's next attack a guaranteed hit despite the opponent's Evasion stats AND allows Psychic-type moves to hit Dark-type Pokemon. It's embarrasing how many times we've tried to Psybeam a Dark-type, only to be laughed out of the battle. No more!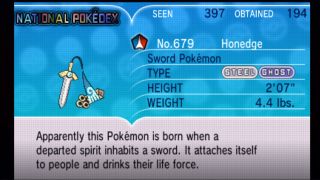 Honedge
We didn't think any dual-type Ghost Pokemon could be cooler than haunted robot Golurk, but the series' first ever Steel/Ghost type might be even better. Honedge may look like your average sword and scabbard, but inside are an apparition that knows how to defend itself. The blue cloth on its hilt works like an arm to swing the sword for attacks, and it can also steal the life force of anyone that tries to carry the blade. Lastly, before you ask, yes, it knows Sword Dance.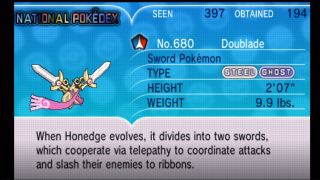 Doublade
Ut-oh. From one blade to two? We're dancing in Dugtrio territory, here. Thankfully, it knows some moves with "Sword" in the name so that's actually pretty fitting.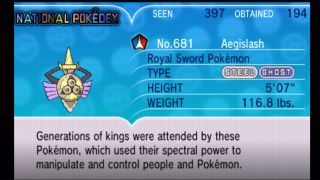 Aegislash
Using a Dusk Stone on Doublade will give you this beauty of a Steel/Ghost. The final evolution in this line makes it all worthwhile. Aegislash can chance stances mid-battle using moves, making for an extremely complex Pokemon with a high skill ceiling.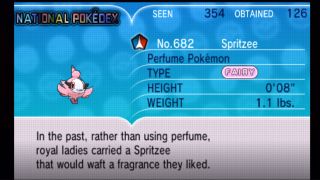 Spritzee
Spritzee is the first Pokemon Y-exclusive Pokemon, counterpart to Swirlix. Sprtizee is described as a Perfume Pokemon able to create a fragrance that will entrance opposing Pokemon. Were not going to ask where that fragrance comes from. What we do know, though is if you hand it a Sachet and trade it, you get...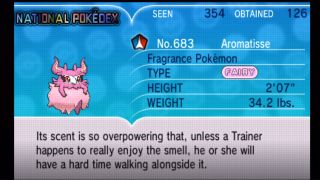 Aromatisse
Trade a Spritzee with Satchel and you get this faux-sexy Aromatisse, who looks like a weird hybrid of Jinx and Jigglypuff. Actually, there's a chance that's how Aromatisse came to be, so let's just move on.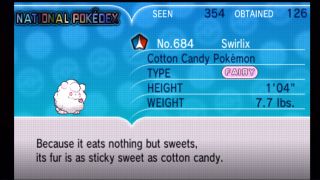 Swirlix
A giant cotton-candy looking puffball, Swirlix is the first new Pokemon to be revealed as an Pokemon X exclusive. Were not particularly sure what a living puff of cloud will be able to do, but it worked out for Mallow in Super Mario RPG, right? It evolves if you trade it while it's holding a Whipped Dream, turning into...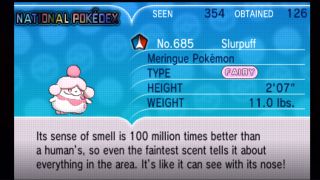 Slurpuff
This kind of looks like a Swirlex in a hat with a cherry on top, and its description doesn't really make much sense considering its type/look/anything. But it still has that dumb tongue thing we love, so it gets a pass.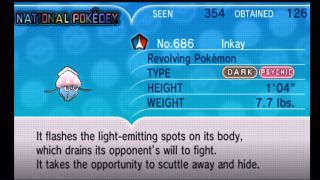 Inkay
Dark and Psychic is a strange mix, but heres Inkay to make that mix a reality. Its official description says that it can drain its opponents will to fight through flashing transmitters aboives its eyes. Weird, right? Well, you haven't seen his evolved form...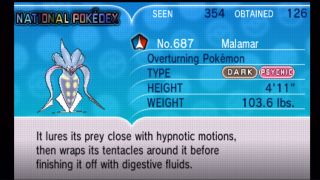 Malamar
Yeah, we thought so. This is what we call weird. Malamar is the evolution of Inkay, giving us another Dark/Psychic squid to consider. This evolution is a strange one, too; you need to level him into his 30s and then--wait for it--turn your system upside down when he levels. We couldn't make that stuff up.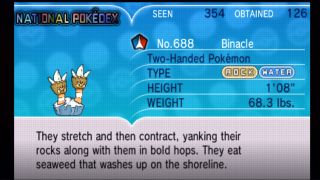 Binacle
We know what you're thinking: this thing is just a sea-Diglet! Well, while that's sort of true, there's one major difference between the two: Diglett was dumb because its evolution was dumb. Meanwhile...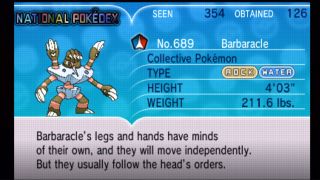 Barbaracle
YES! Instead of being a dumb, lazy Pokemon, Binacle turns into a giant mech made of barnacles and rocks. What a great evolution for a Pokemon that was almost super lame.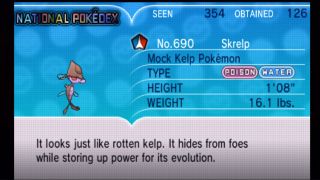 Skrelp
There are a few Pokemon designs that make us scratch our heads. Vanilluxe, the living ice cream double-scoop from Black and White, and Bronzong, the psychic gong from Diamond and Pearl, come to mind. X and Y already have us scratching our heads with Skrelp, a poisonous piece of kelp, aka SEAWEED. While it does bear a resemblance to a sea horse or seadragon, we're convinced this was conceived as deadly seaweed. Skrelp is a Pokemon Y exclusive Pokemon, so only those who buy Y will get to fight with seaweed.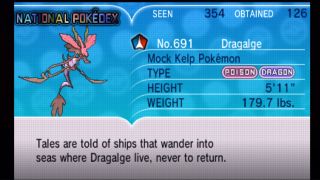 Dragalge
Imagine a bunch of seaweed that can poison you and use dragon attacks on you and generally ruin your afternoon and you get something that looks a little like this Pokemon.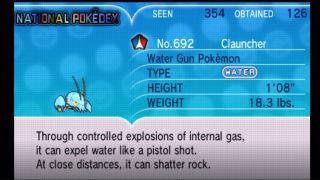 Clauncher
Clauncher here is the Finding Nemo of Pokemon; it has one massive claw which is used primarily for battle, while the other claw (its "lucky claw") is essentially just there for show. Exclusive to Pokemon X, Clauncher can shoot water, smash boulders, and Crabhammer enemies with that massive pincer, but the other is just a pointed claw with no pincer at all. Things could be worse for Clauncher; he could be a clownfish.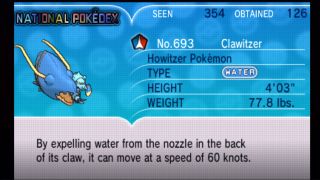 Clawitzer
Cool name? Check. Cool color pattern? Check. Giant arm that looks like it could tear anything in half? Check, check, checkcheckcheckcheckcheck.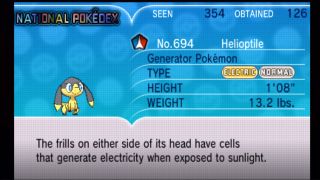 Helioptile
It's weird to look at Helioptile's type as Electric/Normal, but that's indeed how it is. This electric lizard (yes, it's a lizard) is the first Pokemon ever to have Normal as a secondary type. We're not sure how it generates its electricity, but we're not going to question it.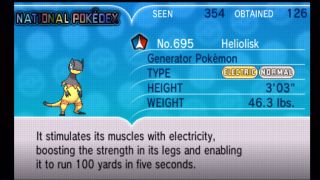 Heliolisk
Use a sun stone on Helioptile and you get the bored-looking Heliolisk. But just because he's tired doesn't mean he isn't one of the cooler new electric Pokemon.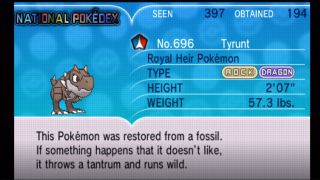 Tyrunt
One of the first two new fossilized Pokemon to be revealed, Tyrunt has us really excited. Yes, his Rock/Dragon typing is cool, his Strong Jaw ability enhances moves like Bite and Crunch (and he'll have those moves, for sure), and he's a mini Tyrannosaurus for Ash's sake!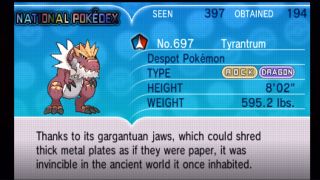 Tyrantrum
Nintendo sure didn't disappoint. What was once a cute little T-Rex evolved into the goatee-wearing Rock/Dragon type Pokmon Tyrantrum. Like his pre-evolved version, he uses his massive jaws in battle, which are said to be able to tear through metal plate like a sheet of paper. But with his indestructible teeth also comes an incredibly tough noggin to boot. Tyrantrum can learn the Rock-type move, Head Smash, which allows trainers to bash opponents with a powerful attack at the price of the dino taking some damage.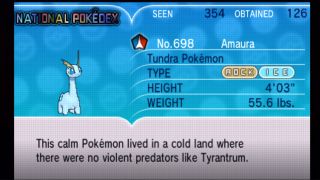 Amaura
Amaura may not be as cool-looking as the other fossil Pokemon Tyrunt, but there's a lot to like here. First, its Refrigerate ability turns every Normal type move into an Ice-type move, opening up a world of strategic possibilities early on. Secondly, it learns the highly-effective Aurora Beam early in the game, giving it a big reason to stay on anyone's team. Third, the fact that it comes from a Sail Fossil, coupled with its similar look and Ice typing, makes us think it could be a pre-evolution to Generation 1 Pokemon Lapras. Is that a stretch?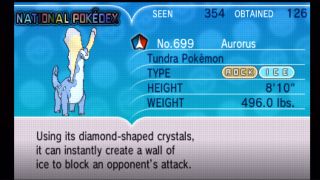 Aurorus
While we hoped that Amaura would evolve into our old friend Lapras, Aurorus is not a bad substitute. This Rock/Ice type keeps the awesome Refrigerate ability and learns a brand new move called Freeze Dry, which not only can freeze opponents solid, but it is the only Ice-type move in the game that is super effective against the Water type. No longer will a Ice type need to fear the dreaded Water weakness so long as Freeze Dry is in play.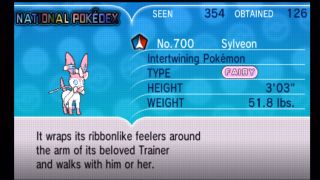 Sylveon
A new generation means a new evolution for Eevee, the most versatile Pokemon to ever exist. Sylveon turns Eevee into a Fairy-type Pokemon, the new 18th Pokemon type introduced during E3. Want to get this evolution? Good news! We have a n article explaining exactly how to evolve Evee into Sylveon.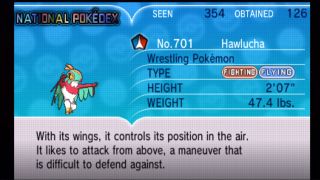 Hawlucha
We have a serious contender for best new Pokemon here, people. Hawlucha is a luchador Fighting Flying Pokemon with a mask and a bunch of wrestling moves. He's powerful, too, and you're likely going to find him during your play through the game.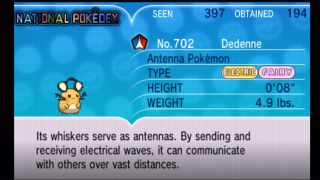 Dedenne
At first glance, Dedenne looks like another evolution in the Pikachu line of Pokemon, but Dedenne is a species all its own. Dedenne sports a brand new Ability, Cheek Pouch, which allows Dedenne to gain HP from all types of Berries, not just the normal restorative ones, when held. Hopefully the Pikachu clan can inherit that ability somehow, because a Raichu with that would be a powerhouse.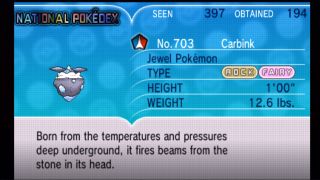 Carbink
Normally, when something has no evolution or previous form, there's a good reason: it's bad-ass. Carbink, on the other hand, is just there. He has a neat type, and serves a utility, but he isn't necessarily interesting to look at.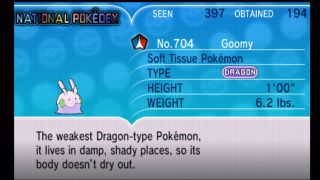 Goomy
Yup, a slug dragon. Why? We don't know. But don't worry--things get better and better.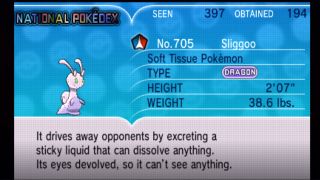 Sligoo
But it gets a little better...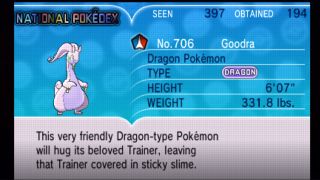 Goodra
And then becomes awesome. Goodra is a wet, mucus-covered ball of grossness and it knows Dragon moves. What more could you ask for?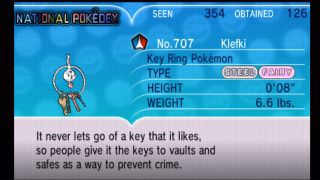 Klefki
We were all ready to jump on the Klefki hate train (IT'S A KEY CHAIN) until we honestly thought about it. It's just a poor, circular Pokemon people toss keys on. That's hardly fair! It's not like Pineco, who is just a Pinecone with eyes--he's actually cool looking without the keys. It's not his fault!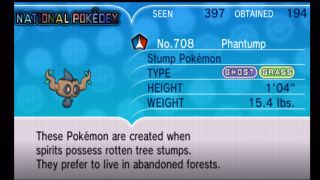 Let's get scary! Fantomp is an angry looking tree stump, and if you trade it to someone, you get...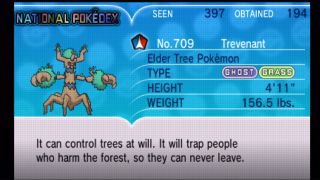 Trevenant
What an evil, evil tree, right? This guy can often be found in hordes, meaning you better have a fire-type Pokemon at the ready to blow some smoke in their direction.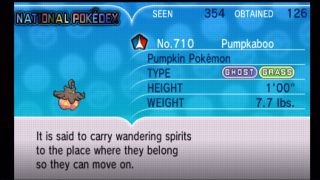 Pumpkaboo
A ghost grass pumpkin? Honestly, we're shocked this hasn't been done before. If you asked us, "hey! Has there been a creepy haunted pumpkin?" we'd likely have said, "yeah, obviously." And yet, here we are. And when you trade it, you get...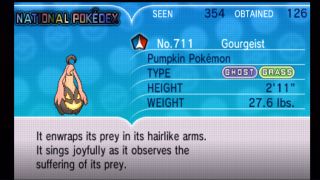 Gourgeist
Well, that's unexpected. Still ghost grass, still a pumpkin, but it's a little, well, um, alluring? Is that the point? Is it trying to be sexy? It has a girly look to it, and that's weird, but we like it.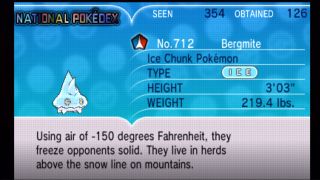 Bergmite
Get it? Berg like iceberg, and mite like you know, a little mite. Then again, at over 3' tall it's more toddler-sized than bug-sized.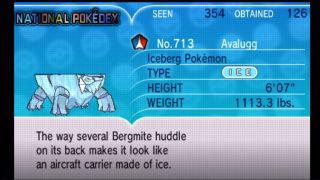 Avalugg
That's what we're talking about! 1,000+ pounds of ice and anger and death. Avalugg also has sort of a lizard face, which makes it stand out as being one of the strangest combinations of things in Pokemon X and Y.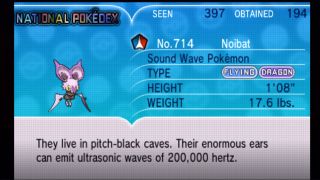 Noibat
Aww! Game Freak's previous bat Pokemon have left much to be desired, but we're going to get behind this on. Plus, it's flying and dragon, meaning it will tear up most Pokemon you put it up against.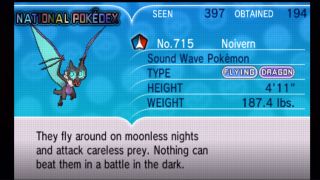 Noivern
Noivern gets its name from what looks like a combination of "noisy" and "wyvern." It's a fitting name, both for its wyvern-like appearance and for its giant subwoofer-like ears that emit supersonic waves. This guy has off a new move called Boomburst, a giant shockwave of sound that damages every other Pokemon on the screen, friend or foe. Makes perfect sense coming out of those eardrums.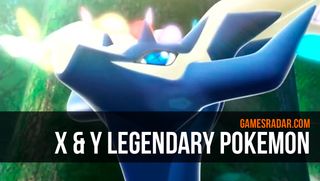 Legendary Pokemon
Legendary Pokemon aren't your average, run-of-the-mill pocket-sized monsters. Legendary Pokemon are gods, roaming the world and controlling the forces of time and space. X & Y both have their own themed Pokemon, but they aren't the only godly monsters inhabiting Kalos.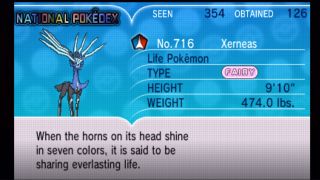 Xerneas
Xerneas is the "X" legendary of Pokemon X and Y, holding the shape of an X in its eyes. It looks like a deer or gazelle of some kind, and is likely one of the creators of the universe, because that's what Nintendo says about every Legendary Pokemon.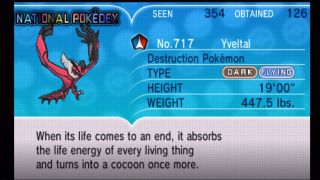 Yveltal
As Xerneas is to Pokemon X, Yveltal is the Legendary Pokemon for Pokemon Y, its entire outstretched body making the shape of a Y. Unlike its Y counterpart, it isn't about creation--this sucker has destruction on its mind.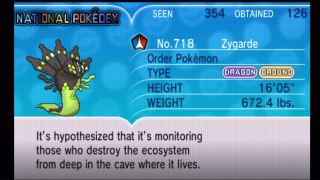 Zygarde
X, Y, and Z! The third and final new Legendary in Pokemon X and Y is Zygarde, the "Order Pokemon" who attempts to stop Xerneras from creating and Yvetal from destroying. We imagine it's a full-time job, since those two are so good at it.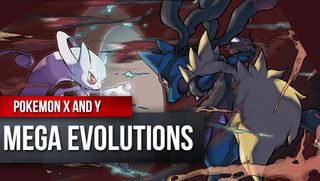 Mega Evolutions
And there are, of course, new evolutions for a bunch of different Pokemon, but we're going to put that in a different article since they don't actually show up in the Pokedex. So swing over to find out about Pokemon X and Y mega evolutions and how to get them for those deets.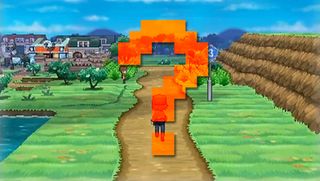 To catch them is our real test, to train them is our cause
We've now seen a handful new faces in the Pokemon universe, including some new looks at some old favorites. and we're sure there's more to come. We want to know what you think about these new Pokemon so far, and give us your own Pokemon designs. We'd love to hear what crazy creatures you'd come up with.
For more Pokemon X and Y, check out 27 things you need to know about the upcoming games, and for more Nintendo talk head to the Super Smash Brothers Wii U roster.