It can be tough keeping up to date on all the best new TV shows. The key is planning, which is why the GR+ team have come up with a list of the most anticipated upcoming TV shows of 2017. These are the series coming your way soon that we're really excited about, and while some of them might turn out to be terrible (we hold no responsibility), some could also be the next big thing.
We've got everything from Netflix's new originals, to HBO's award-winning offerings, and there's a mixture of brand new TV shows (Star Trek: Discovery) and returning seasons (Game of Thrones). The list is in order of release date (although some are still a little vague) and we'll be keeping it up to date throughout the year so make sure you check back for updates. If you're looking for a round-up of the best TV shows coming soon, read on, but if you want brand new, still-only-on-season-1, series which are airing right now - check out our list of the best new TV shows you don't want to miss.
The Mist
Release date: June 22, 2017
Stephen King's horror novella about deadly mist is getting another adaptation this year, but rather than a movie, this time it will be in TV form. If you've read the story or seen Frank Darabont's 2007 film, you know the terrifying plot but show creator Christian Torpe promises some surprises too. "It has a constant ebb and flow communication with the novella," he said. The trailer has been released and it definitely seems to capture the creepy feel of the mist, as well as the consequences of a community hold up living in fear for an extended period of time. Hint: the mist isn't going to be the only thing they should be afraid of. Definitely one to watch for horror fans. Lauren O'Callaghan
Read more: The 20 best horror TV shows to watch with the lights on
GLOW season 1
Release date: June 23, 2017
Ever wondered how the world of female wrestling came to be? That's the story Netflix intends to tell in its new original series GLOW. The Gorgeous Ladies of Wrestling (or GLOW) is a fictional tale of the '80s women's professional wrestling circuit. Starring Community's Alison Brie as a struggling actress in LA who attends an audition only to discover it's for female wrestlers, she (along with a group of other 'unconventional' women) film the show under the director of Marc Maron's Sam Sylvia. A combination of female empowerment, '80s nostalgia, and gorgeous ladies, I'm guessing it's another surefire hit from the streaming service. Lauren O'Callaghan
Read more: Every new Netflix Original TV show we know is coming this year
Preacher season 2
Release date: June 25, 2017
Jesse Custer (Dominic Cooper) is back as the god-fearing man with a demon living inside him in the second season of Preacher this year. Along with Joseph Gilgun's Irish vampire Cassidy and Ruth Negga's gun-toting Tulip O'Hare, he left his flock behind at the end of season 1 in search for... well, I'm not sure what. That's just one of the questions the second season needs to answer, and while some aspects of the first were more than a little disappointing, I'm still dying to know what the unusual trio have been up to. Has Jesse been using his power for good or have Cassidy and Tulip managed to reinvigorate his more criminal tendencies? Lauren O'Callaghan
The Gifted season 1
Release date: June 2017
After Legion earlier this year, there's another X-Men TV show coming to our screens . This one is called The Gifted and focuses on a family who go on the run once they realise their two children are mutants. Starring True Blood's Stephen Moyer and Angel's Amy Acker as the parents, they eventually join the underground mutant community who are fighting for survival in a world that doesn't want or understand them. Oh, and the dad works for the people who are hunting them. Set in a world where the X-Men are long gone (or at least not available to help) it has a feel of Heroes to it. And that's fine by me, as long as it doesn't go drastically downhill after the first season. Lauren O'Callaghan
Read more: 10 questions I have after watching Legion season 1
Castlevania season 1
Release date: July 7, 2017
Based on the long-running, vampire-hunting action game series - particularly the third entry, which acts as a prequel of sorts - the Castlevania animated series looks to translate the games' grimly gothic yet delicately dark vibe with bloody aplomb. In fact 'bloody' seems to be the operative word. We're promised a dark, gory, "super violent", adult take on the source material, with influences also coming from the likes of Game of Thrones. Produced by Dredd's Adi Shankar, and written by long-lauded and multi award-winning comics writer Warren Ellis (creator of Red and Transmetropolitan, and writer of countless works for Marvel and DC), Castlevania currently looks very well primed to give the legendary series the smart, grown-up treatment it deserves, while also delivering a hell of a grotesquely good time in its own right. David Houghton
Read more: I've never played Castlevania, where's the best place to start?
Game of Thrones season 7
Release date: July 19, 2017
Not sure if you've heard, but Game of Thrones season 7 is happening in 2017. Oh, you did hear? Then you know it's not showing until summer because - ironically - winter came late to many of the season's filming locations, which delayed production. And there's going to be heaps of winter in this run. We know… pretty much everything about the season, thanks to a leaked script and a whole bunch of pictures snapped by fans and fan-sites. Regardless of the wealth of illicit info, though, it's virtually guaranteed that Thrones 7 will have a whole bunch of delights and surprises for us. What happens when Dany lands in Westeros? What next for Jon and Sansa? How will the White Walkers breach the wall? And will Gendry finally land his boat? The answers are coming, and with them, one of the most anticipated series of the year. Andy Hartup
Read more: Everything you need to know about Game of Thrones season 7
Midnight, Texas season 1
Release date: July 24, 2017
Midnight, Texas looks like a cross between Preacher and Penny Dreadful, which is a thing I really want to see. Based on a book series by Charlaine Harris (who also wrote the True Blood books), NBC is turning it into a TV show for 2017. Season 1 will follow psychic Manfred Bernardo, played by François Arnaud, who moves to the town of Midnight for a fresh start only to discover that his neighbours are all vampires, witches, werewolves, and angels. Even a town such as this isn't immune from danger though, and when a body turns up it risks starting a war between the human and the non-human communities in Midnight. While the subject material might feel tired - how many supernatural TV show do we really need? - one look at the trailer convinced me this is one to watch in 2017. Lauren O'Callaghan
The Defenders
Release date: August 18, 2017
I don't really need to talk you into this one, do I? Netflix has been working towards The Defenders for so long now fans are chomping at the bit to see the superhero team-up. If you don't already know, it's basically the TV equivalent of The Avengers and will see Daredevil, Jessica Jones, Luke Cage, and Iron Fist join forces to defend the innocent people of NYC. It also stars Sigourney Weaver which pretty much guarantees it will be awesome, and despite Netflix's most recent Marvel slip up (*cough* Iron Fist *cough*), I feel confident that this superhero crossover will deliver. Lauren O'Callaghan
Read more: Everything you need to know about The Defenders
Rick and Morty season 3
Release date: Summer 2017
WUBBALUBBADUBDUB! So despite the vague release date for the latest adventures of genius scientist Rick and his grandson Morty (keep your eyes out for it during the whole of summer, people), there's a sustained level of hype for the latest season. We got a tricksy first episode on April Fool's Day, but since then there's been radio silence. It left off on Rick escaping from the Galactic Federation prison after he selflessly turned himself in to save his family from a lifetime of being outlaws, and he's declared that his character arc is going to be about McDonald's Szechuan sauce. I'd say take that with a pinch of salt, but knowing Rick and Morty, it might actually lead to some interesting adventures as he hunts down each component. Oh yeah, but in the first episode Rick did destroy the galactic currency rate, meaning money has no value anymore. So there's that general anarchy to deal with. Should be fun. Zoe Delahunty-Light
Read more: Everything you need to know about Rick and Morty season 3
American Horror Story season 7
Release date: September 2017
There are few series quite as variable in quality as American Horror Story but there's been enough genuine brilliance over past seasons to stay excited for the next episodic slice of nasty from the incredible ensemble cast. The theme of season 7 has been revealed as... *drumroll*... politics, and co-creator Ryan Murphy has confirmed we'll get to revisit the history of some characters from season 4 Freak Show. Both Hotel and Roanoke threw in characters from other seasons so it makes sense to interweave the series' dark web further. In terms of clues to the the theme though, all we've got is a tweet from the official American Horror Story account with a video showing the Blair Witch-style straw dolls from Roanoke with a more peaceful view of the sea and the words 'sweet dreams'. Anyone up for some sea air and a cruise from hell? Louise Blain
Inhumans season 1
Release date: September 2017
Just when you thought you had enough super-powered individuals, Marvel's Inhumans has appeared on the horizon. Originally on Marvel Studio's slate as a movie, Fox is now developing it as a TV show for 2017 (although it's unconfirmed whether the series will be replacing the movie). Either way, Inhumans will explore the life of the Black Bolt (real name Blackagar Boltagon), a fellow who keeps his mouth shut most of the time as he can bring down the most formidable foes with one whisper of his super-powered voice. We know very little about the TV show at the moment, but the first image has now been released - unfortunately, it got a 'mixed' response from fans. Fingers crossed some footage is on the way. Zoe Delahunty-Light
Read more: "They. Look. So. Bad." People are NOT impressed with the first-look at Marvel's Inhumans
Star Trek: Discovery season 1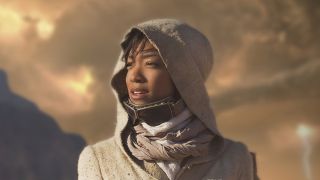 Release date: Fall 2017
After six different TV series and countless movies, it seems we're still not sick of Star Trek because a new TV show is heading our way in 2017 called Star Trek: Discovery. Season 1 is set 10 years before the original Star Trek series and in the 'Prime' universe, rather than the rebooted movie 'Kelvin' timeline. A first look was released at SDCC 2016 showing the test flight of the U.S.S. Discovery, and in a surprising twist, the main character of the show will not be the captain. Since then, The Walking Dead's Sonequa Martin-Green has been confirmed as lead character, First Officer Michael Burnham, and we've had a first trailer, poster, and character image. Original slated for January 2017, Star Trek: Discovery has been pushed back again and again, but either way we'll be heading back into space this year. Lauren O'Callaghan
Read more: Everything you need to know about Star Trek: Discovery
The Orville
Release date: Fall 2017
Fans of Galaxy Quest definitely need to check out the new comedy sci-fi series from Family Guy creator Seth MacFarlane. The Orville is basically a Star Trek spoof with MacFarlane taking on the lead role of Captain Ed Mercer. Eager to prove himself when he's given command of a ship, Mercer tries his best to work some Kirk magic but never quite manages it. And it doesn't help that his First Officer Kelly Grayson (played by Agents of S.H.I.E.L.D's Adrianne Palicki) is also his ex-wife. The trailer had me laughing out loud so if there's plenty more where that came from, I'm in and you should be too. Lauren O'Callaghan
The Crossing
Release date: Fall 2017
Given the political climate at the moment it's perhaps unsurprising that there's a new TV show on the way about asylum seekers, but what's different about The Crossing it that these refugees are from our own future. When 500 bodies wash up on a beach in Port Canaan, Washington and only 47 survive, it's not long before the Sheriff (Steve Zahn) realises they're not from around here. They tell of a future where not only is time travel possible (if dangerous), but one which is being torn apart by war. Oh, and one of the survivors is… 'different'. She has powers. Part political, part sci-fi, this new show looks like the perfect balance of both and it's coming this year. Lauren O'Callaghan
Stranger Things season 2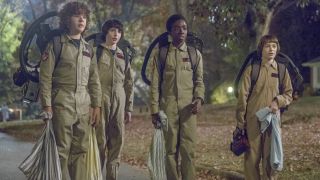 Release date: October 31, 2017
Set a year after the events of the first season, Stranger Things season 2 will explore the ramifications of Will's time in the Upside Down as well as the encroaching supernatural events that continue to affect Hawkins. All the original cast are going to be returning, alongside some new faces - and don't worry, Millie Bobbie Brown is going to be present in some way or another as the telekinetic Eleven, though god knows where she could possibly be after destroying herself along with the Demogorgon. Until then there's a tirade of fan theories, cosplay, and art to give you your Hawkins fix. Zoe Delahunty-Light
Read more: Everything you need to know about Stranger Things season 2
Dark season 1
Release date: TBC 2017
Speaking of last year's Netflix hit, one of the streaming service's upcoming foreign language originals looks set to be the new Stranger Things. Don't let the German subtitles put you off, Dark is set in the fictional town of Winden and follows the story of a missing boy and the lives of everyone involved. Sound familiar? There's also a fantasy element to the show too with three different timelines involved - one in the '50s, one in the '80s, and one in the present day. The first trailer gave me chills and ends with a menacing voice over which says: "It's not who kidnapped the children... but when." Which is enough to make me want to watch it. How about you? Lauren O'Callaghan