It's Cyber Monday and with Nintendo Switch due in March 2017, it means some great deals on existing 3DS and Wii U consoles. We'll keep this article regularly updated, so check back as new sales emerge. We've also picked out the best Cyber Monday 2016 Pokemon deals – which is a treasure trove of Christmas gift ideas.

QUICK DEAL: The Nintendo UK Store has slashed 80% off some great merchandise – like a Super Mario Bros pin badge for £1. Ideal Christmas gifts or stocking fillers for the Nintendo fan in your life.
RETRO DEALS GALORE: Head over to GameStop for buy two, get one free deals on a range of retro Nintendo games and consoles!
One quick note: remember that most 3DS consoles do not come with a power adapter. If you're buying a new 3DS you may need to buy the charger separately. Check out the links below for the best prices on Nintendo 3DS power adaptors, like this 3DS / 2DS AC Adapter for $7.64 from Amazon.
Cyber Monday US gaming deals - quick links
Cyber Monday UK gaming deals - quick links
Best US Cyber Monday 3DS deals
• New 3DS XL Lime Green: Check out this snazzy Nintendo New 3DS XL Special Edition in Lime Green, complete with a pre-loaded copy of Super Mario World on Virtual Console, for $199.99 at Amazon.
Best UK Cyber Monday 3DS deals
• 2DS with Pokemon Sun / Moon: Pick up the brilliant new Pokemon game with a 2DS, for the excellent price of £89.00 at Tesco
• 2DS HW Red & White with Tomadachi Life: Get this stylish red and white 2DS, preloaded with the wonderfully weird Tomodachi Life for a bargaintastic £75.99 at Tesco
• New 3DS XL Animal Crossing Edition: Get Animal Crossing: Happy Home Designer and a special edition system at no extra cost when you buy this New 3DS XL for £175 at Amazon.
• New 3DS XL: Want the machine on its own before you decide exactly which games to snap up for it? Then the deal for you is £169.99 at Tesco.
• 2DS Black and Blue with Super Mario Bros 2: Keep yourself or your kids amused with this black-and-blue 2DS / New Super Mario Bros. 2 combo, available for £74.99 at Amazon.
Best US Cyber Monday Wii U deals
• Wii U 32GB: Save some cash by picking up this guaranteed, refurbished Wii U Deluxe model. Now $229.99 at GameStop.
• Wii U 32GB: If you prefer something straight from the horse's mouth-- er, factory, you can pick up a Nintendo refurbished 32GB Wii U for $215.00 on eBay.
• Wii U 8GB: Or save even more by picking up a refurbished Basic system. Hey, it still plays those home Nintendo games you've been missing out on! Just watch out for download limits. Now $199.99 at GameStop.
Best UK Cyber Monday Wii U deals
• Wii U 32GB: Get started with one of the best versions of Mario Karting ever created with this Mario Kart 8 bundle, and enjoy the complimentary NES Remix download. Grab it for £234.99 at GAME.
• Wii U 32GB: If you'd prefer to cultivate your artistic talents, you can grab the same Wii U bundle with a download code for Art Academy Atelier, all for £237.49 at Tesco.
• Wii U 32GB: Grab a Xenoblade Chronicles X Wii U bundle complete with Artbook and World Map for £239.99 from Amazon UK.
• Wii U 8GB: It's low on storage, but it's also low on price. Grab this basic 8GB Wii U pack for just £179.99 at Amazon UK.
Best US Cyber Monday Nintendo game deals
• 7th Dragon III Code: VFD (3DS): A fantasy JRPG from the minds behind Phantasy Star. Nuff said. $24.99 on Amazon.
• Pokemon X / Y (3DS): Relive the moment when Pokemon went 3D. With the extra 15% off applied at checkout, it's $27.19 at Target.
• Super Mario Galaxy 2 (Wii U): It's an older game sir, but it checks out. This classic, challenging platformer is just $9.99 through the eShop.
• Xenoblade Chronicles X (Wii U): Get this sprawling, open-world RPG for $39.97 at GameStop.
• The Legend of Zelda: Ocarina of Time 3D (3DS): You can put one of the best games ever made on your 3DS for less than a Jackson. How cool is that? Pick it up for $16.06 at Amazon.
• Shin Megami Tensei 4: Apocalypse (3DS): This direct sequel to SMT 4 seeds new conflict between your favorite characters. You can grab it for $39.78 at Amazon.
• Pokemon Omega Ruby / Alpha Sapphire (3DS): Return to Pokemon's third generation with new 3D visuals and refined gameplay, now $25.97 at Walmart.
Best UK Cyber Monday Nintendo game deals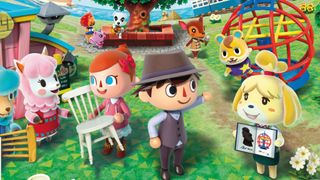 • Puzzle & Dragons Z + Puzzle & Dragons Super Mario Bros. (3DS): Two Match-3 adventures expanding on the popular mobile series combined into one very nice bargain. Get yours for £7.99 at Argos.
• The Legend of Zelda: Wind Waker HD (Wii U): Whether you've somehow avoided playing one of the best Zelda adventures ever for 14 years, or just want to play it again, this is a stupendous deal. Grab it for £14.00 at Tesco.
• Pikmin 3 (Wii U): The ultimate game of plant-person strategy is now available at a tactically superior price. Buy a copy for £17.00 at Tesco. This one is close to selling out, so act fast.
Best US Cyber Monday amiibo + accessory deals
• The Legend of Zelda: A Link to the Past graphic novel: Discounted to $12.84 at Barnes & Noble. Enter BNCYBER16 at checkout for an additional 15% off.
• Lucina, Mega Man, Pit, Sonic, Samus, Ness, Ryu, ROB amiibo: All $9.99 at Best Buy.
• Fox, Inkling boy, Inkling girl amiibo: All $8.99 at Best Buy.
• Mr. Resetti, Rover, Kapp'n, Blathers amiibo: All $5.99 at Best Buy.
• Falco, Mabel, Tom Nook amiibo: All $4.99 at Best Buy.
• Mario 30th Anniversary (Classic Color) amiibo: Now $6.99 at Walmart.
• Inkling Girl amiibo: Now $5.11 at Walmart.
• Zero Suit Samus amiibo: Now $7.78 at Target.
Cyber Monday - the best offers