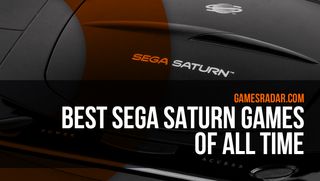 Out of this world
But that doesn't mean it's a total bust. Numerous excellent games were released for the console, which was supported primarily in the mid-to-late 1990s, including a variety of original Sega classics and several stellar third-party releases. RPG and fighting game fans, in particular, enjoyed a healthy array of options on the platform, but other worthy picks no doubt remain. We've rounded up our picks for the 50 top titles released on the Saturn, so it's time to dive into that crawl space and/or peruse the online listings, fire up Sega's 32-bit console, and check out some oft-forgotten favorites...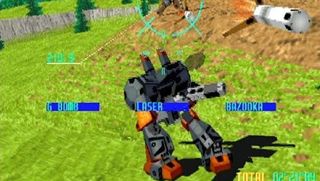 50. Virtual-On
They said it couldnt be done, but the Saturns version of Cyber Troopers Virtual-On manages to deliver a near-perfect conversion of the hugely popular mech-brawler that lit up arcades in the mid-1990s. The machines reputation for poor 3D performance is resoundingly shot to pieces with giant-robot matchups that look virtually indistinguishable from their arcade counterparts, minus only a few of the most inconsequential graphical effects.
10 craft, designed by Gundam and Patlabor robo-auteur Hajime Katoki, are available for taking on computer-controlled opponents or matching up with a human competitor via local split-screen (and the Saturns modem add-on, if by some extraordinary turn of events you have the means).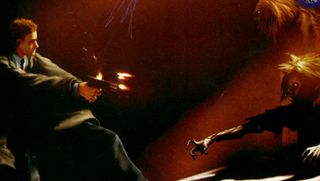 49. House of the Dead
Much as the game tries to tell a goofy story with its agents "G" and Thomas Rogan, The House of the Dead is notable primarily for its tense zombie-zapping action, which held up in this Saturn port. Unlike the graphics, which are shockingly awful. Just goes to show how good the core game is to make it still worthy of a place on this list.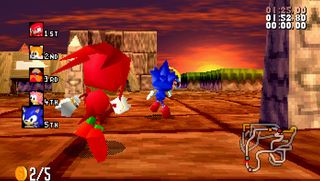 48. Sonic R
With Mario branching out into kart racing to considerable acclaim, and with Sonic having been created expressly to give Sega its own version of Mario, it seemed a no-brainer to give the blue blur his own line of racing titles. Sega had provided two of these to Japanese and European Game Gear owners, but Sonic R was the first time the concept would go worldwide--backed by the Saturns considerably higher processing power.
The result may not be the Saturns finest racer--youll have to read on for other examples in that debate--but it was a technical tour de force, even throwing around translucent polygons and advanced reflection effects that the Saturn wasn't supposed to be able to do. It also featured music tracks that featured vocal!. And, thankfully, a toggle in the options to turn those same vocals off.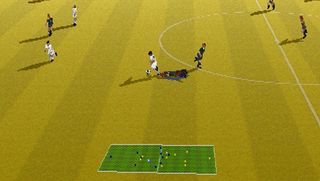 47. World League Soccer 98
This sophisticated simulator-style effort from Oxfordshire-based sports specialist Silicon Dreams Studios was a welcome addition to the Saturns soccer lineup. It may not have the official FIFPro license (remember Man U star player D. Becker?) but there is actually a cheat you can input that enables all the real player names. Obviously legally dubious, but utterly awesome at the time.
The game also supports the analogue input of the NiGHTS pad, which actually makes it easier to win as you can aim for the space just inside the far post with ease. But the game's most memorable feature is the net that billows with the impact of the ball. It's beautiful, even now. As is the game in general, for that matter, as it runs in the console's highest resolution mode, making other 32-bit footie titles look as rough as a bear's arse by comparison.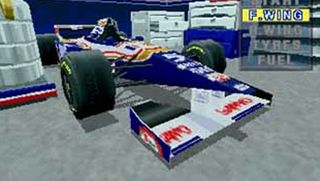 46. F1 Challenge
Arcade-racing fans were well served by the Saturn, but this little-known racer was much more grounded in reality. For starters, it has three real F1 tracks to race around (as well as three original circuits) even going so far as to include Monaco, which really does look like Monaco. You also had to carefully manage your fuel load, keeping the car as light as possible without running out of fuel halfway around the course.
You can even race as Jean Alesi, which is damn awesome, alongside four other real-life drivers. While not an exhaustive license, it's still a commendable effort that deserved better than to be forgotten as soon as Psygnosis' Formula One came along on PlayStation. Finally, the 3D sky box is unlike anything else on the console and has to be seen to be believed. No, really.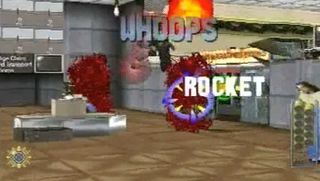 45. Die Hard Trilogy
Saturn owners were just as susceptible as players on any other console to the charms of a good claustrophobic third-person action title, or a rip-roaring rail-shooter, or a gleefully anarchic high-speed vehicle chase through New York City. So roll those three games into one, wrap them up inside a dirty tank-top, and throw in some cranky guy saying yippee kay-ay just like that dude off the TV, and youve got a winning package.
Graphics and level design saw some minor tweaks to bring the PlayStation originals action into line with Saturn and PC standards of the day; but if youre playing this today, you know youre not getting Crysis 3 anyway, so may as well sit back and enjoy the carnage.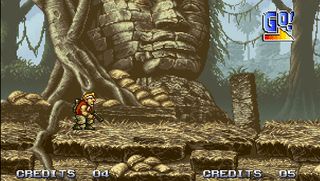 44. Metal Slug
Originally composed of employees from R-Type studio Irem, Nazca Corporation came to be known for this signature series of hyper-violent side-scrolling combat shooters, which reinvented the likes of Contra and Rushn Attack with all the flair of late 90s hardware.
Built for SNKs aging warhorse the Neo Geo, the Saturn ably recreated every arterial splurt and howl of anguish, as well as adding in a combat school mode previously enjoyed by owners of SNKs Neo Geo CD edition.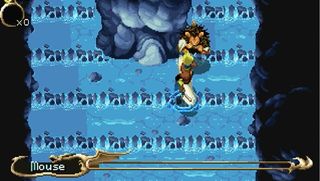 43. The Legend of Oasis
Like Beyond Oasis, the Saturn game features action-oriented combat, while the added processor power allowed Ancient and Sega to fill the screen with much more colorful effects and environments.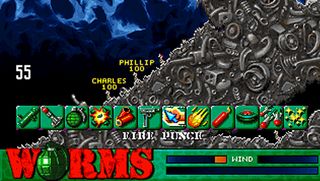 42. Worms
Team 17s original epic of worms inhumanity to worm, this Lemmings-esque combat title was the brainchild of sole Yorkshire-based Amiga 500 programmer Andy Davidson, whose chirpy vision of the hell that is militarized combat saw conversion to every machine of the time that would support its unending cast of stretchy cannon fodder.
The hot-seat weapon-driven play of later installments began here, with an already-impressive array of specialist worm-annihilation tools such as pneumatic drills and suicide bombs. Reborn in the 2000s as Worms 3D, the games core feature, a randomly-generated assortment of levels for multiplayer contests, still retains its strong just one more turn appeal.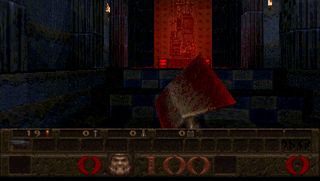 41. Quake
id Softwares gib-splattering FPS juggernaut came converted to the Saturn via a custom-built 3D engine that would later be pressed back into service for conversions of Duke Nukem 3D and the like. Graphics were cropped for the just-powerful-enough 32-bit console, with subtle level redesigns to keep the poly counts down.
But in return for these minor tweaks you got the same fast-and-furious shooter action that was where it was at in 1997. Four new levels were also added to make sure Saturn players got their moneys worth.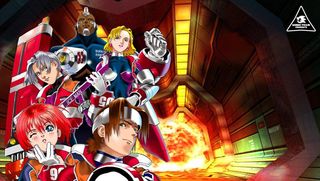 40. Burning Rangers
It was a highly unique premise with great visual design (some of which seemingly influenced Phantasy Star Online), but this distinctive Saturn original launched very late in the lifecycle and didn't spawn a ton of US copies, making it difficult to experience nowadays.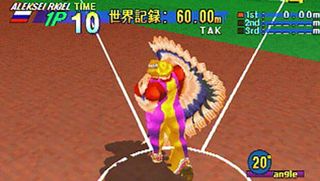 39. Decathlete/Athlete Kings
No matter how many polygons designers have at their disposal, multi-event sporting compilations will always boil down to minigame-filled challenges of button-mashing and rhythmic joystick-thrashing. Its just how sports work! So it is that this 32-bit take on the likes of Konamis Track & Field dramatizes world-class Olympic-style athletics via the medium of pun-laden international competitor names and waggle-the-controller-till-your-hands-go-numb challenges.
Developed for Segas ST-V arcade board, the arcade-perfect Saturn conversion allows for the same two-player contests of athletic accomplishment as the coin-op.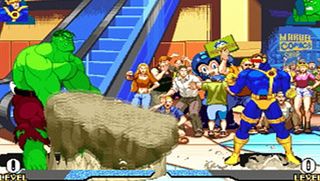 38. Marvel Super Heroes vs Street Fighter
Not the first in Capcoms franchise-condensing line of versus titles, Marvel Super Heroes vs. Street Fighter is nevertheless the title where many elements coalesced that would continue to mark the series through its increasingly bombastic run. Unlike the previous one-on-one matchups of X-Men vs. Street Fighter, this installment adds the teamplay which would continue in later editions, offering a variety of team-attack special moves to augment the existing supercharged single-player specials.
The Saturn version of the game, released only in Japan, uses the consoles 4MB ROM expansion to provide gameplay far closer to the arcade version than that of the maligned PlayStation version.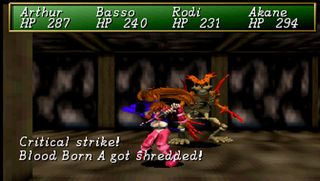 37. Shining the Holy Ark
Eschewing the all-ages fairytale strategy of most entries in the series, Shining the Holy Ark aims squarely at players whove been with Segas beloved series since the very start--with a more mature tone than its predecessors in the Shining Force line, and gameplay resuming the first-person style of the very first Shining in the Darkness.
The gridded battlefields of the Force subseries are replaced with more traditional turn-based party combat, fueling a story of darkness ascendent that lays the groundwork for the next title in the series, the three-part epic Shining Force III.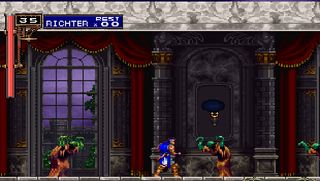 36. Castlevania: Symphony of the Night
One of the most enduring classics of its age, the Saturn version of Symphony of the Night includes all the same genre-redefining, exploration-centric gameplay as the PlayStation original, with extra playable characters and areas to sweeten a deal that developer Koji Igarashi notably expressed ambivalence toward.
Players outside Japan didnt get to sample the tweaks that Igarashi never signed off on: downgraded graphical effects and an altered inventory system. Regardless, its Symphony of the freaking Night.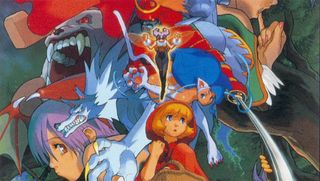 35. Darkstalkers III
It's a real drag that the game (and the RAM cartridge) never came out here, but for die-hard fans, it may be worth tracking down the hardware to get the ideal home experience.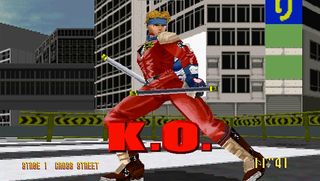 34. Last Bronx
Sega AM2s urban brawler takes its cues and basic control mechanism from the Virtua Fighter line, but it doesnt take long for the games unique elements to emerge. Boasting interactive, full 3D environments with their own self-contained boundaries to eliminate matches ending in a ring-out, the game was a pioneer in the motion-captured animation style later made a signature of Namcos Soul series.
The other point of Virtua divergence--and another element Last Bronx shares with Namcos franchise--is the use of weapons, with each character having a signature and alternate choice of melee implements to drive play through the games Arcade and Story modes.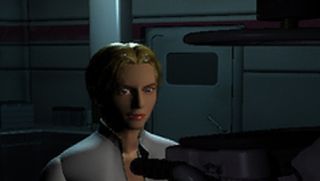 33. Enemy Zero
Warps one-of-a-kind survival horror title quickly gained a following as a Saturn-exclusive entry in a genre that was just taking baby steps on Sonys platform. The FMV-heavy 3D thriller shocked many with its appearance on Segas machine, commonly thought to be incapable of delivering the style of cinematic gameplay established in Warps previous PlayStation title D.
That games poor sales, felt by late developer Kenji Eno to be the result of a deliberate slight by Sony, were the cause of this stealth-heavy avoid-em-ups Saturn exclusivity. But the games most challenging element isnt graphically taxing at all: Its the invisible enemies, whose audible approach demands a tight trigger finger--and fits beautifully with arthouse composer Michael Nymans uber-classy score.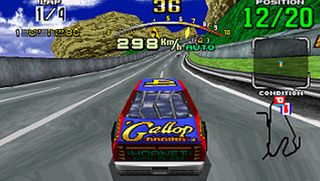 32. Daytona USA
Recreating Daytona USAs signature arcade-filling action on home machines was something of a holy grail during Segas 3D era, to the extent that the Saturn saw two noticeably different conversions of the same title: this 1995 western-release title, and a later, overhauled Championship Circuit Edition in 1996.
Flashy-graphics fans will warm to the rebuilt CCE version, but Daytona purists will find this initial offering creeping into the disc tray time and again. Look past the capped frame rate and admittedly distracting evidence of graphical pop-in, and youll find a conversion that retains the arcade versions trademark weighty handling and steep-but-fair single-player difficulty curve.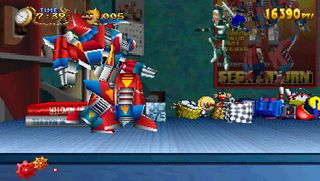 31. Clockwork Knight 2
Sir Tongara de Pepperouchau III, Segas questing 32-bit cavalier, is an engaging combination of Arthur the Brave Knight, Don Quixote de la Mancha, and the reborn Donkey Kong. That might sound like a diverse cast of influences, but the key-swinging crusader is very much his own man as well, taking command across the sequels 32 rounds for a spate of princess-retrieving escapades.
His adventure runs the gamut from semi-3D platforming, to fixed-scrolling shoot-em-up action using the disembodied head of your faithful wheeled steed Barobaro as a projectile; to a challenging boss rush section collecting all the big bads from this and Sir Pepperouchaus previous outing.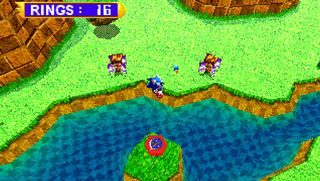 30. Sonic Jam
Segas speedy blue superstar took a rare break from appearing in purpose-built AAA adventures during the Saturn era, leaving players to subsist on genre-benders like Sonic R and greatest-hits such as this compilation of Genesis reissues. Any chance to play the original Sonic side-scrollers shouldnt be sniffed at, though; particularly when presented this lovingly, running just how you remember em in Saturn-specific builds (this was back before classic Sonic games appeared on every device known to man).
Beside the first three classic Sonics, you also get Sonic & Knuckles and all the Lock On-enhancements that come therewith; as well as a 3D gallery mode that serves not only as an engrossing front end for collected Sonic goodies, but as a proof-of-concept for what would become Sonic Adventure.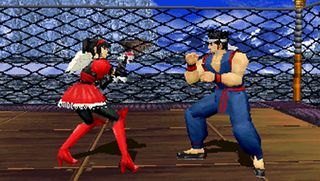 29. Fighters Megamix
Bridging the gap between the AAA Virtua Fighter series and the more populist Fighting Vipers, Sega AM2s bash-up mashup offers a staggering array of content for dedicated players to get to grips with. Besides the very healthy 22 initially available fighters, drawn from the casts of both franchises, theres another 10 unlockable characters each with 60-70 moves to learn.
The deeper you go, the weirder this home exclusive gets, with hidden characters available based on protagonists from Virtua Cop, Dynamite Dux, and Daytona USA--if you thought smashing cars in bonus stages was an entertaining diversion, waitll the car stands up on hind wheels and starts punching back.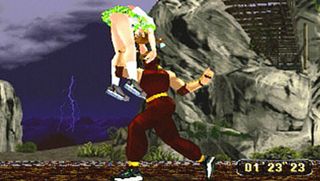 28. Dead or Alive
Tecmos Team Ninja secured a first when it gained permission to build this third-party fighter on Segas popular AM2 arcade hardware, which had been used to power the high-performing likes of Daytona USA and Virtua Fighter 2. The games high-speed, rock-paper-scissors style of play was a quick hit with arcade players; and while overshadowed by Tekkens rising star, the game quickly gained a cult following that would see the series become a genre-straddling mainstay on home consoles.
Tecmos Saturn version, which was confined to Japanese release, uses canny graphical tricks to offer Sega players a near-authentic arcade experience, whereas the PlayStation version saw tweaks to gameplay and a rebuilt graphics engine.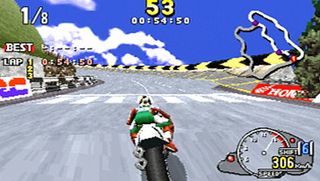 27. Manx TT Superbike
Arguably the Isle of Mans finest in-game hour, Manx TT Super Bike was a two-wheel companion to Segas own Daytona USA and could be seen alongside the seminal racer in well-appointed arcades of the day. Wipeout developer Psygnosis Saturn conversion keeps everything that made the coin-op popular, adding the de rigeur assortment of course variations and gameplay modes.
Most crucially, the games beloved sheep-racing Easter egg mode comes fully intact to Segas machine, allowing motorcycle-fatigued players to relax with a rams-back sprint or two across the Manx countryside.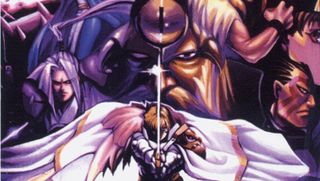 26. Dragon Force
With large, colorful battles and another stellar translation--Working Designs' trademark--Dragon Force proved a powerfully engaging experience, though its strongest pull came from deeply strategic battles that required plenty of precise planning and execution.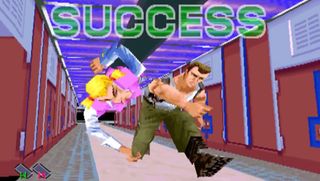 25. Die Hard Arcade
Guy who vaguely resembles Bruce Willis on the cover? Check. Burning skyscraper behind him? Got it. Game that matches that premise? Well, not so much. Die Hard Arcade really doesn't have much of anything to do with the classic '80s action romp; the game was developed independently from the license in Japan, then the film's name was slapped on for added marketability elsewhere in the world. Luckily, the phony approach doesn't diminish what proved to be a pretty fun beat-'em-up for two players, wherein you'd work your way through a building while smashing baddies in bunches. And you weren't just relegated to fisticuffs--a wide array of firearms and melee weapons helped amp up the arcade-style action.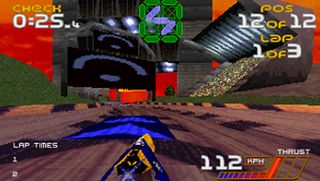 24. WipEout 2097
Psygnosis neon-lit futuristic racing series took a cue from F-Zero, but pushed the sci-fi trappings into a glowing vision reminiscent of the rave scene at the time. The Saturn version offers the same deep, hyperspeed racing as the better-known PlayStation iteration, albeit without the roster of electronic artists (Prodigy, Chemical Bros., Fluke, etc) that had brought the original such crossover appeal.
Even without those tunes, the futuristic racing action felt next-gen at the time and still feels pretty ahead of its time now. If youre diving into the Saturn scene these days, you should grab this iteration to see for yourself how well it holds up.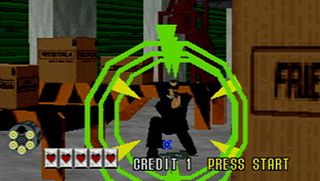 23. Virtua Cop
With 3D technology fast evolving in the 1990s and many coin-op shooters such as Midways Terminator 2 still relying on the same old joystick-disguised-as-a-gun shenanigans pioneered by decrepit arcaders like Operation Wolf, it fell to Segas Virtua series to provide a long-overdue update on the formula with the revolutionary Virtua Cop.
Besides exacting marksmanship challenges and tests of reflexes, the games deceptively nuanced play demonstrated the kind of variety available to contemporary first-person shooters--a lesson not lost on the developers of GoldenEye, who cite this title as a primary influence. The Saturn port allows arcade-perfect play via accessories like the Stunner light gun, or equally challenging keyboard/joypad aiming.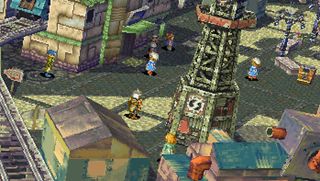 22. Grandia
The playfully pint-sized bitmap sprites of Game Arts 2.5D role-playing epic mayve looked juvenile next to the fully polygonal likes of Cloud Strife and friends, but this influential original wasnt afraid of comparisons to Squares established blockbuster series; in fact, many such comparisons were favorable, even from western critics officially locked out of Grandias Japan-only release.
Despite a well-attended petition from fans of Game Arts Lunar series, the Saturn version remained Japan-exclusive, leaving western players to discover the games immersive charms via widespread importation and later conversion to PlayStation.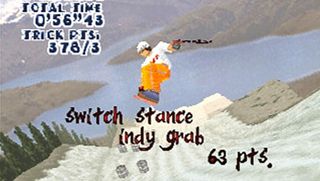 21. Steep Slope Sliders
DonPachi developer Caves trick-racing snowboarding title, released during the first flurry of gamers enthusiasm for the sport in the late 90s, offers a number of innovations over the standards of the day. The free-form control scheme refuses to tie you into a set roster of tricks, offering greater scope for improvisation and creative play.
The games home version, a close port of Segas Saturn-derived Titan arcade board, offers real-time weather and course conditions based on the systems own internal clock--presumably meaning that if you had this game and a full-time job, you wondered why an entire snowboarding game had been set during evenings and weekends.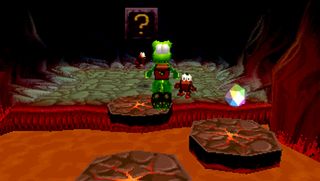 20. Croc
Developed in the height of the Mario 64/Banjo-Kazooie/Conker collect-em-up craze, Star Fox designer Argonaut Software intended this thingamajig-grabbing romp as a Nintendo 64 exclusive, Yoshi-centric spin-off; but when the London outfits Japanese patrons turned down the favor, Marios mount was quickly swapped out for a new toothy reptile-creature with less established brand loyalties, and the N64 setting was abandoned in favor of friendlier pastures on the Saturn and PlayStation.
That gave players on Sega and Sonys machines a chance to explore 42 brightly colored levels worth of Argonauts take on the Mushroom Kingdom, earning the company a bestseller of its own in the process.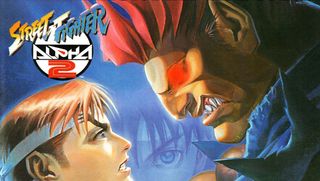 19. Street Fighter Alpha 2
But regardless of platform, Street Fighter Alpha 2 is a great fighter from the era, serving up technical showdowns with a memorable mix of characters.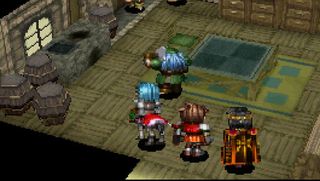 18. Shining Force 3
Camelot Software Plannings series of beloved Sega mainstays saw what should have been its finest hour curtailed by overreach, as this three-part mega-sequel came too late in the Saturns lifespan and never got a complete release outside of Japan. Western players were stuck with the bravura first installment, God Warrior of the Kingdom, released simply as Shining Force III; the games scope and invention is both satisfying in itself and a tantalizing glimpse at the massive slice of Shining goodness enjoyed by Japanese players.
Regardless, this is the rich, tactical play you know and love from Genesis-era Shining titles, bumped up with ever-more epic hour-plus battles and enhancements such as the ability to pair two characters stats for a greater XP bonus.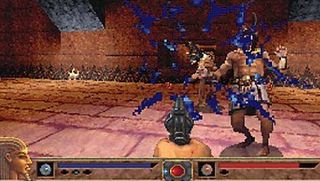 17. Exhumed
Lobotomy Softwares brief run at FPS dominance saw a high point in this internally-developed shooter, running on the SlaveDriver Engine developed to power the companys Saturn ports of Quake and Duke Nukem 3D. The game pits crack Special Forces operatives against ancient Egyptian creatures and deities in an adventure whose development could quite feasibly have preceded Stargates release in theaters, so give Lobotomy a break on that front.
Exhumeds solid 3D play and inventive nonlinear design saw it converted to other formats such as the PC and PlayStation; but its the Saturn original which featured the greatest breadth of powers, effects, and cool gameplay innovations.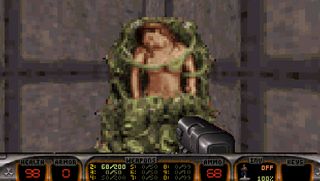 16. Duke Nukem 3D
The Saturn version of Dukes signature adventure was released as a swansong for Segas abandoned Deep Water imprint, established in the 90s as the companys Vertigo Comics-style mature content sub-label. That should come as little surprise to scholars of Mr. Nukems gleefully profane legacy, who can rest assured that this game features all the ass-kicking, gum-lacking, pig-exploding, movie-quote-appropriating fun weve come to demand from 3D Realms irrepressible meathead.
Dig deep enough into this SlaveDriver Engine-powered port and youll be rewarded with an exclusive bonus level and the second installment of developer Lobotomy Softwares cult Death Tank series of minigames.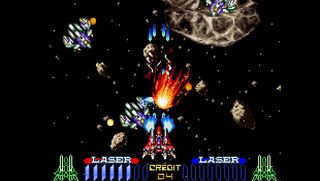 15. Galactic Attack/Layer Section
Played RayForce? How about Galactic Attack or Layer Section? Okay then, have you ever wandered into an arcade and plunked a few quarters into a shooter coin-op named Gunlock? If any of the above elicited a positive response then congratulations, youve sampled Taitos influential, title-troubled shoot-em-up, known in its US home iteration as Galactic Attack.
Offering fast gameplay built around a split-level lock-on system, the game saw conversions and sequels in Japan, but the Saturn version of the original also made it to the US, unhindered by the graphical compromises that would mark later versions of this shooter, in which every pixels worth of bullet-free screen-space counts.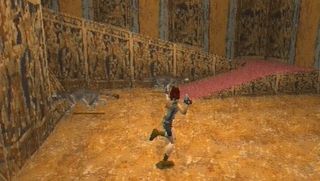 14. Tomb Raider
Its easy to forgive Saturn owners for feeling a little slighted by Tomb Raider, which was originally developed with the Saturn in mind--but whose later installments on PlayStation saw generation-defining heroine Lara Croft become something of a de facto mascot for Sonys gaming brand. Some hardcore Sega fans might still argue that the Saturn did it better.
Regardless, the games origins serve as a reminder that this is as solid and groundbreaking an iteration as youll find on any machines of the time, and served for many as proof of just how exciting this 32-bit generation could be.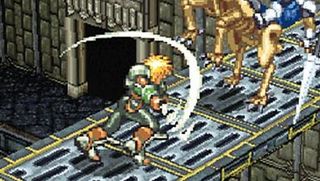 13. Dark Savior
Climax Entertainments Landstalker: The Treasures of King Nole had served as that rarest of treats for Genesis owners: a deep, unique action RPG exclusive to induce envy even in SNES owners used to getting the genres standouts on their platform. Having redressed the balance somewhat with the Japan-exclusive SNES semi-sequel Lady Stalker: Challenge from the Past, Climax returned to the fold with this standout Saturn quest.
The game mixes role-playing, isometric 3D platforming, and an all-action combat mode in the mold of side-on brawlers such as Tekken. Missions change depending on how quickly and well certain objectives are completed, lending considerable replay value.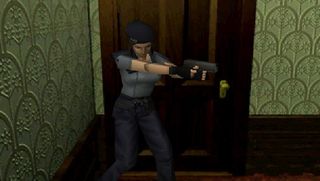 12. Resident Evil
The original zombie-filled survival horror that sold so many PlayStations with its cinematic take on tank-controlled ammo-hunting saw conversion to Saturn in a slightly upgraded form. The Sega port showed that the Saturn could keep up with Sonys machine with many improved graphical effects and a few extra bosses added in.
Most significantly, the Saturn release included a more distilled survivalist take on survival horror, battle mode, which prefigured such scene-stealing minigames as Resident Evil: The Mercenaries. And it had a zombie version of Wesker if you shot enough zombies, which was worth the price of admission.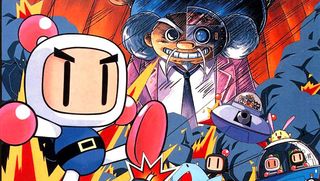 11. Saturn Bomberman
And thanks to the Net Link function, it was possible to play online over a dial-up modem, a feature that reportedly still functions today, assuming you have dial-up service and a friend to play with. Bomberman is amazing, and this may still be the best version out there.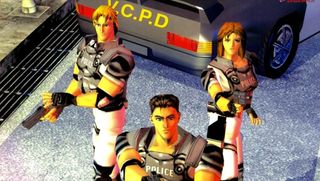 10. Virtua Cop II
It's hokey and simplistic, but paired with a pal, Virtua Cop 2 is just another example of how Sega's arcade dominance let the Saturn maintain a small edge on quick-hit experiences for some time.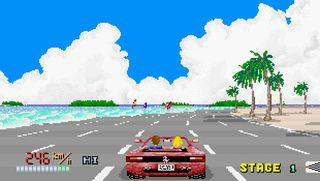 9. Sega Ages Vol. 1
In Japan, the Saturn was host to a series of upgraded remakes of arcade classics such as After Burner, Space Harrier, and OutRun; but rather than offering these three rejigged arcaders to western players piece-by-piece, Working Designs elected to bundle them together and package them under the title of Sega Ages.
Of particular note is the compilations version of OutRun, which features a secret code that lets the game run at a super-smooth 60 frames per second, twice as high as the arcade original.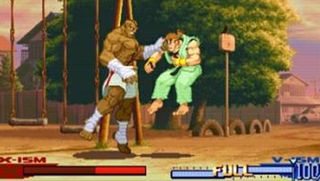 8. Street Fighter Alpha 3
At the height of the Street Fighter series popularity, you got not only the core series but also the rapidly-evolving subseries that was Street Fighter Alpha (or Zero if you were in Japan). The fast-paced brawler reached a high point in this third installment, for which the Saturn used Capcoms added-on RAM cart to push the action almost as close to the arcade original as the similarly timed Dreamcast version.
In the realm of 32-bit gaming, SFA3 remains at the front of the pack. The games dramatic battle mode got upgraded over the PlayStation version, while the addictive survival mode remained as insurmountable as ever.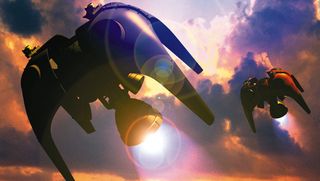 7. Radiant Silvergun
Breaking from genre traditions, the game skips power-ups and instead challenges you to utilize the best weapons in certain conflicts, making for an arguably more strategic affair, and one loaded with diverse imagery and unique attack options.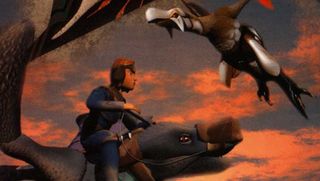 6. Panzer Dragoon II Zwei
It even wove in a pretty interesting tale, along with another sharp soundtrack. The original Panzer Dragoon was a good start, but Zwei one-upped it in every way and proved a gorgeous and entertaining Saturn-exclusive shooter.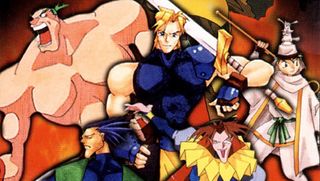 5. Guardian Heroes
Despite the terrible U.S. cover art--a common theme for many Saturn games--the essence of this much-praised brawler hooked enough players to make it a cult classic, and ensure its place in gaming history.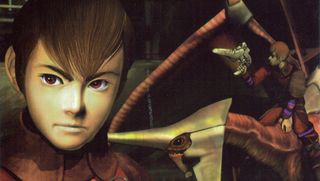 4. Panzer Dragoon Saga
Sadly, it's never been rereleased, and copies still sell for huge sums online. It's a shame: The Saturn's magnum opus deserves to be played by a much wider audience, as the combination of the series' beautiful aesthetics and flight mechanics with new RPG elements makes for a genre entry really unlike anything else we've seen.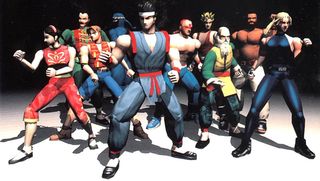 3. Virtua Fighter 2
Between the notable visual upgrade and the addition of two new combatants, Virtua Fighter 2 pushed forward the 3D fighting genre on the Saturn, opening the floodgates for a handful of other Sega fighters--some of which we may or may not have ranked higher on this list! OK, we did. But Virtua Fighter 2 remains a classic on the platform.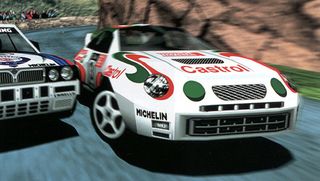 2. Sega Rally Championship
It's a formative racer, sure, and primitive compared to later genre entries but it remains great after all this time and deserves its lasting legacy.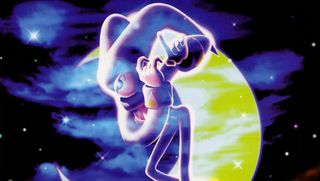 1. NiGHTS into Dreams/Christmas NiGHTS into Dreams
Owning both discs of The Saturns number-one title marks the collection of a true Saturn OG. The flight-centric 3D platformer lets you explore vibrant dreams as one of two kids helped by Nights, the titular jester. With a mix of walking and flying segments, NiGHTS into Dreams tapped into a new kind of platform gameplay for its era, and despite linear flight paths, the game delivered a surprisingly unrestrained sensation of movement.
To experience all the beauty of Segas unique somnambulism-sim, you had to negotiate the Christmas edition as well; but rather than sold at retail, the game was given away with other titles and selected magazines over Christmas of 1996, this small yet perfectly formed charm complements the unique original smartly, and can healthily be brought out each holiday season to revisit alongside classics like A Christmas Story or Home Alone. For the rest of the year (or if you adjust your Saturns clock), it reverts to a bog-standard demo.