Ronda Rousey (confirmed)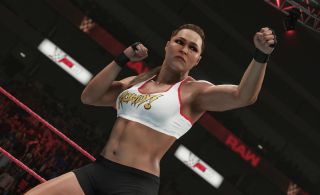 Last year's pre-order DLC offering took a hiatus from WWE following WrestleMania 35 in order to start a family, but that won't affect her status as a key player on-disc this year. Rousey's contract runs through April 2021 so expect a significant role at next year's Mania.
Rusev (confirmed) & Lana (rumoured)
Remember me mentioning that Big Show was in this year's game despite a quiet year as part of Roman Reigns' Tower mode? The same is true of 'Bulgarian Brute' Rusev, who along with real-life wife Lana has sadly been lost in the shuffle on Smackdown. Both deserve bigger roles in 2020.
Samoa Joe (confirmed)
The barrel-bellied former TNA world champ's entrance was one of the first unveiled for WWE 2K20, and confirmed a ring announcer switch this year. Rather than WWE 2K19 mic queen Jojo, we're getting the dulcet – and very popular – tones of Greg Hamilton. The community has declared that to be an upgrade.
Seth Rollins (confirmed)
WWE's most reliable of current-era ring generals has had a mostly positive year, grabbing the Universal Championship from Brock Lesnar in a huge shock at WrestleMania, and fending off interminable dullard Baron Corbin in a feud which lasted two months too long. Let's not be revisiting that rivalry in WWE 2K20.
Shane McMahon (rumoured)
While numerous wrestlers on this list struggle to earn TV time, the chairman's son is a fixture on Raw and Smackdown based upon his surname alone. We've no issue with Shane's videogame inclusion, if only as a means of keeping him offscreen for a few months via Universe mode.
Shawn Michaels & Triple H (both confirmed)
Always automatic selections for any 2K roster, for once DX count as an active tag-team - although they've only had one match in the past 12 months. That came on November's controversial Crown Jewel show in Saudi Arabia, where Michaels came out of retirement to help Triple H see off Kane and The Undertaker.
Sting (confirmed)
We've come a long way since Sting was one of the major players in the dreadful TNA Impact videogame alongside AJ Styles, Kurt Angle and Samoa Joe. Retired from in-ring competition since a 2015 match with Seth Rollins, this will nonetheless mark his sixth consecutive 2K roster appearance.
Steve Austin (confirmed)
Like John Cena, the man known as Stone Cold should still be going strong when WWE 2K35 rolls around – so long as past flare-ups, such as the 2002 incident where Austin quit without warning, don't re-emerge. Long retired, for now the Rattlesnake seems highly content with his current-day ambassadorial role.
Tommaso Ciampa (rumoured)
Ciampa's omission from WWE 2K19 was even more shocking than third-brand comrade Nikki Cross: he was the reigning NXT Champion when its roster was announced, turning what should have been a landmark event into an almighty PR gaffe. There's a danger he misses out this year too having recently vacated that title after suffering a serious neck injury. Good luck to both WWE and 2K Sports if they decide to go down that route.
Torrie Wilson (rumoured)
Since 2013 WWE has inducted a former female wrestler into its Hall of Fame every spring – and all six (Trish Stratus, Lita, Alundra Blayze, Jacqueline, Beth Phoenix, and Ivory) are now regulars in the video game series as a result. Wilson, who'll be inducted ahead of WrestleMania 35, is sure to follow suit, with various Royal Rumble and Raw appearances over the last 15 months providing ample chance for her facial likeness to be scanned.
Trent Seven (rumoured)
December 2016 saw WWE unleash its long-rumoured NXT UK division, and a trio of its superstars already appear in 2K19: Tyler Bate, Noam Dar, and champion Pete Dunne. Expect that list to expand now the brand offers a regular TV show, beginning with Bate's 'Moustache Mountain' tag-team partner Seven. Mark Andrews, Wolfgang, Walter and sparky female rivals Rhea Ripley and Toni Storm are also likely to be in contention.
Velveteen Dream (confirmed)
The WWE 2K20 trailer released in August featured a collection of established and/or legendary stars of the squared circle, with one exception: NXT upstart Velveteen Dream. Styled on rock star Prince by way of some grap favourites from the '90s, his spot in the video was much deserved, and he'll go stratospheric in 2020.