Goldberg (confirmed)
After returning to WWE games as a pre-order bonus for 2K17, the three-time heavyweight champ has established himself as an annual roster certainty. He's still hugely popular in real life too, as demonstrated by the reaction to his demolition job win over Dolph Ziggler at Summerslam.
Hulk Hogan (confirmed)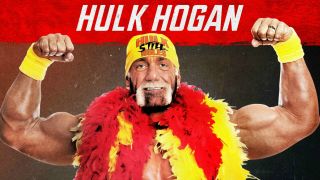 Justifiably dumped by WWE in 2015 following an ugly racism row, Hogan's many apologies finally saw the company offer him an olive branch in 2018. He took on a hosting gig for the controversial Crown Jewel event in Saudi Arabia, and appeared on Raw soon after to pay tribute to legendary announcer and close friend Mean Gene Okerlund. He's back this year as part of the Deluxe and Collector's Editions.
Jeff Jarrett (rumoured)
'Double J' was a surprise omission from the WWE 2K19 roster – entrants into the WWE Hall of Fame usually make the videogame immediately following their induction, and we fully expected him to feature in GR's WWE 2K19 DLC guide. Yet the six-time Intercontinental Champion wasn't afforded such privileges. That should change this year, following his Royal Rumble appearance and brief feud with fellow guitar strummer Elias.
Jim Neidhart (rumoured) & Natalya (confirmed)
The senior pro of the women's division alongside Mickie James, Natalya's status as a solid hand earned her a title match with Becky Lynch at Summerslam – though it was no surprise to see the dominant WWE 2K20 cover star retain. Father Jim, a Hart Foundation favourite, sadly passed away in August 2018.
Jinder Mahal (rumoured)
Mocked by some as the worst WWE Champion of all time, the onscreen Punjabi (who's actually, uh, Canadian) had the last laugh by signing a new five-year WWE deal this summer. Currently on the shelf with a ruptured patella tendon, he'll nonetheless be fighting fit in the digital sense.
John Cena (confirmed)
WWE's perennial boo boy for nearly two decades, absence really has made hearts grow fonder in Cena's case. His sporadic appearances, such as a summer rap battle with The Usos, now meet with near-universal acclaim from fans both in arenas and at home. Big-match John's 2K roster spot is assured for life.
Johnny Gargano (confirmed)
Long adored by the rowdy hometown crowd at NXT's Full Sail University, it feels like only a matter of time until Johnny Wrestling receives a main roster call-up – although I wrote similar 12 months ago, to no avail. Whatever his short-term future, Gargano is locked in for another year's worth of title bouts in the virtual ring.
Kane & Undertaker (both confirmed)
The sight of Kane's mask in the very first WWE 2K20 teaser trailer confirmed the Big Red Machine's roster spot – and there was never a chance of onscreen brother The Undertaker missing out. Kane's been away from the ring for much of 2019 as he (AKA Glenn Jacobs) is now mayor of Knox County, Tennessee.
Kevin Owens (confirmed)
KO has flip-flopped from face to heel to face again this year after returning from a lengthy lay-off, but now seems well set as a 'good guy' following a summer tussling with Shane McMahon, and being given Steve Austin's stunner – the face move of all face moves! – as a finisher.
Kurt Angle (confirmed)
Along with Edge and Rey Mysterio, four-time WWE Champion and Olympic gold medalist Angle was confirmed by his involvement in the WWE 2K20 collector's edition: it comes with a commemorative plaque signed by one of that top-tier trio. Angle had his final WWE match, a loss to Baron Corbin, at WrestleMania 35.
Lacey Evans (rumoured)
Evans, a former marine, endured an inauspicious start on the main roster, regularly paraded around like '90s-style eye candy. Not good. Thankfully, her character's evolved to hold its own on Raw through matches with champion Becky Lynch, and she merits her spot in this year's game.
Mandy Rose (confirmed) & Sonya Deville (rumoured)
Two versions of Smackdown's most brazen blonde, Mandy Rose, appear in WWE 2K20: her standard persona on disc, plus an alternate 'Survivor' gimmick as DLC. No such luxury for long-time partner Deville, who can at least find consolation in a second consecutive 2K series appearance.