Regardless of the series' highs and lows, final confirmation of the full WWE 2K20 roster remains a key event on the wrestling calendar. Its exact make-up won't be official until shortly before the WWE 2K20 release date – publisher 2K likes to drip feed names rather than announce them all in one go – but with the game's announcement surely imminent, we can now start piecing together who'll feature.
Below you'll find profiles of all announced wrestlers on the WWE 2K20 roster, as well as some we're hoping to see added for the first time. 'Confirmed' means a wrestler is definitely on the disc, 'rumoured' means they're likely to be included even if 2K hasn't announced them yet, and 'wanted' covers outsiders who'd be a perfect fit but may not make the cut. Enough talk. Let's get to the fisticuffs.
Want to download the creations pictured here? Then check out GR's guide to WWE 2K19 CAWs.
AJ Styles & Karl Anderson & Luke Gallows (rumoured)
Styles appeared on the cover of WWE 2K19, and remains one of the company's hottest acts following a summer heel turn and realignment with old buddies Gallows and Anderson. That unification should see the latter pair stay in WWE despite rumours of their departure, and ensure all three make WWE 2K20.
Adam Cole, Bobby Fish, Kyle O'Reilly & Roderick Strong (rumoured)
MVPs of the NXT brand for the past 12 months, The Undisputed Era were rewarded for their efforts in April when leader Adam Cole ensnared the NXT Championship – while O'Reilly and Fish remain perennial tag contenders and/or champs. Expect a main roster call-up after WrestleMania 36.
Angelo Dawkins & Montez Ford (rumoured)
When Paul Heyman took over the week-to-week running of Raw in July his first act was to give NXT tag champions Street Profits exposure on the main roster. They didn't disappoint, bringing energy and laughs to backstage skits with interview Charly Caruso. They've more than earned their spots here.
Baron Corbin (rumoured)
A nagging 2K weakness is its inability to keep up with current happenings like other sports sims. Corbin changed his look in summer 2018 to match his 'Constable' character - lapelled shirts, a shaven head - yet it'll amount to fifteen months before we can finally utilise it in game. Better late than never, I guess.
Bayley & Sasha Banks (rumoured)
It's been a mixed few months for the first-ever Women's Tag Champs since being dethroned by the Iiconics. Bayley captured the Smackdown Women's title, but Banks went AWOL - although summer rumours reckoned she was working with 2K on the new game. Both are roster certs irrespective of real-life fortunes.
Becky Lynch (rumoured)
The lady nicknamed The Man (really) made wrestling history in April, emerging victorious from the first women's match to main event WrestleMania. Lynch, AKA Rebecca Knox, has been on first-name terms with GamesRadar since a 2016 interview in which she revealed her love for Ryu from Street Fighter.
The Brian Kendrick (rumoured)
Effectively the third member of WWE 2K19's unholy trinity: like Nikki Cross and Tommaso Ciampa, Kendrick was puzzlingly left off last year's roster despite being under contract and the senior pro of its 205 Live division. He should make this way back in this year, and with numbers on the cruiserweight show thinning out you'd hope Visual Concepts finds a way to include recent debutant Humberto Carrillo too.
Brock Lesnar (rumoured)
These days the former NCAA, IWGP, WWE and UFC champ wrestles only when he wants to, making Lesnar's week-to-week WWE status unpredictable – but there'll be no such uncertainty regarding his spot in the company's official videogame. Expect ringside associate Paul Heyman to return as an NPC too.
Buddy Murphy (rumoured)
Murphy's 2K19 absence looked a foolish decision when he captured 205 Live's cruiserweight championship in October 2018. After holding the belt for six months going into WrestleMania 35, there's no chance lightning misses twice. He's appeared in the series before, alongside NXT tag-team partner Wesley Blake in WWE 2K16 and 2K17.
Dana Brooke (rumoured)
Long considered on the roster bubble, Brooke has put in some surprisingly fiery performances on Main Event this year – and even cut a believable promo on Ronda Rousey ahead of WrestleMania, in the process ensuring another year in both real and virtual WWE.
Hulk Hogan (rumoured)
Justifiably dumped by WWE in 2015 following an ugly racism row, Hogan's many apologies finally saw the company offer him an olive branch in 2018. He took on a hosting gig for the controversial Crown Jewel event in Saudi Arabia, and appeared on Raw soon after to pay tribute to legendary announcer and close friend Mean Gene Okerlund. A WWE 2K20 roster appearance would trigger a mixed reaction, but the game reflects recent WWE TV, and in that sense, he should be in.
Jeff Jarrett (rumoured)
'Double J' was a surprise omission from the WWE 2K19 roster – entrants into the WWE Hall of Fame usually make the videogame immediately following their induction, and we fully expected him to feature in GR's WWE 2K19 DLC guide. Yet the six-time Intercontinental Champion wasn't afforded such privileges. That should change this year, following his Royal Rumble appearance and brief feud with fellow guitar strummer Elias.
Jinder Mahal (rumoured)
Mocked by some as the worst WWE Champion of all time, the onscreen Punjabi (who's actually, uh, Canadian) had the last laugh by signing a new five-year WWE deal this summer. Currently on the shelf with a ruptured patella tendon, he'll nonetheless be fighting fit in the digital sense.
Lacey Evans (rumoured)
Evans, a former marine, endured an inauspicious start on the main roster, regularly paraded around like '90s-style eye candy. Not good. Thankfully, her character's evolved to hold its own on Raw through matches with champion Becky Lynch, and she merits her spot in this year's game.
Mojo Rawley (rumoured)
Despite being a bit-part player on Raw, the threat of upstart rival AEW saw WWE tie Rawley down to a five-year deal over the summer. Newsletters suggest his friendship with Rob Gronkowski also played a role – WWE would love to add the three-time NFL champion to its roster.
Nikki Cross (rumoured)
Wrestling's gaming community was left up in arms last summer when three names under contract were omitted from last year's roster despite appearing in its predecessor. That understandable backlash should protect Cross (and fellow 2K19 rejects Tommaso Ciampa and Brian Kendrick, who I'll get to shortly) from a similar fate in 2K20. The firebrand Scot graduated from NXT in the summer, and can currently be seen on both Raw and Smackdown.
Paige (rumoured)
Norwich's most famous wrestler retired from injury in 2018, but nonetheless remains highly regarded by WWE - to the point of having Stephen Merchant film Fighting With My Family based on her life. So she's guaranteed to be back in 2K20's virtual rings despite being absent from real ones.
Roman Reigns & Seth Rollins (rumoured)
The last men standing from The Shield were always WWE 2K20 roster certs: Reigns successfully overcame leukemia (played, that man) while Rollins spent the spring as WWE Champion. Alas, former buddy Dean Ambrose left WWE for rival AEW and will certainly not appear.
Ronda Rousey (rumoured)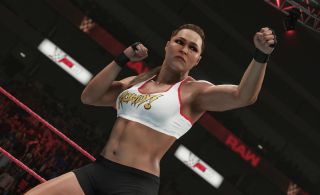 Last year's pre-order DLC offering took a hiatus from WWE following WrestleMania 35 in order to start a family, but that won't affect her status as a key player on-disc this year. Rousey's contract runs through April 2021 so expect a significant role at next year's Mania.
Shane McMahon (rumoured)
While numerous wrestlers on this list struggle to earn TV time, the chairman's son is a fixture on Raw and Smackdown based upon his surname alone. We've no issue with Shane's videogame inclusion, if only as a means of keeping him offscreen for a few months via Universe mode.
Tommaso Ciampa (rumoured)
Ciampa's omission from WWE 2K19 was even more shocking than third-brand comrade Nikki Cross: he was the reigning NXT Champion when its roster was announced, turning what should have been a landmark event into an almighty PR gaffe. There's a danger he misses out this year too having recently vacated that title after suffering a serious neck injury. Good luck to both WWE and 2K Sports if they decide to go down that route.
Torrie Wilson (rumoured)
Since 2013 WWE has inducted a former female wrestler into its Hall of Fame every spring – and all six (Trish Stratus, Lita, Alundra Blayze, Jacqueline, Beth Phoenix, and Ivory) are now regulars in the video game series as a result. Wilson, who'll be inducted ahead of WrestleMania 35, is sure to follow suit, with various Royal Rumble and Raw appearances over the last 15 months providing ample chance for her facial likeness to be scanned.
Trent Seven (rumoured)
December 2016 saw WWE unleash its long-rumoured NXT UK division, and a trio of its superstars already appear in 2K19: Tyler Bate, Noam Dar, and champion Pete Dunne. Expect that list to expand now the brand offers a regular TV show, beginning with Bate's 'Moustache Mountain' tag-team partner Seven. Mark Andrews, Wolfgang, Walter and sparky female rivals Rhea Ripley and Toni Storm are also likely to be in contention.
Jessaymn Duke & Marina Shafir (wanted)
Longstanding Raw watchers know WWE's 'Four Horsewomen' crew as Charlotte, Becky Lynch, Sasha Banks and Bayley – but there's an MMA quartet who call themselves by the same moniker, all of whom are now contracted to WWE. Ronda Rousey and Shayna Baszler have already claimed gold on Raw and NXT respectively, and stablemates Duke and Shafir look set for a similarly dominant future. Expect all four on the WWE 2K20 roster.
Matt Riddle (wanted)
Much like Rousey and Baszler, hardcore MMA fans are well aware of Matt Riddle – he competed in legitimate fights from 2008 to 2014, appearing on reality show The Ultimate Fighter 7 and scoring seven wins in UFC. After switching to wrestling he built a reputation for incredible matches on the independent circuit before singing for WWE in July 2018, debuting on NXT the next month. Expect championship glory this year, then a Raw call-up in 2020.
Io Shirai (wanted)
After making a name for herself in Japan's Stardom federation, Sharai switched to WWE in June 2018 – appearing at a show in the famous Ryogoku Kokugikan to announce her arrival. She became an instant favourite on NXT in the aftermath, allying with country-mate Kairi Sane to feud with the trio of Bazsler, Duke and Shafir. As a result, a videogame appearance and main roster call-up both feel imminent.
Keith Lee (wanted)
Weighing a colossal 320lbs, Lee is something of a throwback to titans of the '80s and '90s - though you'd never catch Earthquake or Typhoon doing a topa suicida. The big guy had success in Evolve and Pro Wrestling Guerrilla prior to signing with WWE in 2018, where he's slowly worked his way up the NXT rankings. He's the biggest outsider on this list but 2K always throws in a surprise name or two, and Lee would fit that bill to an XXXXL tee.
WWE 2K20 is expected to be released in October 2019. Still playing last year's? Then you need to check out five must-play moments in the WWE 2K19 career mode.