We've been blessed by the number of great PS5 SSD deals that have flooded the market in recent weeks. This continued period of low SSD prices is a blessing for anyone looking to upgrade to their PS5 or gaming PC, and we're nothing but thankful as the best PS5 SSDs on the market continue to be at their lowest-ever prices.
Amazon has been one of the retailers leading the charge, today offering a WD Black 1TB SN770 SSD for $59.99 – the lowest ever price for this particular model. This represents a reduction of approximately 54%, equating to a saving of $70 from the typical MSPR of $129.99. It's also just generally cheap considering 1TB SSDs range from $80 to $120 depending on the brand, with WD Black being one of our favorite manufacturers.
Just check out our guide on the best PS5 SSDs in 2023 and you will find WD Black's name throughout. A similar deal is also available at Best Buy for $61.99, which equals a saving of $68. Either way, it's a great time to upgrade your PS5 storage at a low cost.
Today's best PS5 SSD deal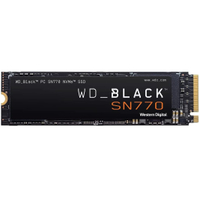 WD Black 1TB SN770 SSD | $129.99 $59.99 at Amazon
Save $70 - A big 54% discount has been applied to this WD Black SSD, making it ideal for anyone looking to upgrade their PS5 storage. It's also the cheapest price it's ever been at the retailer.

More of today's best PS5 SSD deals
One common question that comes with purchasing a PS5 SSD is how many games can you fit on a 1TB SSD? Naturally, this varies with PS5 game storage sizes ranging from Olli Olli World at a mere 1.343GB to Call of Duty Black Ops Cold War at a ginormous 283GB. Usually, though, if you are playing AAA blockbusters, we'd expect anywhere from 10 to 15 games to fill up a 1TB SSD. Again, this differs depending on the many different factors surrounding what titles you play.
Unsure how to install an SSD? Here's our handy guide on how to install an M.2 SSD into a PS5 so you can get it done in time. Additionally, we've rounded up all the latest PS5 prices and bundles alongside the latest best cheap PS5 game sales, so you can put all that extra storage to maximum use.