15. Journey of the Gods
Realism can be compelling when you're able to immerse yourself into a game, but there's a certain charm that comes from setting foot on unknown landscapes with a quirky and delicately crafted aesthetic. Journey of the Gods is that and way more, as it invites you into a VR adventure where you slice enemies with your sword and shoot at them at a distance with your bow.
But these are all distinct, often frightening creatures that respond to you in their own way, making each encounter count. It might not be a full-on RPG experience, but it trades a long campaign and dozens of grind hours for a polished adventure through ancient lands, as you fight your way through not only as the savior of the story but also as a god, drastically changing how the gameplay works.
14. Keep Talking and Nobody Explodes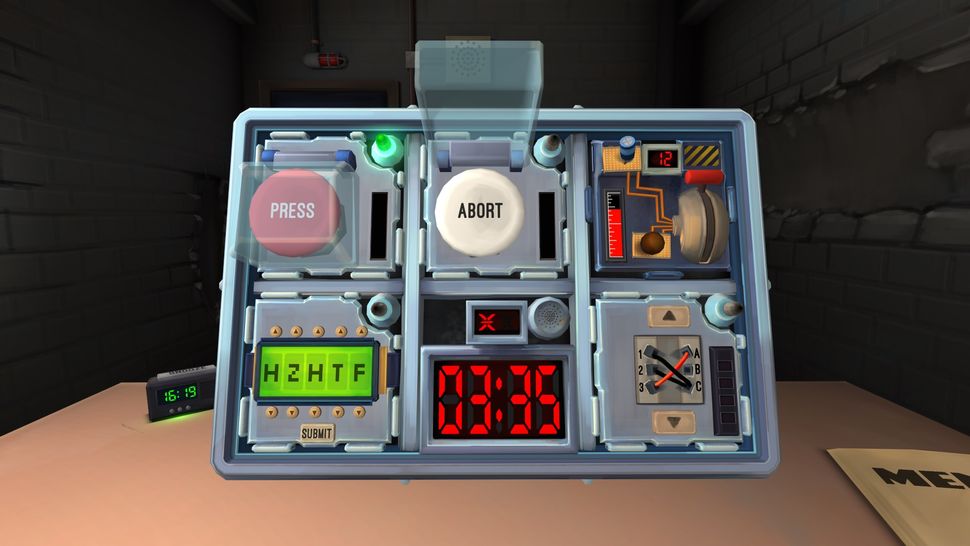 Defusing bombs in Counter-Strike is nothing compared to the ones in Keep Talking and Nobody Explodes. You're in charge of dissecting a ticking explosive under a limited time counter, as another person on the other end reads a handbook of instructions to disable it before it's too late. It might sound easy, but the trick is that you never know which types of puzzles you're going to get, which adds not only extra time but the pressure on all players as you try and figure out whether the instructions are correct, and if the description you've given matches the corresponding guide.
In VR, things only get more interesting. Fiddling with the bomb in real-time with your hands as you try and follow directions is a thrilling and exhilarating experience, and considering that the handbook can be downloaded for free as a PDF, this means that any of your friends can join you at all times.
13. Falcon Age
People have been asking time and time again whether you can pet the dog, but what about having a falcon companion with you and seeing it grow not only older, but closer to you? Falcon Age seeks to answer this question in a first-person action-adventure where protagonist Ara sets a path to help resist the colonizers that have invaded her home and stripped away its culture.
A headset is not necessary to experience this game, but it takes on a whole different level if you choose to do so. You can choose a name for your falcon and then pet, teach, feed, and dress it up. Some snacks will buff or strengthen your companion, but there are also other activities and actions to take part in, such as high fiving and fist-bumping. In addition, there's a so-called Imprint Mode in case you want a story mode with optional combat, and just enjoy watching the characters' bond grow.
12. Pinball FX2 VR
When it comes to arcade machines, there's something about the discovery and mastering of a pinball table that remains unmatched to this day. Of course, it's a bit hard to get your hands on it during quarantine, but Pinball FX2 VR offers an interesting alternative.
FX2 combines the thrill and the rules of classic pinball with each table's behavior and quirks, all in VR. Not only are the tables are brought to life in your headset, but also the environments around them, which is what makes this version so distinct. Trying to beat your high scores whilst a shark swims around the table is a moment you shouldn't miss.
11. Fit XR
If you have been looking for an experience akin to Nintendo's Fitness Boxing, or just happened to already have had your share of Beat Saber's workouts, Fit XR might be the game for you. It's all about moving your body and following certain movement patterns, sure, but also an interesting alternative to all those routine videos on YouTube.
There are several classes you can take that are focused on boxing and dance workouts, all as you enjoy soothing and motivating songs in the background. Once you're done, you can see the metrics of your performance in real-time, and plan accordingly for the upcoming sessions. Fit XR might be the definitive experience for those looking to do some exercise at home but just can't find the motivation to do so, or those who just miss having classes in-person.
10. Five Nights at Freddy's: Help Wanted
Five Nights at Freddy's: Help Wanted is both a brand new experience and also a collection of memorable mini-games from past entries, as well as scenes that have been updated and remade to match the virtual reality setting.
There are plenty of VR horror games out there, but none of them can quite match the atmosphere and eerie aesthetic of Freddy's. Multitasking is key, as you check on cameras whilst keeping one eye on the door, but your activities can be interrupted at any moment with a big animatronic creature jumping out. This experience isn't quite for those faint of heart, but if you manage to endure it, you'll find yourself not wanting to leave this world - despite how dreadful and haunting it can be.
9. The Walking Dead: Saints and Sinners
You might have a bit of zombie fatigue after so many seasons of The Walking Dead, but we promise this is a zombie apocalypse that is worth experiencing. Instead of following the tradition of letting you stay in place and shoot waves of enemies around you, The Walking Dead: Saints and Sinners offers free movement around an infested New Orleans. Not only do you have to grab scraps from the environment to survive and craft weapons and items, but also face consequences in terms of story, as you make decisions around characters' fates in dramatic moments.
It has a bit of a ZombiU feel to it, where you're not exactly a stomping force that can pass through obstacles and hordes with ease, but rather a haunted survivor that is just trying to see another day. If you're into the idea of dealing with gun jamming, zombies that react to noise and can break doors, and a compelling storyline that rewards you with secrets and easter eggs if you take alternate routes, then Saints and Sinners is for you.
8. Pistol Whip
The next John Wick film is still a way off, but that doesn't mean you can't relive some of the stunts and movements of Keanu Reeves by yourself. Pistol Whip is a fast-paced first-person shooter where you take down dozens of enemies with precision and style. But to add a twist to it, the game is more akin to Beat Saber than Superhot, as everything you do is tied to the rhythm of the soundtrack.
Moving and shooting to the beat just hits differently, and the environments help to support the action, presenting scenarios like an android uprising or a bank heist, between others. On top of this, mechanics such as dual-wielding pistols can make you feel like Neo from the Matrix in an instant, but the special touches in the game make them feel unique at all times.
7. The Climb
Crytek is a studio better known for the Crysis series or Hunt: Showdown, but it also made the Cryengine. This engine has powered all of these games and always sought to surpass itself with each new entry, which is why the prospect of seeing it come to life in VR is so appealing.
The Climb introduces you into the world of free solo climbing, leading you to captivating landscapes as you literally climb your way through them, finding shortcuts, moving through caves, and much more. There are also different game modes, like multiplayer where you race other players' ghosts and climb the leaderboards whilst earning achievements, dangerous routes that demand precisión, and a tourist mode with simplified mechanics in case you just want to learn the ropes or enjoy the scenery in a chill way.
6. Echo VR
Did anyone say online competitive sports in VR? Echo VR is a free multiplayer game where people take part in intricate matches in zero gravity with a simple objective: take a frisbee from one point to the other. Of course, this isn't an easy task at all, considering all the obstacles you need to dodge on your way to the opposite team's base, as you try to avoid upcoming punches that can incapacitate you and lose the goal, all the time watching the strategies of other players.
This is one of those experiences that is worth downloading right away on your Oculus Quest to witness the power of the headset, but know that it has the potential to become a go-to for your Friday nights. Scoring a goal and then giving one of your teammates a thumbs-up as you both float in the air is just one of the many wonders in Echo VR.
5. Moss
It makes sense for many of the VR experiences to be in first person - after all, you're putting a headset on your heads - but a couple of games, such as Moss, ignore this with astounding results. In this whimsical adventure, you're in control of a mouse called Quill, moving her around, solving puzzles and engaging in combat against dangers across forests and caves. But the twist here comes with the camera angle, which is sort of top-down, but the movement is all handled by where you're looking.
Taking the part of a sort of godly pointer in this world, Moss often feels like opening a living book and going through page after page, leading the protagonist through its pages as a guide. The most interesting part is in the ways the game takes advantage of this indirect playfulness - the mouse is always aware of your presence, and that makes for some of the most touching and sweet moments of an experience you shouldn't miss.
4. Rez Infinite
Before Tetris Effect, the genius of Enhance had been busy showcasing their skills and talent with Rez on the PS2. This game took you on the task of flying around digital landscapes and shooting all obstacles in sight while a soothing, sometimes intense soundtrack joined for the ride. It was a pulpy experience that knew how to leave a mark with its originality and bold art direction, and Rez Infinite brings all of this to the modern era.
You can choose to play it without it, but if you do own a VR headset then make sure to give this a try. As much as the dolphins in Tetris Effect are enchanting to look at, seeing them in VR makes for a more intimate encounter, and there's a similar feeling in Rez Infinite, swimming through the pixels and the low poly enemies to lose yourself in these unique spaces.
3. Thumper
The developers of Thumper have categorized it as "rhythmic violence", and there's a good reason for that. On paper, this seems like yet another rhythm game, following the likes of Amplitude or Audiosurf as you travel at high speed and collect certain items along the way as the music follows rampant. But Thumper is different. It uses intensity and physics in a completely different way, making you feel each hit and turn as harrowing impacts.
As you progress through normal levels you can get away with not being a hundred percent precise. Bosses are a different beast altogether. In order to attack them, you'll have to learn their patterns and repeat them over and over until you follow them perfectly. Despite how daunting it sounds, Thumper has a way of pulling you back, and experiencing this in VR turns it into a fun, but living nightmare, as you fight your way through obstacles to finally wake up from it.
2. Superhot VR
1. Beat Saber
It's been years since Beat Saber appeared as one of the headliners for VR with a simple, yet perfectly executed idea: stand on the ground with your arms in the air, grab two lightsabers, and start smashing all upcoming blocks as you follow the rhythm of dozens of original and licensed tracks. What's not to love?
Aside from the workout you can get out of this, it's one of the most interesting rhythm games out there, and it never ceased to evolve. You can now obtain packs for Linkin Park, Imagine Dragons, Panic! at the Disco, Green Day, BTS, and more. We can only imagine how far it will go, but with a formula that works so well, it's only a matter of getting into the game, start looking for those high scores and enjoy your favorite music in an immersive setting like no other.
Want more VR? Here are best VR games you can play right now.