Buying the best gaming PC for you, pre-made, preoptimized, covered by a nice warranty and with all the cable management and fitting done is an incredibly exciting way into PC gaming, or to upgrade your machine. What could be better than to pick out a (sometimes) custom made, just-for-you machine knowing it's unique to what you desire? Plus, you'll still get the much-coveted option to tinker and upgrade down the line - you're only removing that first build step, which, while it can be very satisfying, might not be right for everyone at the very beginning of a new gaming PC purchase.
However. You will need to come prepared with a secure idea of your needs, desires, and wants in order to address a few important factors. If you're after an absolute beast of a machine to drive the resolution of one of the best gaming monitors, then your expectations are going to be wildly different compared to someone who is eyeing up a lower-end, budget pre-built machine that will be ideal for good gaming, and for taking to college or university, but that won't break the bank. Either way, and of course, you always should aim high, and you always want to aim to get the most bang for your buck. So, you're in the right place.
The price of pre-built gaming PCs is, thankfully, getting closer to that of DIYs, and given the rising level of competition, the quality and value for money is increasing everywhere too. And the advantages of getting one of the best gaming PCs pre-built for you are clear, at first: it saves you the headaches (potentially) and labor (definitely) of the build; and you'll pick up a retailer or manufacturer warranty by default. And you might even get some benefits of their design solutions that the DIY route might not provide, like unique cooling solutions, cable management, or parts that aren't available anywhere else. Plus, simply put, and on top of all of those, you are allowed to not want to build one yourself, despite what some may say about it being the only 'true' way to enjoy PC gaming. This is not the case, buy a pre-built if you fancy taking a slightly simpler route into PC gaming. And if you do - you're on this page after all - don't forget to check out the best antivirus software going to make sure you're brand new gaming powerhouse is well protected.
The attraction is fair and clear, but how do you go about picking out the best gaming PC? Well, you'll want to distill your thinking -as much as is possible down to the factors of budget and use. You'll have more success being a bit flexible with your budget and if you know it's going to be a gaming-focused machine (primarily) then you'll be able to prioritize certain components more.
While you'll find more info below on our favorite models, here some links directly to some retailers' gaming PC pages: Dell | Amazon
Alternatively, if you'd like to check out the portable options, we've compared the finest models over on our guide to the best gaming laptops.
The best gaming PC for high end performance in understated aesthetics
CPU: Intel Core i5-8400 to Core i9-9900 | GPU: Nvidia GeForce GTX 1060 to RTX 2080 | RAM: 8GB to 32GB DDR4-2666 | Storage: Up to 1TB NVMe SSD + 3TB HDD
Trim, sleek machine that cuts frills to save money
Performance powerhouse
None of HP's hot swappable storage bays
When it comes to pre-built PCs you need to find a reputable brand that will fill your new gaming rig with the best parts, in the best configurations. For us, HP's Omen range are the best gaming PCs, not because they offer incredible power, or because they're the cheapest, but because they balance everything you need from a gaming PC. Let's start with the chassis - the Obelisk is a mid-tower case, with a lovely glass panel on the side for displaying all your innards. It has tasteful lighting inside, but nothing too excessive. There is sufficient cooling for even the highest end builds, and the case isn't too massive either. It's a nice balance.
Inside, we recommend the spec with the 2080 graphics card, if you want to keep this gaming PC for the long-term. The top end of Nvidia's new Turing cards all handle ray tracing, which is very much the future of visuals in games, and while the 2080 is super expensive (probably about 40% of the cost of this whole PC), they will last. The supporting specs perfectly compliment the card - an i7-8700 6 core CPU, 16GB of 2666 RAM, and a dual storage solution with a 256GB SSD and a 2TB HDD. Ok, in a perfect world, you'd have a 500GB SSD, but this is still more than enough to make Windows booting quick and easy.
There's tool-less access to the case, so you can dive in there and swap out parts if you feel like some quicker RAM or a bigger SSD. In all, it's an impressive machine, and one that's flexible enough for easy upgrades if you need. There are few frills - custom RGB lighting aside - which is why the price is so reasonable, for a 2080 build. Thoroughly recommended.
2. Corsair One i164 | 2080 Ti spec
The best small-form gaming PC, with incredible power
CPU: i9-9900K | Graphics: RTX 2080Ti 11GB | RAM: 32GB DDR4 | Storage: 2TB HDD + 960GB SSD
Super powerful 2080 Ti GPU
Lovely, compact design
Runs almost silent
You're going to need a bigger bank balance
No way for users to upgrade without going through Corsair
If money is no object, then the Corsair One series is our pick of all gaming PCs. While the i140 is more than capable of handling games at 4K, we prefer the i160 variants for sheer power and gaming prowess. What's truly remarkable about the Corsair One PC line is that they pack in such power components into such a small, custom-built case, and still allow everything to run quiet and cool. The case itself has holes on each side, and fans under the unit to allow adequate airflow, along with several other cooling systems inside. As a result, the machine is whisper quiet and small enough to fit into a typical living room set-up without hogging too much space.
Inside, everything is thoughtfully built. There's a quick i9-9900K CPU, meaning the One is perfect for multitasking, so can handle video editing and art tools extremely well, along with gaming. The 2080 Ti GPU inside is top of the range, and will smash any game at 4K, while the 32GB of RAM keeps the whole system held together rather nicely. There's a big enough SSD / HDD combo (960GB SSD / 2TB HDD) to ensure you have plenty of storage for games, although, again we'd expect a slightly larger SSD for the money. You can swap components into the One, but that will invalidate the warranty, so you'd need to be confident about doing so. It's easy enough to do.
As small form-factor gaming PCs go, this is a monster, and thoroughly recommended for gaming. If you want to shave a few £s off your budget, the i140 is a great performer too, but given that you'd expect this PC to last you for years, we'd definitely pick the slightly higher-spec machine.
Image 1 of 4
Image 2 of 4
Image 3 of 4
Image 4 of 4
3. CyberpowerPC Wyvern
A carefully balanced and considered, but very capable, build
CPU: Intel i5-9400H / AMD Ryzen 5 | Graphics: AMD RX 570 or 580 - Nvidia GTX 1650 - RTX 2060 | RAM: 8-16GB DDR4 | Storage: up to 240GB SSD + 1TB HDD
Excellently balance build
Great combination of components
Very good value
Limited configuration choices
CybperpowerPC's machines often demonstrate how you can squeeze excellent performance and value if you apply some consideration and deliberation to a build; and the Wyvern is no exception.
Sticking to its guns of offering a solid mid-range graphics cards (either an RX 570/580 or 1650/1660/2060 Nvidia card) machine with a mid-range CPU - a Ryzen 5 or an I5-9400F are your options - these machines are great options for those needing to keep it comfortably below the four-figure mark but want something that'll crunch through any games thrown at a home machine - though perhaps not at the most extreme levels or settings. Sticking to a certain couple of CPU and storage options might seem like an overt limitation on configuration options, but it's actually a very smart way to ensure the cost stays down but the value remains incredibly solid. And given the nature of the CPU, we'd almost certainly recommend going for the extra RAM to get to the 16GB as you might as well make up for the compromises where possible.
If you're looking for a very competent and capable machine that offers a great value entry point to ray-tracing, then this is it. Plus, you'll be able to tinker with it in time, if the CPU, for example, raises a slight eyebrow now. Plus, 'Wyvern' is a very cool name isn't it.
Image 1 of 2
Image 2 of 2
4. Alienware Aurora PC
The best premium gaming-focused PC
CPU: up to Intel i9-9900K / AMD Ryzen 9 3950X | Graphics: up to Nvidia RTX 2080 Ti or AMD Radeon VII | RAM: up to 64GB DDR4 | Storage: up to 4TB (SSD/HDD)
Excellent configuration options
Premium, high-end components and gear
Cool, new design
Great performance
A bit expensive
No motherboard or PSU customisation or choices
There's something about Alienware PCs that ooze quality in design, and strength in performance. Mainly because the reality is that both are true. But that all comes at a premium and an extra cost some see as too much, even for a pre-built which has its own immediate premium. However, if you find a good deal or want to save up for something from Dell's gaming folk at Alienware, the Aurora PCs are truly superb. They have had a recent redesign too, which has given them a very cool and contemporary aesthetic to go over the powerful and premium components you'll find inside. The design may make further tinkering down the line a little more tricky than others but its certainly not impossible so you will retain that flexibility and potential to further customise and change your machine.
The gaming behemoth will have you covered whatever you're looking for in terms of headline specs. The Intel processors go all the way up to the i9-9900Ks, and you can go for the bordering-on-ridiculous 2080 Ti graphics card too. Team that with up to 64GB of RAM and a whole host of storage solutions from small SDDs only to massive SSDs and massive HDDS together, and you have the bones of some seriously premium machines. And with AMD builds available too now at the Dell and Alienware store, the spread is wider than ever and the choices greater than ever. Odds on you'll find something that you're very keen on. We really like the Alienware Aurora PCs and think that if you can stretch the budget, or grab a deal, that these PCs will serve you incredibly well.
Best gaming keyboard | Best gaming mouse | Best gaming chair | Best graphics card | Best gaming monitor
Image 1 of 5
Image 2 of 5
Image 3 of 5
Image 4 of 5
Image 5 of 5
5. CyberpowerPC Luxe
A great gaming PC for power gamers
CPU: Intel Core i7-9700KF / i9-9900KF | GPU: Nvidia RTX 2070 Super / 2080 Super / 2080Ti | RAM: 32GB DDR4-2400 | Storage: 1TB NVMe SSD + 2TB HDD
Brilliant performance
Sheer power in a PC
Slick, understated case design
Bit expensive
Not the most recent CPUs
CyberPower's Luxe gaming PC finds the upper-middle ground and nails it for power to pound ratio. This is a PC built just for power and sheer gaming chops - and all its iterations offer exactly that. Even though it doesn't have the latest 10th gen Intel processors, it's hardly a weak point and it's nitpicking at best. The two processors it offers are basically just 'underneath' those latest variants and the graphics cards to choose from are three of the very best. Getting a machine like this built by seasoned pros and with a warranty is a mighty tempting proposition.
There are only a handful of choices to make - two processors to choose from, and three graphics cards - but that's nice as it doesn't complicate things and you'll still be picking a slight difference in power anyway. Whichever one you go for will have you munching through the latest games as easy as pie. Even the 'lowest' power of the builds - the i7-9700KF teamed with the RTX 2070 Super - is a powerhouse. This is a great price point for this build too and offers a terrific value gaming PC.
6. Fierce PC Crusader
The best gaming PC for budget AMD enthusiasts
CPU: AMD Ryzen 5 2600 | Graphics: RX 580 8GB | RAM: 16GB DDR4 | Storage: 1TB HDD
Excellent price point
Solid AMD components
Solid FHD performance
Limited frills and extra
Workmanlike aesthetic
While Intel is the biggest and best name in CPUs, AMD - its main rival - has several comparable chipsets which perform equally well, and come much cheaper. So, we've included an AMD build here, to help you save a bit of cash on a great spec gaming machine. If you're looking to use your PC primarily for gaming, with maybe a little work and other media usage, you'll be more than fine with an AMD processor powering everything.
Elsewhere inside this Fierce PC build you get some very solid components for your money. Whereas the RX 580 graphics card isn't the most powerful, it does offer great performance for games, while keeping the overall price of the unit down. It's complimented here by 16GB of DDR4 RAM and a standard 1TB HDD. For the price, that seems about right to us.
While this isn't a 4K machine by any stretch of the imagination, it's well specced for the current generation. The Crusader will easily handle the best games at 1080p, and bring decent frame-rates to most (60fps+ in most cases). Well recommended for pure gaming (and particularly if you've got a hankering to go deep in the back catalog and play some Crusader: No Remorse).
Image 1 of 1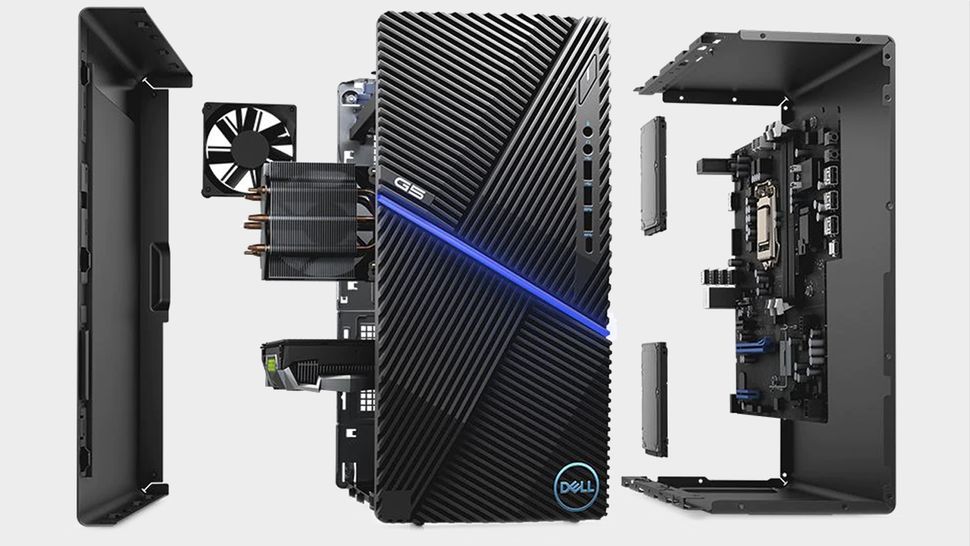 7. Dell G5 Gaming Desktop
Budget PC gaming at its best
CPU: 9th Gen Intel Core i3 10-series – i7 10-series | GPU: NVIDIA GeForce GTX 1650 – RTX 2070 Super | RAM: 8GB – 64GB | Storage: 128GB SSD - 1TB SSD and/or 1TB HDD
Incredibly affordable
Compact form
Great entry-to-mid level builds
Reliable manufacturer
Base models are a bit light touch
Away for Dell's Alienware gaming nutters, the PC-maker's own brand G-series desktop PCs are underrated machines. They often provide a great budget or entry-level route into gaming PCs and are not an afterthought: they get updates as much as any of the other desktops or laptops available at Dell. The really entry-level ones won't do gangbusting numbers or levels of graphical fidelity but they'll be great PCs to have at home for work and play.
Now that the baseline is the 10th-generation of Intel chips this is another factor to work in their favor. Particularly as the baseline is the 16-series of Nvidia cards which will handle anything just fine, and you can choose one well into the ray-tracing range including the 2070 Super. Their compact form is also a plus side, while Dell's aftercare - should you need it - is pretty good too. A value-busting quality entry in this list.
Image 1 of 1
8. CyberpowerPC Gamer Xtreme
The best budget gaming PC right now
CPU: Intel Core i5 9400F | GPU: Nvidia GTX 1660 6GB | RAM: 8GB DDR4-2400 | Storage: 1TB HDD 7200RPM + 128GB SSD
Fantastic performance per dollar
Runs very cool out of the box
Limited SSD storage
This offers great bang for buck value. The Cyberpower Gamer Xtreme - housing an Intel Core i5 9400F and Nvidia's GTX 1660 - is a great PC to rock the current generation of games and do it all for well under the four-figure mark.
Even beyond that and branching into the increasingly large world of VR, this machine will get you there on a shoestring: it's VR-ready right out of the box (just) and will be easy to upgrade when newer, more fancy headsets become more available.
The Xtreme is also great for anyone looking for a PC to match the capabilities of current-gen consoles, something that will bridge the gap between the PS4 and Xbox One era of games and the next console generation. And the Gamer Xtreme is also modular and upgradeable enough to allow you to quickly adapt when specs for the next generation are finally, properly announced. On that note, we'd probably aim to get another 8GB of RAM into this upgrade-friendly rig as soon as you can, though.
9. Do it yourself!
Normally, this is the point where we recommend another couple of pre-built PCs and end the article. However, that's no fun, and quite frankly we've got a better alternative for you. Over at UK-based site, PC Specialist, you can create your own PC from a series of easy to understand options, which guide you through the process if you're curious about it all, but don't have the confidence to literally build your own gaming PC from scratch. We'd recommend experimenting with some parts, like storage and cases, based on your own needs and budget but we've listed a couple of suggested builds below, based on our expertise. The top one is a budget gaming PC, that will get you the best spec for less than £1000. The lower one is a high-spec gaming machine that we'd use ourselves, with sensible (but not excessive) components inside. Take a look with confidence - the website will actually warn you if certain components are incompatible.
Budget build - total cost: £1001
Select your gaming PC from the Intel Z370-Z390 menu.
PCS CYCLONE GAMING CASE (Red LED Fans)
Intel® Core™ i5 Six Core Processor i5-8500 (3.0GHz) 9MB Cache
ASUS® PRIME Z370-P II: ATX, LGA1151, USB 3.1, SATA 6GBs
16GB Corsair VENGEANCE DDR4 2400MHz (2 x 8GB)
6GB NVIDIA GEFORCE RTX 2060 - HDMI, DP - VR Ready!
2TB SEAGATE BARRACUDA SATA-III 3.5" HDD, 6GB/s, 7200RPM, 256MB CACHE
CORSAIR 550W VS SERIES™ VS-550 POWER SUPPLY
Everything else as per PC Specialist standard
Full gaming PC build - total cost: £3452
Select your gaming PC from the Core i7/i9 Extreme computers menu.
CORSAIR OBSIDIAN SERIES™ 750D FULL TOWER CASE
Intel® Core™ i9 12 Core Processor i9-9920X (3.5GHz) 19.25MB Cache
ASUS® ROG STRIX X299-E GAMING: ATX, USB 3.1, SATA 6 GB/s, WIFI - RGB Ready
32GB Corsair VENGEANCE DDR4 3000MHz (2 x 16GB)
11GB NVIDIA GEFORCE RTX 2080 Ti - HDMI, 3x DP GeForce - RTX VR Ready!
2TB SEAGATE BARRACUDA PRO 3.5", 7200 RPM 128MB CACHE
500GB WD Black™ SN750 M.2 NVMe SSD (up to 3470MB/s R | 2600MB/s W)
CORSAIR 750W TXm SERIES™ SEMI-MODULAR 80 PLUS® GOLD, ULTRA QUIET
Noctua NH-U14S Ultra Quiet Performance CPU Cooler
2x 50cm RGB LED Strip
NZXT GRID+ V3 Fan Controller with up to 5 Fitted Case Fans
3x Corsair LL120 RGB LED Fan + Controller Kit
ASUS PCE-AC88 AC3100 2100Mbps/5GHz, 1000Mbps/2.4GHz
Everything else as per PC Specialist standard