Trailer Breakdown: Transformers: Revenge Of The Fallen Teaser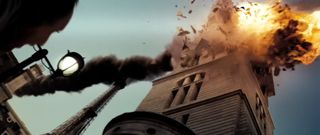 Zut Alors!
Paris gets it in ze neck as Bay decides to homage, er, himself with a nod to Armageddon as part of 'bots arriving on Earth. Starscream's Decepticon back-up, anyone?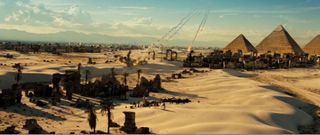 Crash Landing
Now Egypt's pyramids get the arriving robo-treatment. Bet the government's glad it's mostly digital work.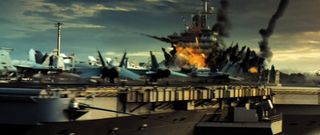 Sea-going... going... Gone!
"Dear Navy, please may I borrow your bestest ships 'n' planes 'n shit and show them in a really good light? Love, ur pal, Mike."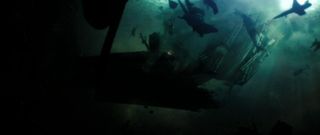 Deep Sixed
We'll give him this, though - that's a haunting shot of planes, 'copters and a broken aircraft carrier sinking into the murky depths. Another self-homage! (Pearl Harbor).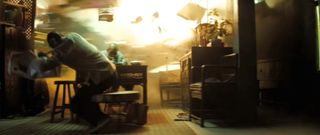 Home Invasion
Bay just can't help smashing his robotty bastards through unsuspecting homes, can he?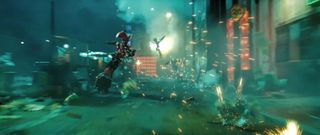 The Chase Is On
After the still-unidentified (but possibly Barricade) apartment-crashing 'bot transforms and speeds away, we see his pursuer - Arcee?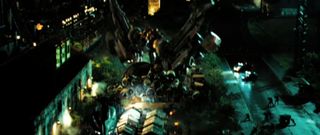 Dig That!
A Constructicon - looks like Scavenger or Demolisher- makes an appearance.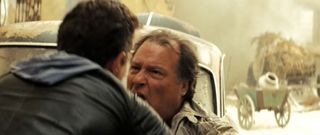 Daddy Issues
"You don't stop, you don't hide, you run... You hear what I'm saying?" Sam (Shia Labeouf) gets to be heroic as his dad - getting a real taste of the robo-action this time - panics.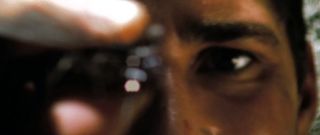 Fly In The Ointment
Nice close-up shot of Sam tearing the head off a fly. Beautifully composed, actually. Bay goes Bunuel, anyone?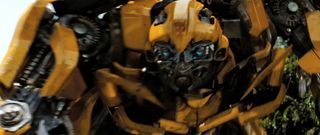 Bumblebee's Back
A slightly altered Bumblebee (well, he did get pretty beaten up in the first film) explodes across the Witwicky lawn and saves pop.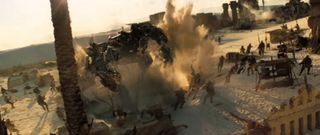 Fallen Idol?
What looks like Mister The Fallen making his grand entrance.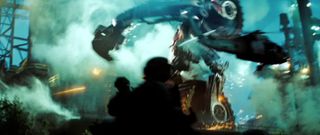 Demolition Slam
Demolisher vs the army. Guess who wins?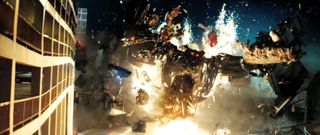 Devastation!
If that's just Demolisher alone taking on Optimus, Devastator must be bleedin' ginormous. Maybe too ginormous...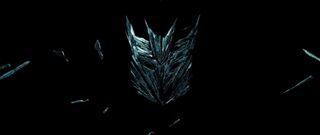 Decept-icon
Aaaand your final shot is of the Decepticon logo, looking shattered and icy.
Verdict: Typical Bay - overloaded with big, noisy, clanging action. While it recycles an awful lot from the Superbowl spot, it includes enough new stuff to keep the excitement levels high...