In the not-too-distant past, the idea of RTX 30 series deals was completely out of the question. We've come a long way since the global pandemic, chip shortage days, and ludicrous price-hikes. So much so that the next generation of flagship GPUs from Nvidia are still readily available in the months after launch - a preposterous notion for GPU shoppers only a year ago!
Looking at the entry-level side of things, however, prices are starting to get super reasonable. In the US today, we've stumbled upon the best budget GPU, the RTX 3050, for only $267 on Amazon.
While we await the lower end of the 40 series ladder to hit the shelves, the RTX 3050 and RTX 3060 are undoubtedly two of the most affordable GPUs you can get your hands on for a gaming PC. The RTX 3060 is undoubtedly the superior card, but the 3050 still gives you some decent gaming performance for the money, especially under $300. If you've been stuck on integrated graphics, for example, or only do some light PC gaming, the step up to one of the best graphics cards will be a serious quality-of-life boost for you.
The RTX 3050 is the cheapest of Nvidia's 30 series boards, and the Zotac model on offer here is probably the most affordable model you'll find. At $267, it's currently at its lowest-ever price on Amazon. For reference, it's sitting underneath the Gigabyte Eagle RTX 3050 we reviewed, which is currently at $299.99 on Amazon. Zotac's version sits at an average price of $291, so this price is one of the best you'll find.
We've spotted a few other RTX 3050 models at reasonable prices, and you can find more information on those just below.
Today's best RTX 3050 deals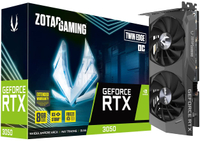 ZOTAC Gaming GeForce RTX 3050 | $299.99 $267 at Amazon
Save $32.99 - The RTX 3050 is one of the best budget graphics cards you can get your hands on, and in this deal, you get it at its lowest-ever price on Amazon. If you're looking for your first step up into the RTX 30 series generation, this is the most affordable way to go. This variant gives you 8GB of GDDR6, and a dual-fan setup Zotac calls its IceStorm 2.0 cooling system.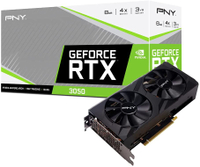 PNY GeForce RTX 3050 | $324.99 $279.99 at Amazon
Save $45 - Following not too far behind, is the PNY model, which gives you the same GPU, the same 8GB of GDDR6, and a similar dual fan cooling system. If you look at the price data, this is actually a larger saving, although the lowest-ever price we've seen for this one has been $269.99. Even so, this is $10 away from that, which is still a decent deal.

What's absolutely crazy, is that these reduced prices are still a wad of cash away from the MSRP of the RTX 3050, since Nvidia would recommend it be priced at $250. That shows you the insane demand for these GPUs since launch, and how we're still slowly recovering from the chip shortage days. It should be noted, though, that the closest we've seen to that MSRP is the MSI model at Newegg, which is unfortunately out of stock and has been for a while. This is most likely the cheapest we'll see the 3050 until the 4060 and 4050 drop.
In our review, we were really impressed with how the RTX 3050 managed to run games at 60FPS with DLSS and Ray Tracing support, and its quiet and cool performance. Don't expect too much from it, though, it is an entry-level GPU for a reason.
More of today's best RTX 30 Series deals
If you'd rather stretch your budget a bit further for higher performance levels, we've used our price comparison software to find the best GPU deals in your area.
---
Grab yourself some other component upgrades with the best CPUs for gaming, the best RAM for gaming, and the best SSD for gaming.