Imagine, for a moment, a world in which FIFA 18 and PES 2018 don't exist. Now stay in that moment for a few seconds longer. Note that gravity remains intact. The air outside is breathable. And Harry Kane still can't stop scoring. Now imagine you want to stay in that world and survive without the big two. How can this be done? By instead applying your virtual skills to any, or all, of the 11 games below, that's how. Here GR+ presents an ultimate team made up of title outsiders: the Evertons and Southamptons and – dare I write it? – Liverpools of digital football.
Rocket League (PS4, Xbox One, PC, Switch)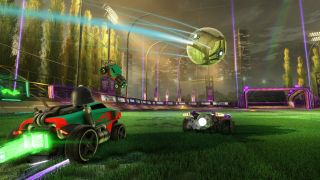 For the second consecutive year, multiple GR+ readers responded to our FIFA and PES reviews along the lines of 'who cares? Rocket League is better than both'. It's a view echoed across the internet, as addictions to Psyonix's electric football-driving hybrid show no signs of being cured. Not that the afflicted would wish them to be. The League's acrobatic, boost-powered online matches always deliver physics-defying goals and headset-dirtying swears, with one rule enduring above all others since its 2015 release: you never, ever, ever go to bed on a defeat.
Football Manager 2017 (PC)
The Old Lady of dugout sims – by which I mean she's as fabled as Juventus, rather than an incontinent mess. To have never played Football Manager or 'ChampMan' is to have completely skipped your education in the sport, with the credentials of many a keyboard know-all (a term I use affectionately, as I am one) developed by a 2am just-one-more-game session. In its modern guise virtual social media feeds, sports scientists and endless data analysis can overwhelm the casual fan, but that's where Football Manager Mobile comes in; a simplified iOS and Android equivalent that cutely harks back to the late '90s originals. It's the one elite boss to have outlasted Alex Ferguson, which says all you need to know of its brilliance.
Score World Goals (Android, iOS)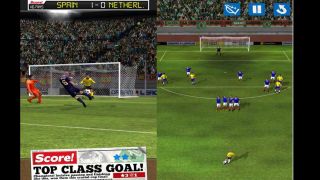 A little bit puzzler, a little bit history test, a little bit old-school footy sim – hence its placing here – Score World Goals tasks you with re-enacting some of the most memorable strikes in the sport's history, such as Roberto Carlos' legendary banana-wallop against France. Ingenuously, you draw each goal by swiping your tablet to dictate the ball's path; but timing is critical, as team-mates, defenders and keeper all move around you. There's an art not only to re-tracing the ball's flight, but also the tempo of build-up play. I'm nowhere near completing it, but its creators boast of more than 1,000 goals being unlockable.
Top Eleven 2017 (PC)
Now coming up to its eighth year, Top Eleven claims to be the most played online football-management sim ever; and while it can't compete with Football Manager for depth, it's easy to see why. This is free to play via your internet browser, and setting up matches against mates is as simple as signing in via Facebook. Curiously, though, it's a game that prioritises training as much as it does tactics; the more time you spend putting your fictional squad through its paces in the build up to each fixture, the better your abilities – and your players' – become. Perhaps not a game for Man City fans, though, given that it's emblazoned with Jose Mourinho's face throughout.
Topps Kick 18 (Android, iOS)
The modern equivalent of collecting stickers to plug wonkily into a Panini album, without the threat of dropping your swaps all over the playground and triggering 'scramble rules'. Every side from the Premier League and Bundesliga is represented, with temptation coming in the form of limited-edition releases and the opportunity to trade with other human players. Three fun mini-games, the best of which pits sets of cards against one another Top-Trumps-style, offer ample opportunity to score coins which can then be reinvested in packs, while in-game currency is also earned by watching videos and downloading other suggested apps. A likeable twist on a longstanding fan tradition.
Super Arcade Football (PC)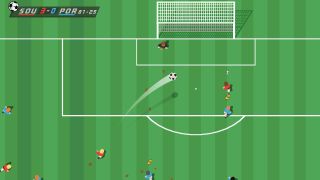 A modern reinterpretation of top-down '90s classics such as Microprose Soccer, Kick Off, and Sensible Soccer. It's not cheap at $9.99/£6.99, but the game knows its past and audience, delivering what it calls 'Slow-Mo-Banana-Bending-Technology', and is being constantly updated, with twice-weekly dev insights on its progress in Steam. Its ever-growing list of match modifiers keeps it fresh, too, with fixtures affected by the addition of bouncy walls and teleporters. All it's missing is a console release; fingers and toes crossed for 2018.
Puppet Soccer Champions (Android, iOS)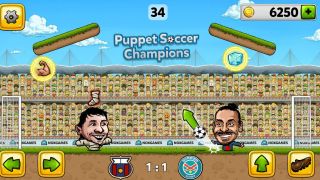 If, as a kid, you ever stood at one end of a pitch/playground/common playing 'long shots' against a mate this will cause happy memories to flood back. Played horizontally across a 2D pitch it's you, as a comical representation of a real player, versus the AI, with four control buttons: left, right, jump, and kick. Its simplicity is its majesty; like Street Fighter it's played against a clock counting down from 100, with whoever scores most goals in that time the winner. Power-up bubbles such as bigger balls and stronger kicks vary up matches smartly, and the later characters unlocked, including mega-headed versions of Wayne Rooney and David Beckham, reward extended play.
FootLOL: Epic Fail League (PC)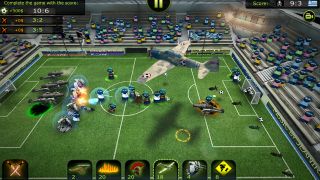 60 levels of "hilarious soccer chaos", best suited to those who actively hate the sport – although footy fans with a sense of humour will enjoy this too. The object is still to score more goals than your AI, or online, opponent, but there are bigger obstacles to avoid than a bald-headed defender's sharpened studs. Such as landmines, warplanes, oversized cows… it's effectively side-on footy infused with elements of Worms. Four years after release you'd be mad to pay the full £9.99 for it, though: keep tabs until the next Steam sale and if its price drops, snap it up.
Retro Football Boss (PC)
Steam reviews for this are unkind, and that's justified; it's been in Early Access for more than a year, and updates have tailed off in recent months. But it makes our list because its hook is brilliant, and if you give yourself time to live with its quirks, such as limited tactical options, there's much to enjoy. You get access to over 130 teams, and can start the game at any point from 1888 to the modern day, with your chosen club having an accurate squad from that year. Matches play out in classic ChampMan fashion, with big, bold text-based commentary in place of snazzy 3D graphics. A throwback in every sense, there's boundless potential if it continues to evolve.
New Star Soccer (Android, iOS)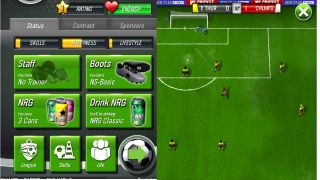 Brilliant mix of 'Sensi' elements – such as interactive top-down highlights, where you're tasked with completing key passes or having shots at goal – and more unconventional RPG fare. Yes, I said RPG. Progress between matches requires the guzzling of energy drinks to stay healthy, investing in agents and trainers to help advance your career, and, like every Premier League prima donna, picking up garish boots that deliver extra swerve and other cool lifestyle items. What many don't realise is that for all its recent success, NSS has been around since 2003; making it one of the wily old pros of this list.
Sociable Soccer (PC, Android, iOS)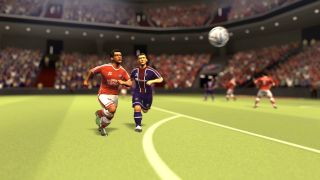 I'm finishing on a slightly cheeky one here: you can't actually play Sociable Soccer as it isn't out yet, although developer Jon Hare says it will be before the year's end. If that name rings a bell – and it should – it's because Hare was the mastermind behind '90s favourite Sensible Soccer, a constant presence in this list. His new, Finland-based team have taken a back-to-basics approach to Sociable, focussing on boomerang-shaped long shots, zingy passing and flying slide tackles; and early reports suggest it'll finally erase horrible flashbacks to Sensible's disastrous PS2 comeback.
Read all this but still can't pull yourself away from the big two? Then be sure to immediately check out our PES 2018 review and complete guide to making coins in FIFA 18 Ultimate Team.