Another fantastic PS5 SSD deal has surfaced on digital store shelves. Over the last couple of weeks, we've been blessed with several major discounts on some of our favorite SSD brands, with the Samsung 980 Pro 2TB SSD now receiving a mighty reduction in price.
In fact, the Samsung 908 Pro 2TB SSD in question is now at the cheapest price we've ever seen with Best Buy offering it for $159.99 (opens in new tab). It's a big drop in price, representing a saving of 40% or in cash value, $110. The limited-time deal is only available today with a countdown on the Best Buy website stating it's only available for 15 hours (at the time of writing), so act fast.
We're big fans of this particular Samsung model, already found within our best PS5 SSD guide for 2023 due to its strong performance and own proprietary heatsink so you can insert the SSD straight into your console. As we've only ever seen this SSD drop to $179.99 in the past, you can be sure this is a great deal. One that won't last long, be that due to its time limit or stock allowance.
Today's best PS5 SSD deal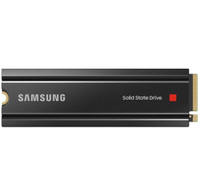 (opens in new tab)
Samsung 980 Pro 2TB SSD | $269.99 $159.99 at Best Buy (opens in new tab)
Save $110 - A massive 40% discount has been applied to the Samsung 80 Pro SSD. It features a whopping 2TB worth of storage so you will never have to worry about running out of space and comes with a heatsink pre-installed so you can plug it in straight away. No hassle.
Note: An update is recommended via the Samsung SSD Magician software (opens in new tab) before use.
So why do you need an SSD? By having 2TB of storage you are giving yourself lots of freedom to jump in and out of the latest games without having to deal with frequent downloads. There's also the performance enhancements to consider. With Resident Evil 4, Marvel's Spider-Man 2, Star Wars Jedi: Survivor, Final Fantasy 16 and plenty of other blockbusters set to arrive in 2023, it really is the perfect time to upgrade.
During our Samsung 980 Pro review we stated that it still remains "right near the top and gold standard-level for PCIe Gen 4 contenders for the best SSDs in gaming". We did, however, concede that it has "been left slightly lagging by newer and faster drives" even if the addition of a heatsink does solve a lot of its shortcomings.
More of today's best SSD deals
Not sure how to install an SSD into the console? We've put together a handy guide on how to install an M.2 SSD into a PS5, simplifying the whole process. Additionally, we've rounded up all the latest PS5 prices and bundles as well as the latest the best cheap PS5 game sales, so you can put all that extra storage to good use.